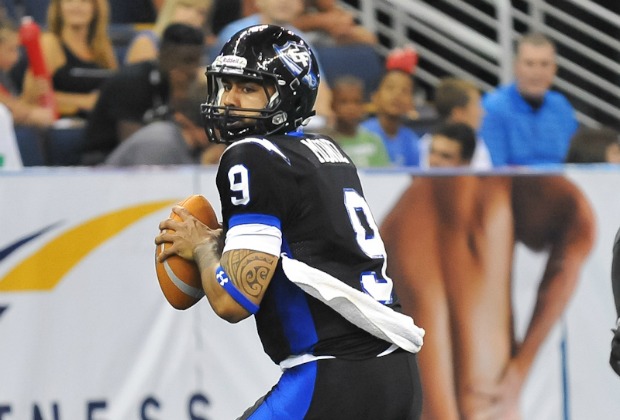 John Adams
Bryant Moniz has started just two AFL games in his brief career, but the new Georgia Force quarterback has solidified his starting role and may possibly be on the road to stardom. In his second start recently against the Orlando Predators, Moniz was in a head-to-head matchup with former Florida Gators quarterback Chris Leak, who led the Gators to the 2006 BCS national championship. In a must-win game for the Force with tremendous playoff implications, Moniz appeared seasoned with his play neighboring perfection. He quarterbacked the Force to the 56-53 victory by throwing seven touchdowns and zero interceptions. Even more impressive was the efficiency of his play, as he completed 21 of 29 passes, an average of one touchdown for every three completions.
Moniz is more than conditioned to the high-scoring style and the fast pace of the AFL, as he commanded a similar offense while at the University of Hawaii. During his senior season, Moniz tied an NCAA record by passing for seven touchdowns in the first half against UC Davis.
Something that should get Moniz excited about his football future is the quarterback situation Moniz just stepped into with the Force. RJ Archer was the starting quarterback for the Force before the Detroit Lions decided to give him an opportunity in the NFL on June 22. Moniz could very well find a similar opportunity down the road as this is just the young quarterback's first season out of Hawaii.
The AFL does have a history of putting quarterbacks into the NFL with the most noteworthy being former MVP Kurt Warner. Moniz, like Warner, has already overcome incredible odds in his career. Moniz was playing junior college football before he returned home to his native Hawaii. He decided to walk on at Hawaii so he could be with his girlfriend and newborn daughter. Moniz made the team in the January prior to the 2009 season, and quickly went from third string to first string after Brent Rausch and Greg Alexander suffered early injuries. Moniz would start eight games for the Warriors in 2009 before a torn biceps sidelined him for three games. His performance was so promising that he would be put on scholarship and remain the starter for his final two seasons.
Being a starting quarterback and student is difficult enough, but Moniz was also delivering pizzas in order to make some money to help support his daughter. Moniz's focus and work ethic made him an inspiration, and in 2010, all of the Warrior Nation was behind him as he started every game that season. He had a tremendous year and passed for 5,040 yards and 39 touchdowns.
Moniz had so much success in his junior season that he was mentioned as a long shot in the Heisman race prior to his senior year. He found more success in 2011 before a broken tibia against Nevada in the tenth game of the season sidelined him for the remainder of the year.
Moniz was unable to do a complete workout and combine for scouts while he healed from his injury and went undrafted. The broken tibia had kept the 6-foot, 205-pound Moniz off his feet, but he continued working hard. In the bench press, Moniz showed incredible strength by putting up linebacker-type numbers with 24 reps of 225 pounds.
Moniz is a long way from Hawaii, but he has started to make himself at home in Georgia where his improbable football journey will hopefully rejuvenate itself. Wide receivers Larry Shipp and Shay Hodge have been the primary targets of Moniz thus far. The two have accounted for seven of Moniz's 10 touchdowns in the past two games, and their timing with Moniz has been impeccable. Moniz has yet to turn the ball over, and much of the credit can be attributed to Shipp and Hodge for creating space and getting open.
Moniz has two more regular season starts after the Force's bye week this past weekend. At 8-8, Georgia has just two games left to try and pass the New Orleans Voodoo for the division lead and at least one home game in the playoffs. The Voodoo currently lead the division with an 8-8 record with a tiebreaker over the Force. The Force and Moniz host the 4-12 Pittsburgh Power this Saturday before they head down to New Orleans in the final week of the season on July 21 to face the Voodoo in a game that could be for the division crown.