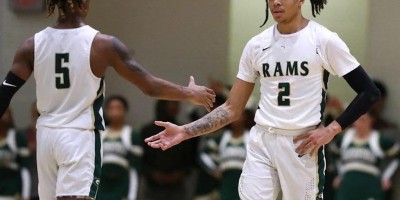 A pivotal region showdown will take place at Newton High School Tuesday Night in a Class 7A region matchup between Grayson and Newton. Grayson currently holds the one seed in region 4 and can hold a two-game advantage with a win on the road. It certainly won't be easy. Newton is coming into this game on a current two-game losing streak after recent losses to IMG Academy and Parkview, and are looking to get back on track.
Grayson is currently on a two-game winning streak after wins against Parkview and South Gwinnett  Grayson already has statement wins this season against King's Ridge, Grissom, Alexander, Kell, and Archer. Grayson coach Geoffrey Pierce chimed in on the tough schedule the Rams have played so far.
"We try to put them against high-level competition and hostile environments and put them in front of college coaches at these events to help them with their recruitment. Try to get them ready to play once the games really count and I think the schedule has done that so far," said Pierce. "Our region is tough, but you can never play enough tough games before tournament time. It is good to expose the kids to different things and have them deal with adversity."
Newton has a star-studded roster with two top 100 recruits in the country in Jakai Newton and  Stephon Castle ( a top ten recruit in the country). Castle has already been voted as an All-American nominee for this season. The senior guard will be headed to Uconn next season.
Newton has already played a tough schedule and matchups against top-tier national teams all year long like McEachern, Duncanville, Norcross, Lake Highlands, and IMG Academy. Now the Rams come into an important region battle against Grayson. To say Newton is battle-tested would be an understatement. Despite their two-point loss last week to Parkview, Newton will be fired up. It seems like it will be a three-team race for the region's #1 seed heading into the region tournament between Grayson, South Gwinnett, and Newton.
"I think our region is the toughest in the state top to bottom. It is going to be a couple of good teams that aren't going to make the state tournament just because only four get in," said Pierce. For us to lead from start to finish in a region game, you will take that every time.
The matchup to look out for in this one will be Newton's guards vs Grayson's guards. Whoever has the most success attacking it with each other and getting to their spots will come out successful. Grayson can't let Newton and Castle get into the lane or take advantage of mismatches. It will be vital for them to make their guards feel uncomfortable and let someone else beat them.
Coach Pierce talked about the matchup against Newton and what they do well as a team.
"They are very athletic. They are going to play hard. They are shooting the ball well from the perimeter so far this year. They have one of the best players in the country in Stephon Castle," said Pierce. "Ever since they shuffled the region around about five or six years ago, it's been a rivalry for us. We have been fortunate enough to win the last four region championships. It is going to be a battle. It is at their place and their fans are really good at coming out to these games and creating a hostile environment. We have to come in with the mindset that it is us against the world and impose our will."
Two guys to keep an eye on for Grayson are Kylan Fox and Amir Taylor. Fox provides that effervescent energy and is relentless in grabbing rebounds and contesting shots.
"I love coaching Fox and being around the kid. He is a winner. He doesn't really care about his stats or shot attempts. If you watch the game and don't pay attention to the box score, you see him out there taking charges, boxing out, communicating on defense, and being tough," said Pierce. "He makes winning plays that don't necessarily show up in the box score. Anybody in basketball knows you need those types of plays to win games, especially tough games. We are lucky to have Fox with us. He can play on any team in the state."
Taylor is a young guy but got significant minutes as a freshman due to the injury to Chad Moodie. Taylor has continued to step up this season and provide a spark with his effort on the boards and his ability to dominate one on one in the post.
"Last year, Amir was penciled in as the backup Chad last year at the five spot. Chad got hurt in the first game of the season and missed 24 games. Chad was out until basically tournament time, Amir was thrown into the fire early. He had a pretty good year for us," said Pierce. "Amir averaged eight points and five rebounds as a freshman. Chad did a good job being a mentor for him. Amir is one of the most versatile players in the state in my opinion. He is a great passer and can start the break with a pass or a dribble. I don't think anybody can guard him one on one on the box or at the pinch post. He plays the game the right way every time."
It will be interesting to see if Newton will have an answer for these two. Grayson plays an unselfish brand of basketball and everybody buys into the betterment of the team. It is the reason they have been so good the last couple of years and have made playoff runs.
Tuesday Night will be another test for Grayson against a formidable opponent but Grayson has a chance to jump out to a two-game lead on the region while Newton looks to keep pace and even things up in the battle for the #1 seed. This is a game you don't want to miss.