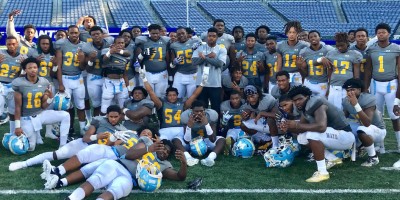 The Second Annual Great Atlanta Bash is set to kickoff at Georgia State Stadium on Saturday, Aug. 29, with a television triple-header matching Atlanta Public Schools against Clayton County opponents.  The decision to pin the two districts against one another introduces a new competitive dynamic to the event.
"I think it is going to be a great day of football because Clayton County mirrors Atlanta Public Schools in so many ways," said Atlanta Public Schools Director of Athletics Jasper Jewell. "Whether it is demographic makeup or just the overall socio-economic status of the schools, they are alike in so many ways. So it will be a great challenge for both sides and an opportunity for bragging rights for whoever comes out on top."
For the second straight year, the games will be broadcasted live on Peachtree TV and the new format was conceptualized by coaches and district leadership.
"Coach Rodney Hackney and I have been longtime friends," said Jewell." We are both Clarke Atlanta graduates and I hired him when he was a head coach at Booker T. Washington before he eventually took the Riverdale job in Clayton County. We talked about the possibility of matching up Clayton County and Atlanta Public Schools in this event in what would be called 'The Mascot Challenge' because all of the opponents would face schools with either the same or very similar mascots."
The North Clayton Eagles are taking on the B.E.S.T. Academy Eagles in the opening game at 10 a.am. In the middle slot at 12:40 p.m., the Lovejoy Wildcats face the Carver-Atlanta Panthers and in the finale at 3:20 p.m. Coach Hackney's Riverdale Raiders will battle the Mays Raiders. All three matchups will mark the first-ever meetings between the respective schools.
"This is an outstanding opportunity for us to have some of our students play in a venue that Georgia State calls home and we are excited about that," said Clayton County District Athletic Director Kevin May. "We are also excited about being able to matchup against Atlanta Public Schools. We have a great relationship with APS and we do a lot of all-star games and competitions between the two districts in various sports, including our Minority Coaches Association Senior Bowl so it is just a great opportunity for the kids to be on a stage that is bigger than the typical Friday night game."
The GHSA's recent reclassification and region realignment that will go into effect this upcoming fall adds another dimension of freshness to the lineup.
"We are looking to definitely show improvement on the field with the new classifications and many of our schools moved down in classifications after playing higher than where they should have been," said May. "Riverdale is one of them that is moving down to 4A [with Mays] and they've been ultra-competitive at the 5A level, so I expect good things from them at the 4A level."
Jewell also believes that the competition over last four years in particular has prepared APS programs to excel in the new landscape.
"I think the regions that we played in the previous four years gave us an opportunity to really take a step back and reanalyze our programs and experiences across the board," said Jewell. "For us, playing in challenging regions has been great for the growing process over the last four years and I'm excited about these new regions and new classifications because now we get to establish new rivalries and challenge ourselves against new opponents."
The gridiron success and amount of college talent emerging from both districts has been on a steady climb in recent years. According to Steve Slay's annual report, the six schools competing in the 2020 Great Atlanta Bash had a combined 98 alumni on college rosters this past season: Mays (35), Lovejoy (21), Riverdale (15), Carver-Atlanta (11), B.E.S.T. Academy (9) and North Clayton (7).
"Last year with it being our inaugural year, a lot of people didn't know about the Great Atlanta Bash and why I brought it about," said Jewell. "But this year, there is already that buzz and excitement around it building and I think the fact that we are able to partner with one of our neighboring counties which is just south of us will make it much more excited. Like I said, it's a county that mirrors us in so many ways and what better way to start the season than to play in the Great Atlanta Bash right here at Georgia State Stadium. I'd like to thank [GSU Athletic Director] Charlie Cobb and the University for opening their arms and inviting us to play at their facilities."
Thanks to a partnership formed last year, Atlanta-based CBS46 and Peachtree TV will produce on-air content leading up to the event. Peachtree TV will not only show the games live but there will be shows from Georgia State between games and CBS46 will stream it on its website.
Great Atlanta Bash 2020 Schedule
10 a.m.: North Clayton vs. B.E.S.T. Academy
12:40 p.m.: Lovejoy vs. Carver-Atlanta
3:20 p.m.: Riverdale vs. Mays
For more information on the Great Atlanta Bash, contact Graham David at gdavid@ScoreATL.com.