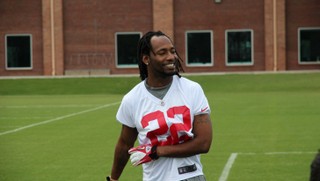 Atlantafalcons.com
Maybe because these birds never seem to sleep, the Falcons began their voluntary organized team activities (OTAs) on Tuesday in Flowery Branch. Now, Falcons fans are one step closer to September.
The OTAs are voluntary, but absences are usually frowned upon. The notable Falcons missing this week are tight end Tony Gonzalez and defensive end John Abraham. Considering these two stars have played in (and put their bodies through) 27 seasons and 16 Pro Bowls between them, they're better off away from the practice facility.
The bigger story early on in OTAs is the entrance of cornerback Asante Samuel. Samuel is setting the tone with brash talk, and he's backed it up by making two interceptions (one off starting quarterback Matt Ryan) in the first workout. Expect the four-time Pro Bowler to give the defense an "attitude" and also increase the level of competition on the practice fields.
After his first practice Samuel defended his playing personality. "That's what you've got to do, put the bullseye on your shoulder and step up to the plate. That's how you get better.''
STADIUM UPDATE …
In all likelihood, a deal for a new stadium will get done for a new retractable roof facility to be built in the next five years. The stadium will be on the property of the Georgia World Congress Center. The Georgia Dome will eventually be torn down.
The estimated cost of the new building is just shy of $950 million, but many experts agree that the actual cost will approach $1 billion. Atlanta hotel taxes would contribute about one third of the cost to develop and build. Arthur Blank and the Falcons would have to come up with the remainder. Traditionally, this money would come from naming rights to the stadium (a little help but not much) and the team.
The Falcons make money every year, so they have some cash. They can raise more money by increasing prices for tickets and concessions. Personal Seat Licenses (PSLs) are an option as well.
No matter how this deal gets done, you can expect Blank to be a responsible, considerate community leader. Expect the Falcons' organization to look at the big picture, and that certainly includes providing a comprehensive pay-forward plan to neighborhoods and communities most affected.