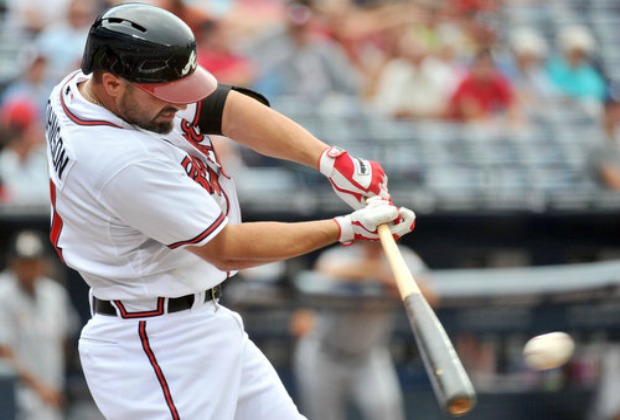 Hyosub Shin/AJC
The Atlanta Braves pulled off a deal just hours before the MLB trading deadline, acquiring starting pitcher Paul Maholm and outfielder Reed Johnson from the Chicago Cubs in exchange for a pair of minor league pitchers. Maholm will make his Braves' debut at Turner Field tonight against the Houston Astros while Johnson has already made his presence felt with the Braves, starting in his first two games with the team.
The Braves were thrilled to add some depth to the starting rotation, as well as, add a hot bat to the lineup, but the trade completely changed the season for the two newest Braves, Maholm and Johnson. Suddenly the pair went from one of baseball's worst teams to one of the best.
Johnson has made an immediate impact with three hits in seven at-bats. He has scored a pair of runs and taken two HBPs for the team. In his two starts, he has given Michael Bourn and Martin Prado sorely needed days off, which was the plan when Braves GM Frank Wren made the move for Johnson.
"That's really been my role the last few years of my career even in Chicago and LA," said Johnson of coming off the bench for a spot start. "Being able to give guys like Prado and Bourn days off who haven't been able to have days off in a while (is big) because we know when we get into late September and are making that playoff push, we want to make sure those big boys are healthy. Hopefully I can be there to give them a few days off every once in a while."
Johnson has found the adjustment to Atlanta to be pretty smooth.
"It's been a pretty good transition so far," said Johnson.
Maholm has also gotten acquainted with the team since arriving Wednesday.
"This is obviously a great group here," said Maholm. "I'm looking forward to competing with them and fighting for a playoff spot."
Maholm said that his first experience walking into the home side of the clubhouse was a little strange.
"I've been coming here for seven years, but it was the same thing earlier this year at Wrigley," said Maholm. "It's different at first, but then you fall into it and it seems natural."
Both Johnson and Maholm have already embraced joining a pennant race, something that wasn't available in Chicago after the middle of April. Johnson noted that a playoff push immediately changes your mindset.
"I was just thinking (Wednesday), you're not really scoreboard watching, but you're always interested in what the teams in the East are going and what the teams in the wild card race are doing," revealed Johnson. "I remember being a part of that in 2008 with the Cubs and how fun that was to look on that board every night and you're actually playing for those wins instead of playing for your numbers, which is really a tough thing to do towards the end of the season."
Maholm is trying to take the added pressure in stride and just focus on pitching.
"As a pitcher, I expect to win every outing," said Maholm. "I expect to go out there and compete. Obviously being in a pennant race, it's going to be fun. All the guys in here are extremely well prepared and professional so it's 'expect to win every night.'"
Maholm acknowledges that the Braves won't win every game, but the team still must play with an winning attitude each night.
The Braves will count on both players to bring that winning attitude and hopefully come up big down the stretch as the team looks to make the playoffs for the second time in three years.