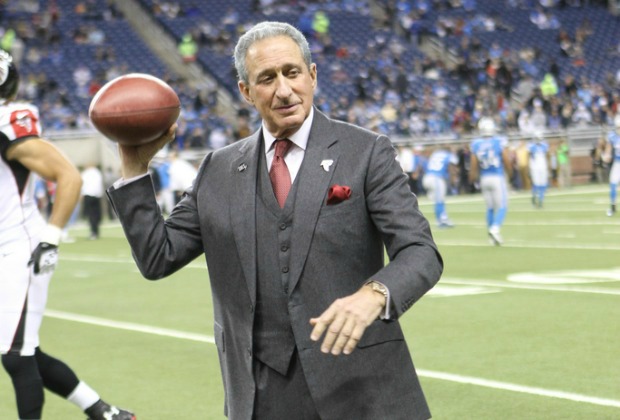 Jimmy Cribb/Atlanta Falcons
Fantasy can sometimes resemble reality. And some of the Atlanta Falcons players, administrators, their majority owner and several very lucky fans found that out on March 31 in Atlantic Station. The movie "Draft Day," a parody on life behind the scenes in the NFL front office, opened April 11 to nationwide acclaim. As one of the chosen few able to see an advance showing, I was able to take in the film with some of the Falcons. Most, if not all, saw similarities to the real thing.
"It's very realistic," head Falcon Arthur Blank told me after the screening. "I've seen (Falcons general manager) Thomas (Dimitroff) go through days like that or some version of days like that."
When Blank says "days like that", well, you'll have to see the movie to understand exactly what he means. In simple terms and without spoiling the film, I can tell you that one draft day can mean a lifetime to those involved in the process. The relationships between owner and GM, GM and coach, GM and potential draftee and GM to rival GM could each be a movie, or novel, within itself.
SILVER SCREEN REALISM …
While fans can be fooled about how accurate a sports movie is, players, administrators and the top brass cannot. They live it day-to-day. However, the gaggle of Falcons personnel at the showing was quite complimentary of the latest Ivan Reitman-directed movie.
"NFL fans want to get an insight into the game," Blank said. "As far as what happens on draft day and some of the nuances and the pressures that the organizations, franchises, general managers and coaches are under, it's pretty realistic."
Falcons defensive lineman Corey Peters was entertained by the film, which received a ton of cooperation not only by the NFL, but also by multiple franchises.
"I thought it was pretty good," said Peters. "Very entertaining. It's good to see the other side of things and have some good interaction between front office and some of the players and that sort of thing. I think that's a great viewpoint that not a lot of people get to see."
Without spoiling any of the storylines, I can tell you that character comes to play in how Kevin Costner's character (the Browns' GM) makes decisions on draft day. Not many people know what actually is said in behind-the-scenes draft day phone calls, but no movie prior to "Draft Day" has been quite as accurate in displaying just how crucial character is in draft analysis.
"(Character) is always very important," said Blank. "The culture is what underlines the franchise, and that's true with our front office, it's true with our coaches, it's true with our players, it's true in every part of our locker room. It's true throughout. We pay a lot of attention to character off the field, character on the field and, obviously, ability."
Another part of the movie centered around a potential draftee sitting at home with family, waiting for the call that would change his life. Falcons linebacker Sean Weatherspoon saw similarities in that portion of the film.
"That brought back memories just being with your family and everybody is excited," said Spoon. "It kind of took me back to when I got the call from the Falcons. It was pretty cool."
The Missouri product was the Falcons' first-round selection in 2010 and, ironically, had a few things in common with one of the main characters in "Draft Day". Vontae Mack, played by Chadwick Boseman, is one of the players the Browns are considering taking in the first round. Mack, however, would not be in New York for the draft. Spoon wasn't on his draft day either.
"It's pretty busy," said Spoon of his draft day. "I was actually back home in Jasper (Texas) and I wanted to go to New York, but it didn't work out… We just stayed at home. We had cameras there and stuff. My family was there."
"I got a call and it was Les Snead (former Falcons director of player personnel). Les was like, 'We're going to call you right back. If nothing changes we're going to (draft you).'
Sure enough, the Falcons took the 6-foot-2, 244-pound tackling machine. Chaos ensued at the Weatherspoon household, as it did at the Mack's in "Draft Day".
"That part, when Mack got the call and he was on his couch, and he was just in shock that he got drafted," Spoon said of the scene, which reminded him of his own draft day. "It was surreal and something I'd always dreamed of."
THE NEW HOLLYWOOD …
Atlanta has seen its share of movies and shows filmed here in recent years to the point that businesses whose only function is to provide extras for filming have sprung up in the area. The city certainly has its share of major celebs in its midst, and the Falcons are no exception.
"I wouldn't say it's up-and-coming with movies, they're doing everything here," said Weatherspoon after the sneak peak. "There are a lot of opportunities. Hopefully, some day I'll get a call to be in one of those movies."
The city has hosted filming of movies like Hall Pass, the Hunger Games, Anchorman, Borat and Drumline among many others in recent years. Movie stars such as Woody Harrelson, Tyler Perry, Owen Wilson, Jennifer Lawrence and Donald Sutherland have been spotted in metro Atlanta. In the near future, sequels to the sci-fi thriller Divergent will be filmed in the area.
As one of the more magnetic and charismatic personalities on the team, going into the movie industry seems like a natural path for Weatherspoon in the future.
"I don't know, man, I think I could do it," he said. "I could remember my lines and act it out. That'd be pretty cool."
Peters, who said he likes to live more in the behind-the-scenes world, will probably skip a career on the silver screen. "I've been invited to some things, but I've always turned it down," said the former Kentucky Wildcat. "(Hollywood) is not really my style."
While Falcons players differ on their futures on the silver screen, fans, players and owners alike can agree that "Draft Day" is a winner.