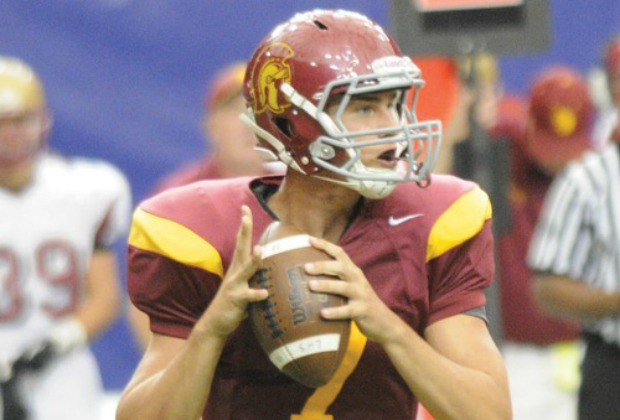 Walter Pinion
Eddie Printz passed for 395 yards and four touchdowns to help the visiting Lassiter Trojans rally back from a 23-6 deficit defeat the Milton Eagles 47-30. The Trojans improved to 6-0 and took over sole possession of first place in Region 6-AAAAAA. Printz completed 22 of his 34 attempts, including 11 passes to Willie Police, who finished with 145 receptions and two touchdowns.
The Eagles, who fell to 5-2 on the season, were led by their rushing attack. Trayvon Paulk had 129 yards and a touchdown and Peyton Barber added 113 yards and three scores. After its hot start, Milton simply couldn't avoid costly mistakes, with penalties and missed tackles contributing to the Lassiter rally. After keeping Printz relatively in check for the first half, the Eagles couldn't contain his use of the screen pass and the consistent pitch-and-catch game played with wide receiver Willie Police. Lane Jackman was also huge for the Trojans, as he found the end zone three times including the final Lassiter score, which was also the fourth touchdown pass for Printz.
Coming off a homecoming victory over rival Walton on Oct. 5 and a bye last week, Lassiter seemed to come out flat. But Printz was able to take advantage of Milton's miscues while the Trojans' defense stiffened in the second half to help Lassiter steal the victory. Next up for Lassiter is a showdown against Wheeler, while the Eagles will travel to Walton to take on the Raiders.
The Raiders edged Wheeler last night 24-23 to insert themselves into a three-team logjam at 3-1 in the region. The Wildcats fell to 1-3. While the Trojans lead with a 4-0 record, Walton, Etowah and Milton appear set for playoff berths.