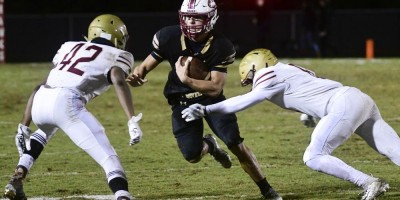 By Craig Sager
Following a widely reported Zoom call between a concerned Georgia Department of Public Health Commissioner Dr. Kathleen Toomey, state Superintendents and GHSA Executive Director Dr. Robin Hines this past Friday, there was speculation that a decision may be made this Wednesday by the GHSA Medical Committee to again delay the start of the football season. Instead, the Wednesday meeting between the GHSA and its Sports Medicine Advisory Committee served as a discussion about the ongoing public health crisis and the plans to start the football season on Sept. 4 still stands while the committee recommends against allowing teams to play scrimmage games. The GHSA made the announcement on Thursday that it cancelled scrimmages.
Most teams had scheduled scrimmages for the dates of August 21st and August 28th. The committee will be following the state's Covid-19 data closely and if the number of cases doesn't begin to drop it is likely the season will be pushed back for a second time. There are multiple hot spots around the state including DeKalb County, the Atlanta Public City Schools as well as schools in the southeastern part of state in Glynn County.
Prior to the meeting, the Lee County football program announced it would be temporarily shutting down football and other fall sports after two football players tested positive for COVID-19. The Trojans are the latest program to have to shut down in the past week, joining the likes of Newton, Morgan County and North Paulding. Additionally, Tattnall County announced early Wednesday morning that it would be postponing the start of its school year to Sept. 8 and similar disruptions have continued to persist throughout the state.
Since there were no official announcements on a delay of the season made following Wednesday's meeting, one can only speculate what comes next. One possibility is that superintendents may begin to make their own decisions regarding football and other fall sports. A situation where districts begin making decisions independently would have a massive impact on the season as a whole. Already this week, the Decatur City School District announced it would be delaying the start of its football season by three weeks – leading to the Bulldogs' first three games of its football schedule being effectively cancelled.
As of now, the first football games are still scheduled the week of Sept. 4, two weeks past the original Aug. 21 start following the original July 20 announcement to delay the season. The GHSA will continue to work with state health officials to monitor the numbers over the coming weeks, but decisions could be made in the meantime by individual districts that feel compelled to delay or even opt-out of the upcoming season. DeKalb County could be the first major metro district to opt-out of the season.