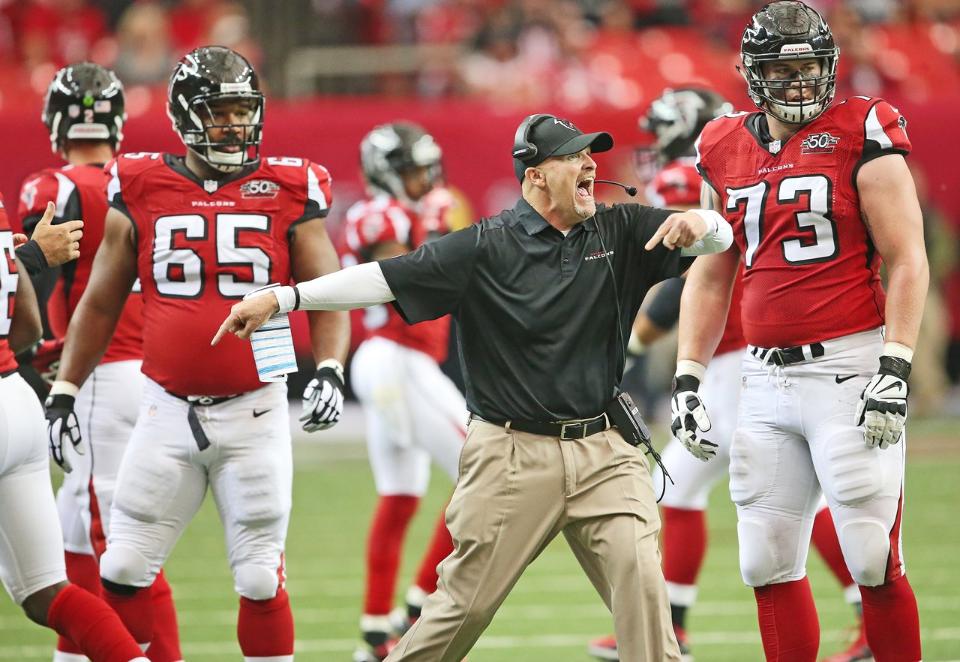 AtlantaFalcons.com
FLOWERY BRANCH, Ga.— A Monday at the Atlanta Falcons team facility during the season usually serves as a day for meetings, film study, medical treatment and the start of game planning for the next opponent. It is not supposed to be a time for trash bins and bags to be set out for locker clean out.
This signifies the end of the 2015 season, with yet another year of not making the playoffs. This time it featured an 8-8 football team who lost their season finale at home to the New Orleans Saints, to be swept by your division rival.
This all seems like a ton of negatives right? Well, the players seem confident leaving this locker room, as opposed to leaving similar days in the past couple of seasons.
Players like cornerback Robert Alford has no idea what the postseason in the NFL is like, because he's been on the last three teams who haven't played past the regular season. That said, he believes the attitude leaving this season is much different than the last two.
"We accomplished a lot this year, as opposed to last year as you can see in our record," Alford said. "Just for us as a team, where we wanted to be at, in the playoffs we didn't accomplish that. That's more disappointing than anything. But, we were more successful this year than we were last year."
2013 for example, had a team that went 4-12. 2014 was a team that had a chance at winning the division, lost to finish 6-10 and their head coach Mike Smith got fired.
Things were remarkably better for them in 2015, despite the finish. They are also a team that showed that some problems still exist for them in terms of ball security/penalties.
The Falcons were sixth worst in the league in terms of turnover margin, finishing 2015 minus-seven in that category. They were also penalized 100 times this season, but they were the eighth fewest penalized team in the NFL.
It wasn't so much when they had these things happen to them in games, it was where. Yesterday's game for example featured the fumble by running back DeVonta Freeman, Matt Ryan interception to set up the Kai Forbath game winning field goal and the unnecessary roughness penalty against offensive guard Andy Levitre to put them out of field goal range.
In his Monday press conference, head coach Dan Quinn called yesterday's game of microcosm of the season.
"Things we did well and things we needed to improve on," Quinn said. "Offensively for the season, we ended up finishing second in the league on third down and we played well on third down again yesterday."
Quinn also points to the fact they had over 400 rushing carries in 2015. But he says that points outside the red zone needs and turnovers need to improve.
The Falcons were 7-2 when they won the turnover battle and 1-6 when they did not.
So now, the Falcons find themselves in search of getting the postseason in 2016. Veteran linebacker O'Brien Schofield hasn't experienced life without getting to the postseason over the last couple of years.
Schofield came from the two-time defending NFC Champion Seattle Seahawks to the Falcons during last offseason. He says this team is close to their goals.
"I just think it was a couple of games where we were in situations that we couldn't dig ourselves out of a hole," Schofield said. "Carolina is one of those games, where they jumped out on us early and we couldn't do anything to get back in it. It's going to be those ones that hurt."
To a man, almost every Falcons player says they will take some time off to let bumps and bruises heal from the week to week grind that is an NFL season. However, they also added that they cannot wait to be back for team workouts to get ready for the 2016 season.
Linebacker Paul Worrilow says he will be ready to come back from the offseason.
"Excitement and optimism is there for next year," Worrilow said. "Everybody's got that desire to improve and make those strides still. We did some good things this year. But, we know there's plenty things that we have to do better throughout the season."
The Falcons will turn their attention to the offseason of getting the team built for the 2016 season through free agency, possible trades and the draft. We can also expect that this team will be even closer to Quinn's desired "Fast and Physical" brand of football that he continues to build in Atlanta.