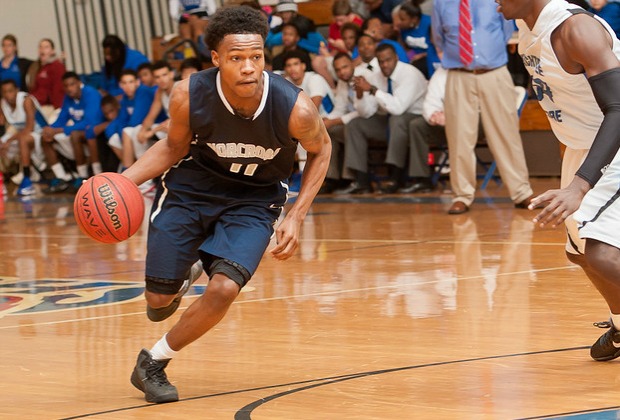 Ty Freeman
For the fifth straight year, Norcross High School will play host to the Hilton Invitational, an incredible basketball tournament that welcomes in 12 of the strongest teams from all across the eastern United States. Some of Georgia's best teams as well as teams from North Carolina, Maryland, Tennessee and Alabama will join GAC, Miller Grove, Wheeler, Eagle's Landing and North Cobb at Norcross' House of Blue Jan. 26 for the six-game showcase. Class AAAAAA No. 2 North Cobb meets Carver (Ala.) in the first game of the day, followed by Class AAAAA No. 1 Miller Grove and Memphis (Tenn.) East. Class AA No. 1 GAC then faces Olympic (N.C.), followed by Class AAAA No. 2 Eagle's Landing and Flora MacDonald (N.C.) Academy. The host Blue Devils, No. 6 in Class AAAAAA will face Dematha (Mary.) before Class AAAAAA No. 8 Wheeler wraps up the night against Christ School (N.C.).
Eagle's Landing has two members of the Score 44 on the roster in C Desmond Ringer and G Trevin Joseph, joining Eric Wortham, Jordan Session, Chris Davenport, Isaiah Dennis and Maurice Green to form one of the state's best squads. Eagle's Landing will match up against the North Carolina powerhouse Flora MacDonald.
Christ School is another power from the Tar Heel state, ranked in the most recent USA Today nation top 25 poll. Shannon Hale is on the McDonald's All-America watch list and will head to Alabama next season. Sophomore Daniel Giddens and junior Elijah Staley will have their hands full in that contest.
North Cobb is led by Florida Gulf Coast signee Jordan Neff, a member of the Score 44. The Warriors will need everything Neff has when they square off with Alabama's Mr. Basketball Jeremy Johnson, an Auburn commitment.
Miller Grove lost a huge load of talent last year after winning a fourth straight GHSA state title, but Sharman White has junior star Keith Pinkney as well as a pair of Score 44 members in Earl Bryant and Kyre' Hamer. The Wolverines will need those three locked in when McDonald's All-America watch list candidate Nick King, a Memphis pledge, takes the floor for Memphis East. Last season, Memphis East won a Tennessee state title.
GAC has its share of talent with Collin Swinton and Delano Spencer but Olympic can boast Akron commit B.J. Gladden, who has helped Olympic earn a USA Today Top 25 spot.
The marquee matchup has to include the host Blue Devils facing the prestigious Dematha program. Dematha has won several national championships and countless Washington Catholic Athletic Conference championships all while producing countless college and NBA players. Hawks GM Danny Ferry is a Dematha alumnus. This year's team features N.C. State pledge B.J. Anya, who is also on the McDonald's All-America watch list. Norcross will counter with Brandon Goodwin and Terrance O'Donohue, both members of the Score 44 as well as two-sport star Lorenzo Carter.
For more information, visit norcrossbasketball.com