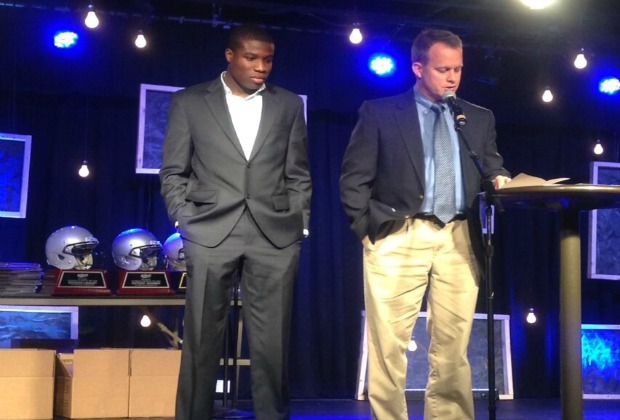 Craig Sager II
On Thursday night, the Cobb County Touchdown Club end of the year banquet was the exclamation point to close the 2012 season. A memorable season delivered North Cobb the most hardware. UT-Chattanooga commit Xavier Borishade took home Cobb County receiver of the year. Defensive Lineman of the year went to Eghosa Agbonghae who posted 102 tackles. The 2012 Warrior team was named the Cobb County Team of the Year.
North Cobb's Chad McGehee won Defensive Coach of the Year, and Tom Clark won Offensive Coach of the Year. Head coach Shane Queen was named the Orasi Software/Bruce Cobleigh Cobb Coach of the Year and collected a $1000 check for the trophy. And the biggest award of the night went to sophomore quarterback Tyler Queen, who won the Schutt Sports Cobb Player of the Year. Queen has already quarterbacked in 25 games as just a sophomore, and after his second season, could be on pace to break every Cobb quarterback record. The Warriors combined for 11 total awards.
Cobb County has continued to progress as the talent and competition is getting deeper and becoming more recognizable across the football landscape. Marietta's playoff win at Lowndes and North Cobb's big win over Valdosta were instances mentioned at the banquet by McEachern athletic director Jimmy Dorsey, who was one of the presenters.
"We are getting close to that state championship, we are right there guys," said Dorsey. "Cobb County and North Georgia football is the new measuring stick of the south."
Some of the recipients were unable to be in attendance due to early enrollment. Anthony Jennings, who won Cobb Offensive Player of the Year for the second straight year, arrived in Baton Rouge in early January to quarterback the Tigers and had his mother step on stage thank his coaches, teammates and Blue Devil support for all his success. "I wouldn't be where I am today if it weren't for you guys," read Jennings.
Eddie Printz won Cobb Quarterback of the year and sent his thanks from the University of Missouri campus. The Cobb Defensive Player of the Year was Brendan Langley who, like Jennings, was a repeat winner.
"I want to thank everyone at Kell for all they do, I appreciate it all and it never went unnoticed," said Langley. "I look forward to continue represent the Longhorns from Athens."
The scholar athletes might have been the most impressive list of recipients. Both Lassiter's James Rowe and Walton's Thomas Lynch made the list of Cobb Scholar Athletes and will be named Valedictorians of their schools in the Spring. Rowe, who is going to Georgia Tech, has a 4.643 GPA and Lynch, who is going to Yale, has a 4.738 GPA. As the fair share of the talent prepares to head across the country to represent the County and State, it was evident that 2013 will bring another competitive year in Cobb County.