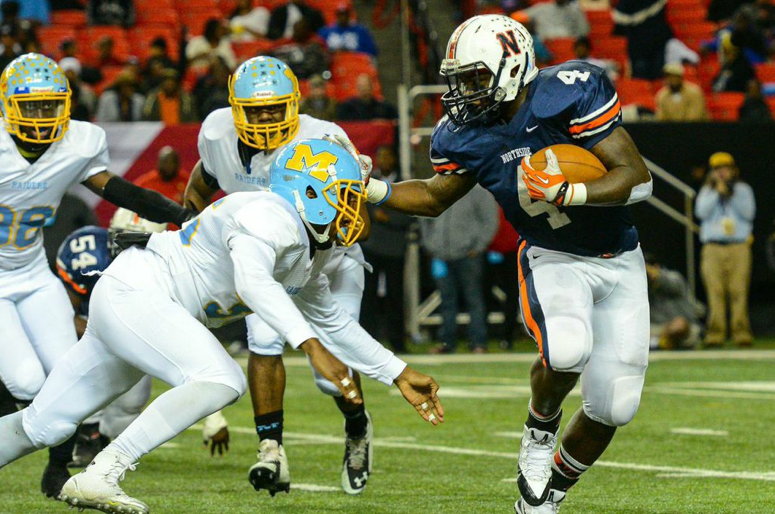 Photo by Jon Barash
Northside-Warner Robins erased its 18-7 halftime deficit and stamped a 25-18 victory over Mays to claim the 2014 Class AAAAA state championship. The Eagles took an early 7-0 lead on a deflected Mays pass attempt that was intercepted by Jayllen Kendrick and returned 16 yards for the touchdown. Mays responded and began to showcase its explosive playmaking ability following the turnover. Mays quarterback Asahnia Aderhold found Tyshawn Brown on a crossing route that the wideout caught in stride and sprinted into the endzone for a 16-yard score. Mays would miss the point after but added points at the start of the second quarter on a 76-yard touchdown pass from Aderhold to Randrecous Davis. Following the Davis touchdown, the Raiders failed another conversion, but their defense would hold onto the 12-7 lead the remainder of the second quarter and give the offense a chance to attempt a hail mary before the half. Aderhold eluded the Northside-Warner Robins pass rush and found Davis for a 29-yard touchdown on the final play of the half. The Raiders tried a two-point conversion, but the attempt sailed out of the end zone and the lead would remain 18-7.
Northside came out the second half with a spark offensively that was provided by sophomore quarterback Tobias Oliver. Oliver found Nate Greene on a flea-flicker that went for a 70-yard touchdown and cut the deficit to 18-14. Oliver, who rushed for 122 yards in the second half, continued to move the chains and keep the explosive Mays offense off the field and the momentum in the Eagles' favor. In the 4th quarter, the offense continued stacking up drives and eventually Northside kicker Justin Alonso capitalized with a 32-yard field goal to cut the deficit to 18-17.
With 8:31 left in the game, Oliver ran in the game-winning touchdown on a 47-yard quarterback keeper. On the 2-point conversion, Tae Daley dove to secure Oliver's pass and put the Eagles up by seven (which was huge considering Mays' already three failed point afters).
"Our defense kept giving our offense chances to put the ball in the endzone," said head coach Kevin Kinsler. "Holding them to 18 total points and especially holding them scoreless in the second half was huge."
The Raiders would threaten twice following Oliver's touchdown run but came up short with a missed field goal after a false start on 3rd and goal from the 1-yard line and a turnover on downs at the Northside 39-yard line.
This is Northside's first state title since the program captured back-to-back championships in 2006-07.
"Our players have a lot of character and they have just grown closer and closer as the year went on," explained Kinsler. "These kids learned how to love and care for each other and put it all on the line and thankfully they were rewarded for that tonight with a state title."