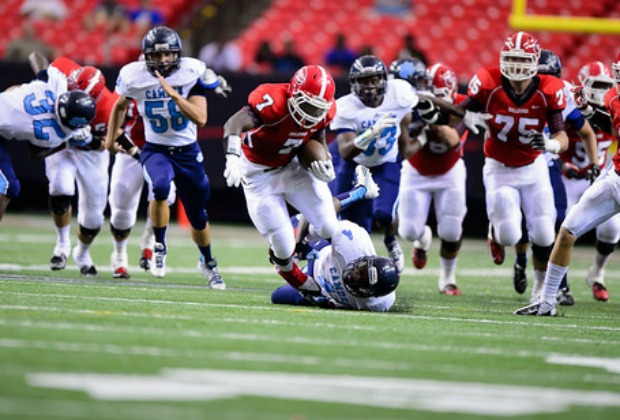 Photo by Ty Freeman
We are counting down to National Signing Day 2014 by putting the spotlight on 25 of Metro Atlanta's top prospects as they choose their college destinations. These athletes will be recognized for their outstanding varsity careers throughout Score Atlanta's record breaking coverage of the Peach State's signees. #NSDFrenzy
C.J. Leggett starred at North Gwinnett High School, where he led the Bulldogs to the Class AAAAAA state championship game before they fell to Norcross. He dealt with a turf-toe injury for much of the regular season, but he still finished with 1743 rushing yards—including 840 in five playoff games. Leggett scored 23 touchdowns during his senior campaign while also displaying prowess as a pass-catcher out of the backfield with 23 receptions for 260 yards. He racked up 287 rushing yards in a 27-21 semifinal win over McEachern. He played his junior season at Chattahoochee High School, where he averaged 20.7 yards per reception on six catches.
Leggett committed to Georgia Tech in mid-December after getting a late offer from the Yellow Jackets. He had been considering Pittsburgh and UCLA. The Alpharetta native, who found success running both inside and outside the tackles, projects as an A-back for Georgia Tech. However, he could also be used as a B-back (more of a fullback than a wingback).
A compact, powerful running back, Leggett stands at 5'9'' and 207 pounds. Breakaway speed makes Leggett a home-run threat on every touch, but he is also reliable pounding out short-yardage first downs.
1. Nick Chubb
2. Lorenzo Carter
3. Nick Ruffin
4. Bryson Allen-Williams
5. Dante Sawyer
6. Cortez McDowell
7. Korie Rogers
8. Wesley Green
9. Mike Rogers
10. Orlando Brown
11. Detric Dukes
12. Nate Brown
13. Andrew Williams
14. Kendarius Webster
15. Allen Artis
16. Demarquis Gates
17. Kevin Mouhon
18. Elisha Shaw
19. Treyvon Paulk
20. Myles Autry
21. Taariq Shabazz
22. Kendall Baker
23. C.J. Leggett
24. Grant Haley
25. Evan Berry