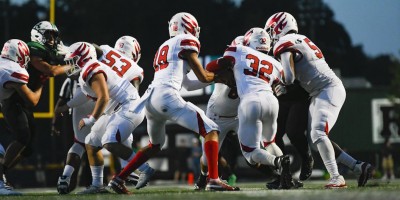 By Score Atlanta
A group of metro Atlanta county superintendents will come together digitally Thursday to discuss the upcoming high school football season and other Fall sports with a goal of trying to reach some kind of consensus which may include delaying the season.
Currently, the starting date is the first week in September and the medical advisory board of the Georgia High School Association met with Executive Director Dr. Robin Hines on Wednesday to update him with the current COVID-19 situation in Georgia. Coming out of the meeting, the GHSA's plan to start early next month remains in place. However, Hines did say in Wednesday's official GHSA release that "it is possible that the start date of September 4 could change based on COVID-19 data.''
According to sources close to two of the county's superintendents, there is concern with the overall number of schools in metro Atlanta being impacted by COVID-19 as well the statewide number of cases. The call is expected to include the four biggest counties in metro Atlanta – Gwinnett, Cobb, DeKalb and Fulton as well as Atlanta Public Schools.
Several counties in Georgia have already pushed their seasons back including Savannah-Chatman County Public Schools (10 high schools), which moved their starting date for football back to Oct. 1. Rockdale County has already cancelled football and other sports in the Fall as well as Calhoun County, Twiggs County and Stewart County.