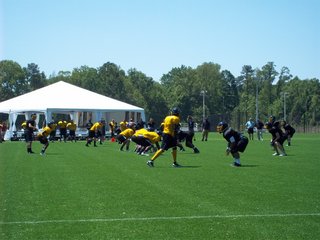 Brian Jones
Kennesaw State wants football.
This was evident when the students, faculty and staff packed the Convocation Center in September 2010 for the announcement of the program forming a football team by 2014 or 2015.
There was some people did not want to wait that long, so they decided to start a club football team which will have its inaugural season this fall.
Club President Danny Payne and Vice President John Lawrence have worked diligently since December the get the ball rolling. From the meetings with potential players, tryouts and finding a league to play in, it all came together on Saturday as the team held an open scrimmage at the Owl's Nest which is the KSU Club Sports Complex located a mile away from the campus.
There was a little over 30 players that took part in the scrimmage and it lasted for an hour and a half. The offense was dressed in yellow jerseys and the defense wore black. There were no stats to record no score to be kept. This scrimmage was about showing the fans what they have been working on the last month and what's in store for the fall.
The Owls have joined the National Club Football Association. There are five conferences in the NCFA and the Owls are members of the South Atlantic Conference. That conference features the teams Macon State, Orangeburg-Calhoun Technical College and the University of South Carolina. Lawrence said the team has six games scheduled right now but he wants and needs two more games to have a full schedule for the upcoming season. One of the notable games on the tentative schedule is against Chattahoochee Tech who won the NCFA National Championship last year.
Just like with the NCAA football teams, the players have to do their work in the classroom before they can take the field. It is required that they do 40 hours of study hall per semester. If they don't do the 40 hours, they will be ruled ineligible for the upcoming semester.
And just because the team has been practicing for a month doesn't mean they are not looking for new talent. If there is a student wanting to be on the team, they can talk to Lawrence or Payne and they will make sure they will get that student on the field.
KSU Club football is not exactly what the student body has been waiting for, but the team features players and coaches who are passionate about the game. And once September arrives, football will finally make its way to KSU.