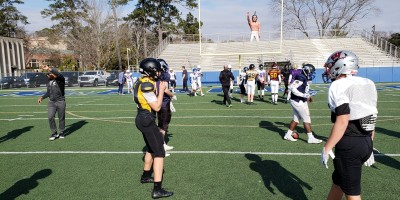 By Craig Sager II
High School football teams in Georgia returned to action this week with the first opportunity to hold full-scale team activities of the 2020 offseason. Holding these sessions after months of disruptions, uncertainties and stringent safety protocols that have been in effect in the early phases of the GHSA's safety guidelines to prevent the spread of COVID-19 has made this week especially important in the overall pursuit of football this fall.
Despite all of ups and downs that have led up to this point, there has been major strides made within the last week. This past Monday was when the GHSA revealed that it would delay the start of the football season by two weeks. This decision came just days after a string of major Metro Atlanta counties announced that they would be opening the upcoming school with a completely virtual strategy and was also the first date that football teams were granted permission to issue out helmets.
Then on Wednesday, GHSA Executive Director Dr. Robin Hines announced that restrictions were to be lifted—allowing teams to participate in an unlimited capacity after having previously operated in groups ranging from 20-50 students. The newly lifted restrictions also granted permission for teams to use locker rooms and showers under a set of sanitation guidelines for the first time.
With the GHSA's approval, schools across the state returned to the field this week and began the first stage of the acclimation period that is required before the start of the upcoming season. The daily schedules range from team to team.
For instance, Mountain View High School is holding its first helmeted practice at full capacity this Wednesday, while Blessed Trinity took the field Tuesday evening at 6 for its first team practice. Meanwhile, schools in Paulding County took to the field this Monday with the start of their academic school years on Aug. 3, just one week away.
"Today's practice was the same thing we have been doing during our Phase 2 sessions so there really wasn't a lot different, but tomorrow we are going into Phase 3 with full team activities," said Mountain View head coach John Poitevint. "Tomorrow is a big day in terms of getting everybody together, but I'm just excited to play football."
Poitevint previously served as Brookwood defensive coordinator before accepting the head coaching job in late May following the passing of former head coach Rob Kellogg. Wednesday will be Poitevint's first full-team practice session as head coach and the day will be made busier as it also marks the first day that Mountain View's faculty is returning to campus.
"Teachers start back tomorrow, so we are moving to afternoon practices," said Poitevint. "We've been going in the morning so that will be a change for the guys. We are going to bring them in about 1 o'clock and start the process of checking them in. We are going to lift and meet and also issue lockers for the first time and issue equipment so there is a lot to do in the upcoming days. Then we will get on the field for two hours. …These last two days of practice have been exciting. The kids know that when those helmets come on that is the official start of football season and you can feel their excitement. They finally have started to understand that this is going to happen so let's get ready to rock and roll."
Per the GHSA's guidelines, teams are required to hold five acclimation practices prior to Saturday, Aug. 1, which is the first day that full pads are permitted. Poitevint has elected to skip this weekend and wait until next week to consider holding the team's first fully-padded practice and other coaches around the state are also looking to ease into the next stages of the preparation process.
Three-time defending state champion Blessed Trinity has adapted a different strategy to get his team up to speed and continues to balance weight lifting sessions into the schedule like the rest of the state in hopes to make up for lost time. The Titans have also opted to use the morning to hold walk-thru sessions in order to better prepare evening practice sessions.
"The way we are doing football is at 8:30 in the morning we come in and do a walk-thru," explained Blessed Trinity head coach Tim McFarlin. "And so you get a one hour walk-through and we use that time to install everything we are going to do that day. We used that period to prepare for our practice at 6 p.m. today. We will go today, Wed, Thur. Friday and Saturday morning this week. So this Saturday will be fifth session and we will get those five acclimation days in.
"Next week I am not going to go full pads. We have to remember that these young men have been dormant for months, so we are going to ease in it. We'll integrate into it. On Monday, we are going to do just like today on Monday with two sessions. Then probably go helmets and shoulder pads for maybe the rest of the week and then the third week we will integrate into full pads."
247sports Recruiting Expert Rusty Mansell has attended Paulding County High School and Carrollton High School football practices this week and will continue bouncing around the state in the upcoming days. What he has seen thus far, has encouraged him.
"I'm going to try and get to Gwinnett to see some guys and I will try and get over to a little bit of Fulton County and then next week probably venture out to South Georgia and Middle Georgia to try to see some of those kids," said Mansell. "Today was the first day that I actually went home and made a schedule of some games that I would like to scout. I'm going to start on Aug. 21 with the Carrollton and Grayson scrimmage.
"It all kind of hit me today. When I saw Carrollton and Paulding County practicing special teams this week, I was like, that says something to me. We are actually in football season regardless of what is going on outside of everything else in this world. When you see high school football teams practicing special teams, that is something that I don't think I am going to take that for granted for a long time."
While things are running smoothly so far for much of the state, Morgan County's football team was forced to halt its activities after several players tested positive for COVID this past weekend. Despite this, however, the decision to delay the season could ultimately buy Morgan County, and any other team that experiences a positive case or cases in the coming days, enough time to remain on pace to be ready for the start of the season.
"I think those two weeks bought them some time," explained Mansell. "If you take a team like Morgan County right now that is experiencing a large amount of COVID. Even if they decide to wait 2 full weeks to return, they still could have almost two-and-a-half more weeks of practice before the scrimmage dates because of that that decision to delay the season. So it bought them some time. But if they continue to shut down teams that is going to be a problem. … I will say this; for me right now, Aug. 21 is the date for me. If they are putting kids on buses to go to scrimmages on that day, then they fully intend on playing the season in my opinion."