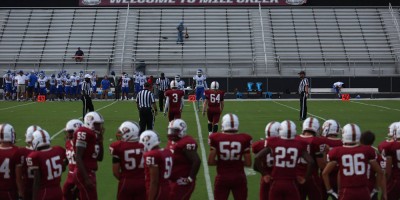 The 2020 Corky Kell Classic, presented by the Atlanta & North Georgia Building Trades Unions. will no longer play the final day of its four-day lineup at Mercedes-Benz Stadium as originally scheduled. Unique challenges brought about by the ongoing Covid-19, compounded the difficulties of accommodating the five-game lineup, and after weeks of considerations, it was determined that it was in the best interest to seek an alternative location and move to Mill Creek High School.
"After much consideration, our teams collectively determined that due to the uncertainty of the current environment, temporarily moving the location of the Classic would be best for both parties," said Tim Zulawski, Chief Revenue Officer, AMB Sports + Entertainment. "We look forward to welcoming the Corky Kell Classic back in 2021."
Corky Kell leadership informed the 10 teams impacted by the decision and moved swiftly to secure Markhan Field at Mill Creek as the alternative host site. All 11 games in this year's Classic will be televised on either CBS46 or Peachtree TV.
"I can't tell you how hard we worked with Mercedes-Benz Stadium to try to make this work,'' said Score Atlanta president I.J. Rosenberg, one of the partners of the Corky Kell Classic. "Because of what was going on with Covid-19, Tim felt it would be smart for us to go ahead and get a backup, which we did back in June. He was looking out for us because I think early on, he knew how tough under current conditions it was going to be to get five games in on one day at MBS. We know our teams wanted to play at MBS and hopefully by this time next year we will be back to normal and all 10 of those schools will get to play there. But I have to also thank Mill Creek for doing this. They hosted Falcons Friday Night Lights a few years ago and my company was involved and Mill Creek did an incredible job with the event."
"I certainly think moving to Mill Creek could offer us flexibility as things are still uncertain about the start of the season, but that is not a factor that went into our decision," said Corky Kell Executive Director Dave Hunter. "Mill Creek will work well for us for a lot of reasons. It's one of the bigger stadiums in Gwinnett County that has a nice set up with a big visitor's side and home side. The site will offer us a lot of space and we can use the practice fields to put tents up for the teams so that is good. Plus, it is right off of I-85 so it is easy to get to and there is a lot of parking."
The Corky Kell Classic played its final day at Mercedes-Benz Stadium each of the past two years and drew roughly 35,000 fans over the course of its Saturday lineup.
"We've had numerous conversations and Mercedes-Benz Stadium has been very upfront about the situation," said Hunter. "They had to follow the NFL protocols and that was just one of the things. Only 6,000 people could be in the lower bowl and we'd have to get them out and clean out all the seats and then bring people back in. The first 10 rows are not available under the NFL standards and the cost of the sanitation was going to be really tough for us and it just did not fit our model this year. Having to go through all the measures with five games, it would probably lead to the event being astronomically long. You could see the games ending at 2 or 3 in the morning."
High School athletics is continuing to press forward during these challenging times and Hunter is optimistic that the Classic will be kicking off the high school football season for the 29th consecutive year this August.
"Our teams have always stepped up and we expect them to do the same thing when we meet at Mill Creek on Saturday, Aug. 22," said Hunter. "The programs have been resilient and helpful through all of this. One of things we are doing is the teams are normally under a two-year contract, but because of the changes, we are going to offer them all the choice to make it a four-year contract. …It would be huge for us to pull this event off after everything that has happened so far in 2020. Not just huge for Corky Kell's history, but for the kids in Georgia. As we continue in the weeks ahead, we will make sure that all of our staffs and all of our schools are putting the safety and security of the kids first. We want to do that and we're definitely going to do everything we can for the fan safety protocols as well as the players."
All 10 teams playing on Saturday are in the first of a two-year contract to play in the Classic and are expected to get the chance to play in Mercedes-Benz Stadium next year.
"I have been lucky to be involved with Mercedes-Benz Stadium since the planning stages and there is no better facility in the world,'' said Rosenberg. "I do want to thank those over at Mercedes for giving it the attention they did as they have a lot to juggle with the Falcons, United, college football games and other events. I know how badly these teams wanted to play there next month but sometimes you have to make tough decisions. I think right now these schools just want to know they are going to have a season, and they will get the Mercedes-Benz experience next year.''
2020 Atlanta & North Georgia Building Traders Unions Corky Kell Classic Schedule
(Home Teams on Left)
Wednesday, Aug. 19 (At West Forsyth)
Cherokee vs. Carver-Atlanta (5:30 p.m.)
West Forsyth vs. Mays (8:30 p.m.)
Thursday, Aug. 20 (At Dacula)
Denmark vs. Tucker (5:30 p.m.)
Dacula vs. Archer (8:30 p.m.)
Friday, Aug. 21 (At Rome's Barron Stadium)
Cedartown vs. Carrollton (5:30 p.m.)
Rome vs. Rockmart (8:30 p.m.)
Saturday, Aug. 22 (At Mill Creek)
Kell vs. Walton (9 a.m.)
Brookwood vs. Collins Hill (11:45 a.m.)
Mill Creek vs. Parkview (3 p.m.)
Lowndes vs. Hoover (6 p.m.)
North Gwinnett vs. McEachern (9 p.m.)
For more information on the Classic, go to www.CorkyKellClassic.com