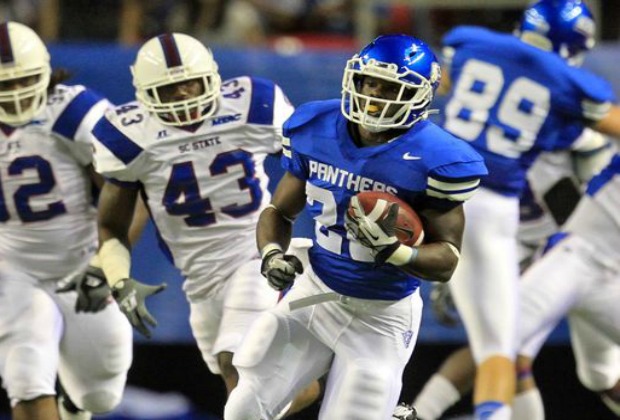 Curtis Compton/AJC
It had been nearly 12 months since Georgia State's football last won a game, and with the way things have been going this season, many Panthers fans were wondering if they would have to wait another 12 months to see this team get a win.
The Panthers ended that speculation last Saturday, earning their first win of the year in a 41-7 win over Rhode Island.
Panthers running back Donald Russell set a pair of school records with 201 yards and three touchdowns while Ben McLane passed for a career-high 213 yards and two touchdowns in the win. Travis Evans also scored twice.
"I'm just so happy to get this win. I wanted this for my team," Russell told georgiastatesports.com. "Our line did a great job, our wide receivers did a great job blocking. Coach Bond made some great calls that got me some looks and my (offensive line) took me to the promised land."
LOOKING FOR MORE
The Panthers will try to make it two in a row when they face Villanova at the Georgia Dome on Saturday for Homecoming. The Wildcats are coming off a 38-14 win over Old Dominion and have now won five of their last six games.
The one player to watch for is quarterback John Robertson, who was named National Freshman of the Week by the Sports Network.
In the win against Old Dominion, Robertson completed 10 of 18 passes for 151 yards and one touchdown. He also ran for 189 yards on 24 carries and scored three touchdowns.
"The quarterback is very, very good and they have some talented running backs and their offensive line is solid," GSU defensive coordinator Anthony Midget told the AJC. "They have big time receivers on outside."
NO POLL LOVE
Basketball season is right around the corner and the men's team is not expected to do well this season according to the experts. The Colonial Athletic Association preseason poll was released this week and the Panthers were picked to finish in eighth place.
The Panthers finished 22-12 last year but return just one starter, point guard DeVonta White. Ron Hunter's squad will return key reserves James Vincent and Rashaad Richardson which should help. Drexel is picked to win the conference, which returns most of the team that went 29-7 last year.