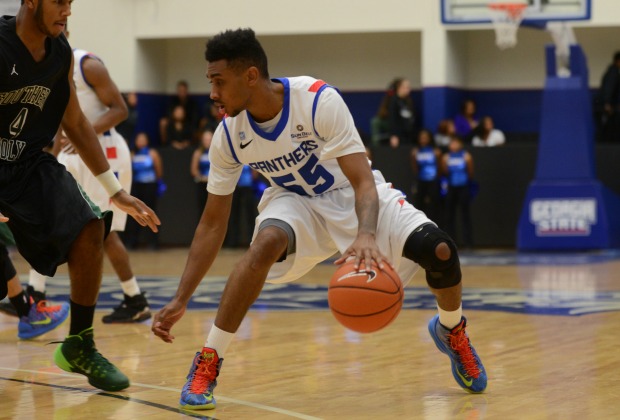 Georgia State Sports Comm.
Georgia State went 17-1 in the Sun Belt Conference during the regular season. That's five games better than second-place Western Kentucky and six games better than eventual tournament winner Louisiana-Lafayette. Davidson—my alma mater—went 15-1 in the Southern Conference during the regular season. That's three games better than second-place Chattanooga and four games better than eventual tournament winner Wofford.
Each team is the undisputed best team in its league. Neither is dancing. That's because Georgia State fell to Louisiana-Lafayette in an overtime championship game and Davidson was upset by Western Carolina in a semifinal showdown that also went into overtime.
As someone who supports schools I attended and also Atlanta-based teams, you could say these conference tournaments really dealt me the short end of the stick this time around. But you won't hear me complaining. No, I am so tired of hearing that mid-major conference tournaments should be abolished and the regular-season champions should be the ones punching tickets to the NCAA Tournament. I also realize that conference tournaments are all about money and people are upset that money is apparently more important than letting the best team into the NCAA Tournament. But is the latter really that important?
Could Georgia State have won a game in the NCAA Tournament? Yes. Could it have reached the Sweet 16? Yes. Could it have been this year's Florida Gulf Coast (sans the nation-captivating dunk-a-thon)? Yes. Could it have won the National Championship? No. And as much as we love the non-stop hoopla of the early rounds, the NCAA Tournament is not comprised of 67 Buffalo Wild Wings Bowls or 67 Famous Idaho Potato Bowls. The 67 NCAA Tournament games are in the business of producing a worthy National Champion. Georgia State in the dance would have been fun. Georgia State—instead of, say, Louisiana-Lafayette—in the dance would not have affected the ultimate outcome. Get over it.
KRIS CROSSED OUT OF ROTATION …
What may take a while to get over is the cruel fate on which the Atlanta Braves have suddenly stumbled. Everything was so perfect in February. General manager Frank Wren was handing out contracts like chocolates on Valentine's Day. He has given another one in March, but the latest deal was signed under far more discouraging circumstances. Whereas the previous transactions had been those of luxury, this was a transaction rich with desperation.
Monday's news confirmed what we already knew when starting pitcher Ervin Santana signed a one-year, $14.1 million deal last Wednesday: fellow right-hander Kris Medlen is out for the year. Medlen walked off the mound on March 9 with discomfort in his pitching elbow and he underwent surgery (performed by—who else?—Dr. James Andrews) on Tuesday to repair a torn ulnar collateral ligament. Brandon Beachy, a Cy Young candidate midway through the 2012 season, is likely headed to the same destination as Medlen for a second Tommy John surgery. Mike Minor's status may not be as dire, but Monday signaled only the first time this spring the southpaw has thrown batting practice.
The Braves are still good enough, especially offensively, to make the playoffs. They may not dominate the division with Medlen and Beachy on the shelf and they may not even win it, but anything can happen if they just sneak into the wild-card game. A three-man rotation is enough to win in the postseason and Atlanta could have a formidable one for an October run if Minor, Santana and Julio Teheran are healthy.
"I told them to stay positive," reliever Jonny Venters, recovering from a Tommy John surgery of his own, told the Atlanta Journal Constitution of Medlen and Beachy. "(There is) nothing else you can really do. Whatever happens, you just go at it as hard as you can. Whether it's rehabbing, if you get the surgery, stay positive and work as hard as you can and see what happens."
That is what Braves fans must do, as well. There are still reasons to stay positive; not only for the long-term future but also for the upcoming season. There just aren't quite as many.