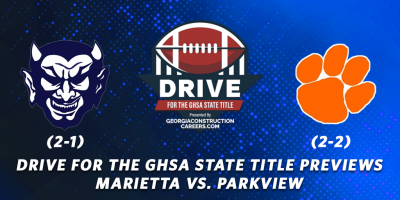 The third televised game featured in the 'Drive for the GHSA State Title' series pits hosting Class 7A No. 7 Marietta (2-1) at Class 7A Parkview (2-2) in a blockbuster matchup to be broadcast on PeachtreeTV at 8 p.m. Friday.
This will be the fifth meeting between the programs. Marietta won 20-17 in 1994 and 42-31 in 2019. Parkview won 20-14 in 1996 and 50-28 last season.
This season, Marietta lost to Class 7A No. 5 Colquitt County 28-25 before beating McEachern 42-21 and Camden County 40-17.  Parkview lost to Mill Creek 43-10 in the Corky Kell Classic to open the season. The Panthers then beat Mountain View (37-24), lost to North Gwinnett (34-27) and beat Loganville (26-3) last week.
Marietta led most of the Colquitt County game, but lost control of the game in the third quarter. Outside of that one quarter, head coach Richard Morgan is very pleased with how his team has performed.
"Yeah, that third quarter was something," said Morgan. "We were up 18-7 and had three fumbles and a blocked punt and that got returned for a touchdown and so did one of the fumbles. … You can't turn the football over five times in 7A football with the schedule we play, but we have only had two turnovers since and have been able to get better each week."
The Blue Devils entered this season trying to forget the title-defense campaign after the program's 2019 state championship. The 3-8 finish in 2020 left Marietta wanting more but this season, the team looks to be back amongst the best programs in the state's highest class.
Marietta's offense averages 290 passing to 114 rushing yards per game and quarterback Tyler Hughes leads the way.
The senior signal caller is 57-of-89 passing for 869 and 12 touchdowns with just one interception. He has passed to five players for touchdowns and senior Kamryn Perry is the favorite with 16 receptions for 246 yards and five touchdowns.
Junior Christian Mathis has caught 13 passes for 196 yards and four touchdowns. Senior Cameron Overton has 15 catches for 284 yards and one touchdown alongside junior Jeremiah Frederick and sophomore Luke Morgan with one touchdown reception each.
When the passing game breaks down, Hughes makes up for it with his legs. He has 41 carries for 136 yards and two touchdowns. Senior Milon Jones and junior Melvin Alexander each have one rushing touchdown.
On defense, senior linebacker Carlos Cervantes has 40 total tackles (29 solos, 11 assists) with four tackles for loss to help anchor the side. He averages 13 tackles per game. Senior linebacker Daniel Martin also has 40 tackles (29 solos, 11 assists) with three tackles for loss. Senior Ezekiel Campbell has six tackles for loss to go with 27 total tackles.
Parkview's pass-heavy offense (237 passing, 72 rushing) is led by quarterback Colin Houck. The 6-foot-2, 185-pound junior is 40-of-72 passing for 666 yards and six touchdowns with four interceptions. His favorite target is Zion Taylor who has 15 receptions for 283 yards and three touchdowns. Mike Matthews has five catches for 148 yards and two touchdowns. Parkview has shown balance offensively, but in the North Gwinnett game the Panthers were forced to rely heavily on the passing game as North Gwinnett packed the box.
"North Gwinnett did a great job stopping our run game and loading the box, but we were able to make plays in the passing game and ended up right at 300 yards and in our two wins we have been able to run the ball well," said Parkview head coach Eric Godfree.
Parkview led that game at the half but ultimately fell 34-27 to North Gwinnett. Now, coach Godfree is ready to keep building off the experience gained over the Panthers' previous four games heading into a tough matchup with Marietta.
"We've seen a lot of growth through these first four games," said Godfree. "We have a lot of youth with 15 sophomores starting and one freshman and have some guys that have really stepped up and done big things for us."
On the ground, Jordan McCoy leads Parkview with 20 carries for 149 yards and one touchdown. Kyhair Spain has two touchdowns and 126 yards on six carries.
The Panther defense is led by Terrence Curtis (32 tackles, 12 assists and one fumble recovery), Spain (30 tackles, five tackles for loss, one fumble recovery), Matthews (24 tackles, one tackle for loss, one interceptions) and Kendall Beard (20 tackles, three tackles for loss, one sack).