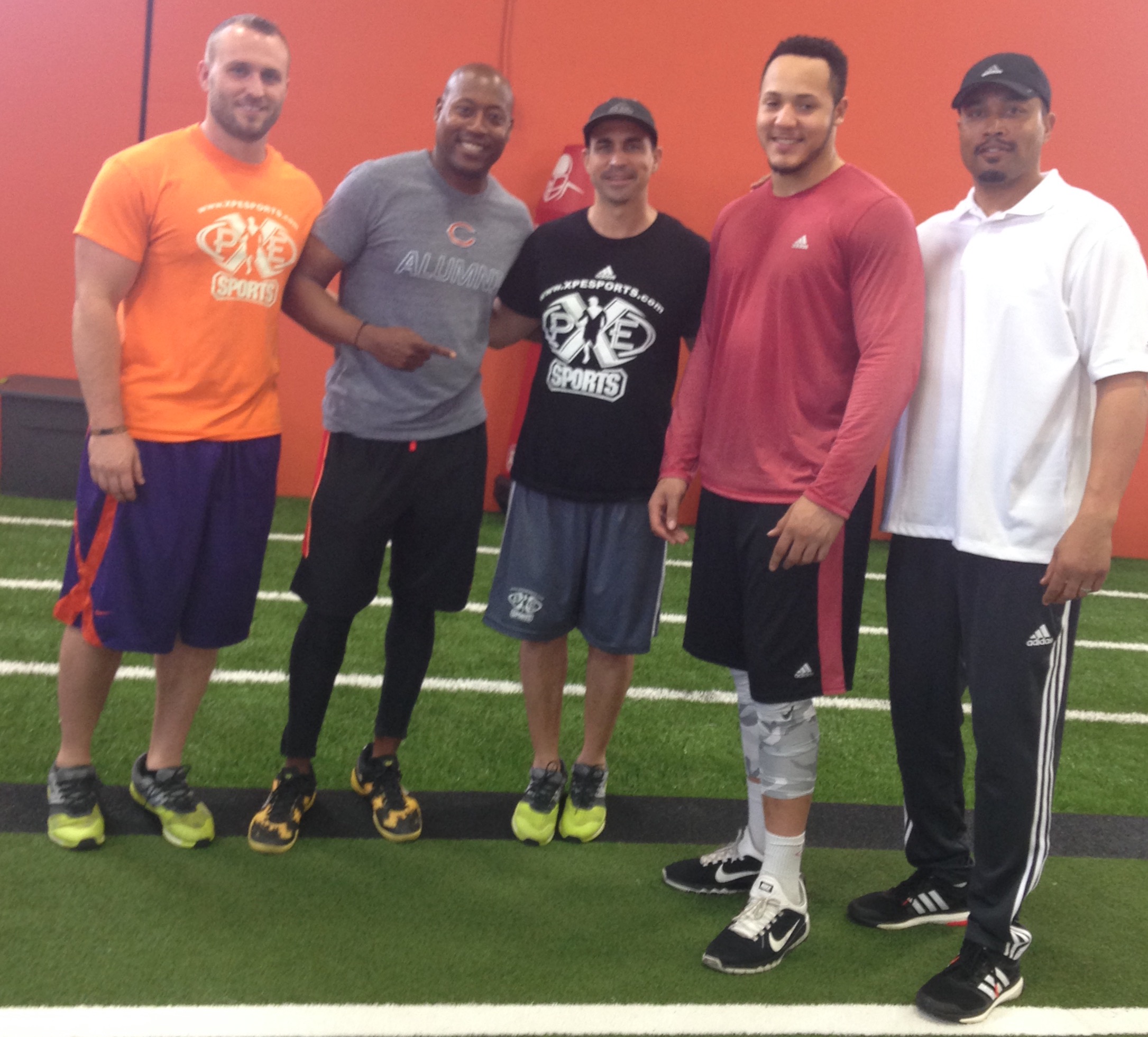 ChuckSmithNFL.Com/Defensive Line INC.
It is no secret that next Thursday night the Atlanta Falcons will likely be in the market to select a player who can rush the quarterback on a consistent basis, when they pick eighth overall in the first round of the NFL Draft. Luckily for them, this year's class seemingly has a good number of players that could help them out.
What some may not know is that a local former Falcon has been helping some of these players who could put on the red and black next season. He is former Falcons defensive end Chuck Smith.
Smith has been helping out former Missouri defensive end's Shane Ray/Markus Golden, Nebraska defensive end Randy Gregory, and Washington defensive tackle Danny Shelton this offseason in their quest to land an NFL job. Ray and Gregory are likely going to play outside linebacker on the next level, however the other two players are likely going to stay where they are.
As you would expect, Smith is very high on this group of talent coming into the league. They all have unique qualities that he feels can translate to the next level.
Smith would also tell you that the jump to the NFL is a huge adjustment for some players. He feels one thing is very important for a young pass rusher.
"Sometimes you go to a team and it's not a good fit," Smith said. "Say if you go to a 3-4 team and all they do is blitz. How do you ever develop as a pass rusher, if you never get to truly rush and develop in the one on one sense? Say all the sudden the next year your team goes to a 4-3? Now you have to win the one on one's and you're not generating pressure with just blitzes."
That definitely makes sense for a young player in the league. After all, there's an adjustment for all players at every position when they enter the NFL.
A huge key for these players and all players entering the league will be the work they put in away from the practice time with their coaches. Smith says this isn't an NFL unique scenario, but applies to all levels of play.
"There's only so much time in a day that a coach has to truly work on all those things," Smith said. "So, there has to be a part of it where you have to learn, put your time in, and do your own research to get out there to rep it over, over, and over."
Two qualities that Smith preaches to the players he works with is to "use their hands" and develop a "signature pass rush move that makes them hard to stop." This falls right in line with the people who influenced him during his nine year career in the NFL with the Falcons and Carolina Panthers.
During his time in Atlanta, Smith says he was influenced by his defensive line coach Bill Kollar (currently in same capacity with the Houston Texans). During those years in Atlanta he was also helped out by teammates like defensive end Pierce Holt and defensive tackle James "Jumpy" Geathers.
One of the major influences Smith learned from came in 1994, when a certain defensive end joined the Falcons.
"One of the greatest things that ever happened to me and those guys when we played with Atlanta was Chris Doleman," Smith said. "(He) came in with an unparalleled ammunition of rush moves that worked on size tackles and we mastered the same moves."
Those are some great people to learn from and this is a huge reason why Smith teaches his players the way that he does.
You probably want to know about the players that could be potential Falcons and what Smith thinks of their ability don't you? Let's start with Shane Ray.
Ray was only a starter for one season at Missouri, because he found himself backing up Kony Ealy and Michael Sam for his first two years. He was still able to put up good numbers in terms of tackles for a loss and sacks in the other seasons. He made the most of 2014, with 22.5 tackles for a loss and 14.5 sacks. That sack total broke the school record held by Sam and current San Francisco 49ers pass rusher Aldon Smith. Ray was also named an All-American and SEC Defensive Player of the Year.
Smith as you would expect believes a lot in Ray and here's why.
"The first thing I noticed is that he went to his pro day at 250 (pounds), but I think he can be a 4-3 defensive end if the team needed him to get a little bigger," Smith said. "But also that he is really passionate about the game and gives great effort. That's really one thing that jumps out."
That passion got Ray into a tough situation against Alabama in the SEC Championship Game, when he was ejected for a targeting call for a hit on then quarterback Blake Sims on a 65 yard touchdown pass to wide receiver DeAndrew White.
Smith cites his "explosiveness" as being a real asset towards becoming an effective pass rusher on the next level.
Ray's teammate and fellow defensive end Markus Golden isn't expected to go as high as him in the draft. However, Smith feels like Golden could follow the same path as some other NFL pass rushers that didn't come into the league with a ton of hype.
"He's a James Harrison/Elvis Dumervil kind of rusher," Smith said. "He's explosive, physical, and play low to the ground. But he also unlike those two guys can play a 4-3 defensive end I believe in the NFL."
Harrison went completely undrafted out of Kent State, while Dumervil was a fourth round pick of the Denver Broncos out of Louisville.
Not only does Smith think that Golden could be successful in the NFL he also believes that he could become a starter within a couple of years in the league.
Another player that Smith had under his tutelage this winter was Nebraska's Randy Gregory. He like the other players showed that he could get to the quarterback. But Smith thinks he also has another skillset in his arsenal that makes him attractive to NFL teams.
"He has the ability to play in space, in coverage," Smith said. "I think Randy showed that, which I think was a surprise to most when you saw what he did at the combine and on his pro day. He can change directions at the stop of a dime, which is the key to being able to have coverage skills."
These skills are very valuable for a player who many believe would be primarily brought in to get to the quarterback in a rushing capacity.
Smith didn't directly compare Gregory to the player that he mentioned as an example of someone who can do both rush the quarterback and cover. But, this name would lead you to become pretty excited about what the Cornhusker pass rusher could do at the next level. That's Broncos pass rusher Von Miller
"If you asked Von Miller what he plays, he'd tell you that he's 'Will' (weakside) linebacker that just has a pass rush skill," Smith said. "The point is, you can put Von Miller out there one on one on guys to cover if you need to. But his skillset as a pass rusher is so great it supersedes any coverage that they ever want to truly have. They want him rushing the passer."
This leads us to our final player to look at, in Washington defensive tackle Danny Shelton. He is not likely on the Falcons radar, however Smith feels like he's not a traditional player at his position.
Shelton measures up at 6'2" and 339 pounds. That would lead you to believe by those numbers that he's a prototypical nose tackle that would be a strength in stopping the run. Smith says he's much more than that.
"He was leading his team in sacks, he was one of the top pass rushers in America," Smith said. "The difference is what we worked with Danny on was that (he's) not just a space eater, you can use your hips and explosive moves/technique to work to get up field."
Shelton proved as much this past season for the Huskies with 16.5 tackles for a loss, nine sacks, and five fumble recoveries.
We could very well see one of these players having their name called on by the Falcons when they make their pick at number eight overall next Thursday night in Chicago. Because, if you believe what we've heard from head coach Dan Quinn and others on his staff, they are looking for someone to disrupt the opposing quarterback. Smith thinks their commitment to this is huge.
"I think (Quinn) and (defensive line coach) Bryan Cox whoever they get, that player will be in good position to have an opportunity because they believe in pass rush," Smith said. "That's the first thing. If you're going to have a belief that sacks, eating up quarterbacks, playing at a high energy, and high tempo rate, that's a start."
While we've heard on the offensive end the goals are to protect quarterback Matt Ryan and get the running game to perform at a higher level, we do know on defense they're looking for players like the ones that Smith trained. Maybe we will have one of those names called?