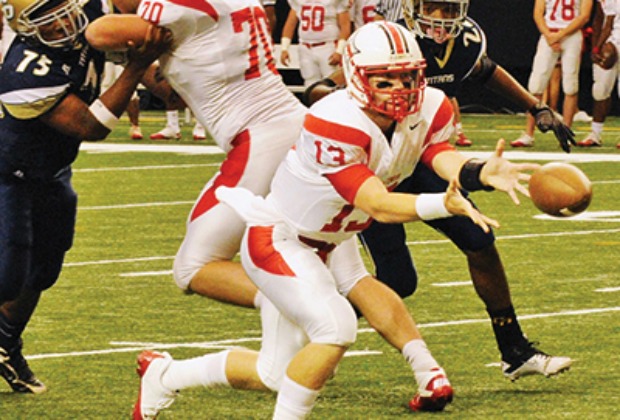 Walter Pinion
Sandy Creek has won three state titles in the last four seasons (2009, 2010, 2012) and is currently ranked by Maxpreps.com as the No. 5 team in the country for 2013.
"There are high expectations," admits head coach Chip Walker.
Quarterback Cole Garvin threw for more than 2,700 yards as a junior, and his top target, Clemson-commit Demarre Kitt returns after hauling in 68 passes for 1,151 yards and 11 touchdowns. Garvin is 6-foot-1, 195 pounds and committed to Marshall on June 14. Kitt is considered one of the most skilled receivers in the country and made his commitment to the Tigers on May 30.
"He [Demarre] can do a bit of everything," said Walker about his 6-foot-1, 182-pound playmaker. "He runs great routes. He catches the ball really well, and once he catches it he is hard to bring down. That's what I think makes him the best wideout in the state."
Walker has a blue-chip quarterback in Garvin and four-star receiver in Kitt on offense, but the list of weapons runs much deeper. Across from Kitt stands 6-foot-3 Justin Sumter, who gives Garvin another Division I receiving target to throw to. Sumter has been a reliable weapon and is receiving interest from Western Kentucky, Ball State, Appalachian State, and Georgia Tech.
Complimenting the aerial assault is probably the best backfield tandem in the state. Eric Swinney is a 5-foot-10 back with offers from Ole Miss, Florida State, Tennessee, Virginia Tech, Arkansas and many more. Adjacent to Swinney is Delvin Weems who displays the same versatile athleticism out of the backfield as Swinney. Marshall has offered Weems and the defenses will get heavy doses of both guys this season. In 2012 both guys rushed for over 1,200 yards and averaged just south of nine yards per carry.
"I hope both our guys set the pace [offensively] this season," admitted Walker.
"They are both dynamic ball carriers. They can both run through you, they can both run around you. Either one of them can do anything. We are just blessed to have two of them in the same group."
This all-state duo's most impressive feature is that they will only be juniors this upcoming season and the Sandy Creek backfield will be set for at least another year.
"The big thing is these guys kind of feed off of each other," said Walker. "If one is having a good game, then the other one wants to step up and do the same thing. That's big in games that may come down to the end."
The third option in the backfield will be Maceo Brown, who will likely see more time at fullback this season. Brown is a very capable ball carrier and adds the dimension of a fullback with the ability to race out of the backfield and go the distance. Brown will be a major contributor to this star-studded offense.
Defensively, the Fighting Patriots allowed only nine points per game last season. Their 44.0 points of offense was matched by one of the best defensive units in the state. Replacing cornerback Shaquille Wiggins (UGA) and safety Corey Griffin (Georgia Tech) will be a challenge, but Walker has plenty of available options. Ronnie Blackmon will only be a sophomore this year, but the cornerback has a tremendous upside. Blackmon already has picked up offers from Akron and Georgia Tech. The underclassmen is still growing, and at 5-foot-9, 150 pounds, trusts his natural ability and ball skills defend the perimeter. Javon Jackson will play at safety and has Walker's confidence heading into the season.
"Jackson has a chance to be a really really good player this year," said Walker.
The "rock" of the secondary will be Brian Miller, who started every game last season as a sophomore and led the Patriots in interceptions.
In the trenches is 6-foot-1, 290-pound Chris Williams, who is described by Walker as "the best defensive lineman we've ever had."
Williams has offers from Ole Miss, Tennessee, Mississippi State, Ohio State and South Carolina.
"Defenses have to account for him [Williams] and that just opens it up for our very good linebacking corps," said Walker.
In 2012, the smallest margin of victory by Sandy Creek over any opponent was Burke County in the state playoffs at 31-20. It is difficult to pinpoint when this team played its best football last year, because the season as a whole was so dominant. In the state championship game, the Patriots beat Ridgeland 45-10 with a running clock in the fourth quarter. During all of their multi-touchdown blowouts, underclassmen got valuable varsity experience and saw time even deep into the playoffs.
"The majority of these guys have that experience of playing under the lights on Friday night," said Walker. "I think it's huge and even if they were not playing, we have played in so many big games that just being there they kind of understand what it's all about."
The No. 1 Fighting Patriots scrimmage Class AAAAA Starr's Mill on Aug. 15 before opening the 2013 season with three non-region games. They will host Banneker in the season opener on Aug. 30, and Class AAAAAA opponents Newnan and East Coweta the following two weeks. Sandy Creek outscored this trio of successful programs 121-20 last year.
Garvin has been the vehicle driving the team through 7-on-7′s and workouts this offseason, and should be poised for another breakout season. "I think he is something like 28-1 as a starting quarterback," said Walker.
The past few seasons, it has been championship teams loaded with some of the state's best talent that has taken Sandy Creek onto the national stage. It is possible that the 2013 team may be the most talented of them all. It is no surprise that The Patriots are our preseason No. 1 in Class AAAA.