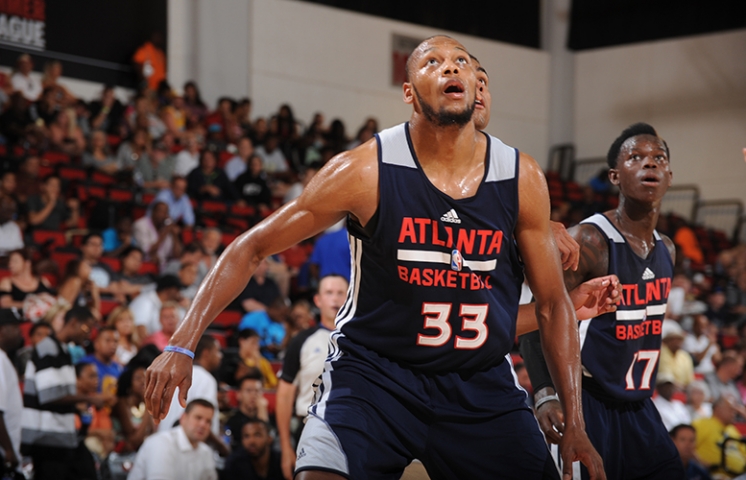 Bart Young/NBAE/Getty Images
The Atlanta Hawks made their summer league debuts in Las Vegas on Saturday facing off against the Washington Wizards, followed by the NBA D-League Select Team on Sunday. The Hawks battled against Washington in a game that could have gone either way early. However, a dominant third quarter by Washington sealed a Wizards victory. It was a slow start for rookie Adreian Payne, who seemed to succumb to the great deal of attention prior to his debut. Payne recorded 12 points and seven rebounds. John Jenkins, still recovering from a back injury, only recorded two points in 21 minutes.
The Hawks would find more production in Mike Muscala (11 points, five rebounds) and second-round pick Lamar Patterson (10 points, three steals). Overall, it was just a start for the Hawks as they continue to learn each other's playing style and try to play with intensity on defense. Key players could not get hot and there were many fouling errors from defensive big man Walter Tavares (four fouls in five minutes).
DENNIS THE MENACE …
The Hawks were back on Sunday against the D-League Select and despite a 94-92 loss in double overtime, there were many positives to take, especially from German native Dennis Schröder. The second-year player finished with an impressive 30 points on 9-14 shooting. Schröder was aggressive and forced him-self into the paint consistently, taking 10 shots from the charity stripe. Schröder may have found confidence in his fellow countrymen, who won the FIFA World Cup in Brazil Sunday evening.
The rest of the Hawks had a strong come-back performance in Game 2. The frontcourt improved significantly under Muscala and Payne, who were a force on offense. In 33 minutes, Muscala recorded a double-double (15 points, 15 rebounds). Payne was very active, recording 10 points and seven rebounds. The rookie even show-cased a thunderous dunk in the first quarter that had the media cheering. Payne seemed to always show up at the right time, having several key blocks and rebounds.
Lamar Patterson, who had 11 points, was strong and athletic and could be a reliable weapon off the bench in the regular season. Four D-League players for Atlanta pre-miered for short segments off the bench. Most notably Casey Prather, one of the more interesting prospects in development. Prather proved his upside with defensive awareness