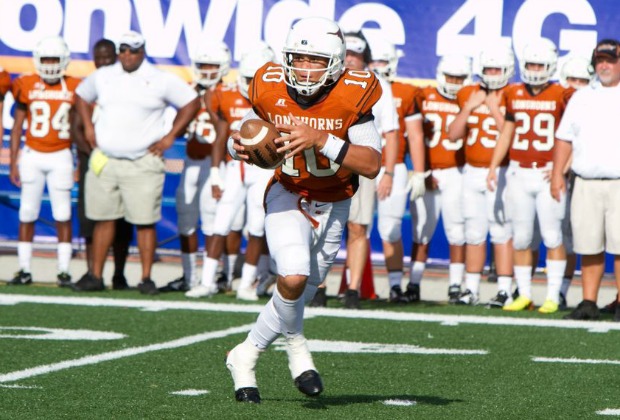 Photo by Deanna Fiveash
Ranked teams and region front-runners fell victim to Week 10 opponents. In Class AAAAAA, Hughes was dropped out of the polls after suffering a 14-6 loss to Westlake. Bryan Love took over the head coaching duties at Westlake last season and after an 0-10 finish in 2012, Love helped the program get back into the playoffs his first year with a 5-6 season. This year, the Lions have already jumped to a 6-1 start, the most wins since 2009. Dacula has also completed an incredible turnaround with a second-year coach that has the school ranked No. 2 in Class AAAAAA heading into this week's action. The Falcons were 1-9 in 2012 and in Tommy Jones' first year at the school they would follow up the forgettable previous season with an unbelievable run to the state quarterfinals. This year, Dacula sits at 8-0 and looks for its first perfect season since 1996 when current Norcross coach Keith Maloof took them to a 12-1 season.
Maloof and Norcross got all it could handle last Friday night as Peachtree Ridge dominated the Blue Devils 35-2. Norcross had a sole lead of Region 7 before the loss and now Peachtree Ridge, Norcross, North Gwinnett and Mill Creek sit in a tie at 4-1 for the region title.
Allatoona and Dalton are the only two teams with more than a one-game lead in region play following Week 10. One of the biggest games in the state this upcoming week comes out of East Cobb with Sprayberry and Kell. The Longhorns have only lost one time in their last 32 region games and are off to an 8-0 start for the second consecutive season. Sprayberry lost its first two games of the year but has won its last six games and can take the top spot out of Region 7 Div. B with a win over the Longhorns.
In Class AAAA, Woodward Academy went to Sandy Creek on Friday and served up a statement 28-7 victory. Woodward used 21 unanswered points to hand the Fighting Patriots their first home defeat since 2008. Elijah Holyfield scored his first touchdown in the opening quarter and Woodward took a 7-0 lead into the half. Sandy Creek tied it at 7-7 with 10 minutes left before Woodward poured on three touchdowns. Holyfield iced the game with a 14-yard touchdown in the final minutes. The seven points were the fewest scored by Sandy Creek since a 3-0 win over Fayette County in 2008.
Class AAA is the classification that keeps winning and winning with room to spare. Eight of the state's 24 remaining undefeated teams are housed in Class AAA. Dodge County lost to Cook after holding down the No. 10 spot in the poll but the top 9 dominated and outscored opponents by a combined 287 points this week (35.9 points per game.)
Screven County (Region 3) and Rabun County (Region 8) hold two-game leads in region action, but the other six regions are neck-and-neck heading into the final two weeks of the season. The biggest game this weekend in Class AA is Lovett and GAC in Region 6. Both teams are undefeated in Region 6 and the winner will take home the region championship. GAC is undefeated and No. 1 in Class AA. Lovett is the defending Class AA champion and has won six-straight games, including a victory over Woodward Academy last month that looks very impressive after Woodward's victory over Sandy Creek on Friday.
In Class A, ELCA improved to 2-0 in Region 5 after an 0-6 start to the season and winless non-region slate. The Chargers topped Landmark Christian 35-28 on Friday and can clinch the region with a win at Our Lady of Mercy this Friday. Our Lady of Mercy is also 2-0 in region play and is one win away from matching its most wins in school history at 6-2.