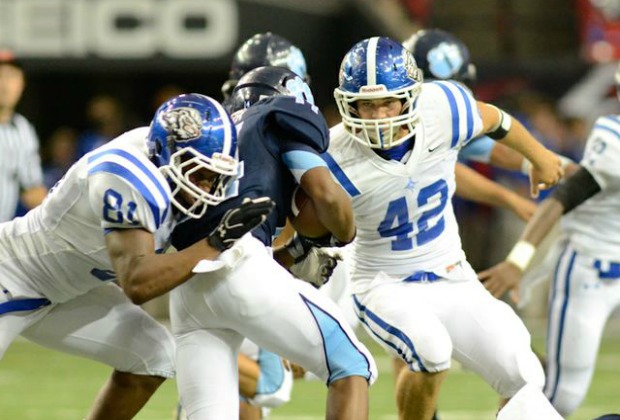 Terance Johnson
When Class AAA No. 1 Peach County hosts No. 3 Carver-Columbus tonight, the Tigers will look to slow down a multifaceted Trojans attack. Demarcus Robinson and Nicholas Searcy can tear teams apart from the outside and the inside, but don't discount Carver-Columbus QB Torrance McGee, who threw for three scores in the first half of last week's win over Central-Macon.
Northside-Warner Robins is off to an 8-0 start and the Eagles have Mr. Do-Everything Keshun Hill, a member of the Score 44. He is a big play ready to happen and last week he returned a punt for a score and took a handoff 70 yards for a score.
When Class AAAAAA No. 1 Camden County travels to No. 4 Lowndes, Wildcats quarterback Brice Ramsey may not be available. The future Georgia Bulldog was injured last week and might not play according to his coach. Lowndes could be without its own superstar as Tiquan Lang reportedly did not practice this week.
Marietta and Anthony Jennings have turned things around after a 2-2 start. The Blue Devils have won four straight and now face North Cobb with a chance to lock up a home playoff game with a win. The Warriors have dropped two of their last four and need two wins and a South Cobb loss to host a playoff game.
Walton has been hurt by a rash of injuries this year with Tyren Jones and Parker McLeod each missing time, but now the offensive line has been slammed with injuries. Look for the Raiders to go to the air against Etowah with several starters from the offensive line missing the game, hurting the Walton running game.
No. 3 M.L. King (8-0) and No. 6 Tucker (7-1) face off at Hallford Stadium in Clarkston tonight with first place in Region 6-AAAAA at stake. The two DeKalb County powers have never butted heads on the gridiron.
In Region 6-AAAAAA, Centennial is looking to win its fourth game in a row and tie Alpharetta for third place. The Knights are led by QB Chase Rosenberg, who has led his team back from an 0-5 start, while the Raiders (5-3) are led by QB Josh Dobbs, an Arizona State commitment.
No. 1 Sandy Creek hosts No. 7 Carrollton with first place in Region 5-AAAA on the line. The Trojans have four rushers with more than 200 yards on the ground this season while Chip Walker's Patriots boast three players (Demarre Kitt, Shaq Wiggins and Alan Knott) with SEC offers.
Brookwood and South Gwinnett are part of a four-team tie in Region 8-AAAAAA. While the Broncos (6-2) lead the series 24-4, linebacker Reggie Carter, a UGA commit, and the Comets (6-2) are no pushover this season.