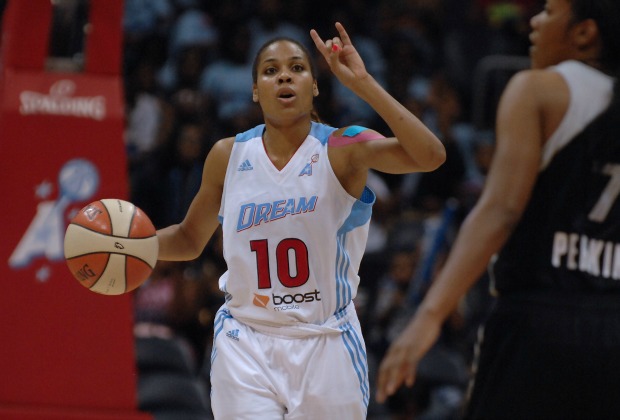 Sonny Kennedy
First-year guard Tiffany Hayes was named to the WNBA all-rookie team on Monday. Hayes was one of just five rookies in the league to receive such an honor. The award is made even more special, because Hayes' basketball peers in the WNBA do the voting. Twelve head coaches tallied nine votes for Hayes, as she became the first member of the Dream to be named to the all-rookie team since Angel McCoughtry in 2009.
HAYES AMAZES
Hayes had a solid initial campaign for Atlanta by averaging 11.9 points per game in 17 starts. Perhaps her best game in 2012 happened on the road against Phoenix on July 7. Hayes poured in a team-high 23 points in the 100-93 double-overtime victory. A key aspect to the 23-year-old's game is a good outside shot. Hayes ranked fourth on the team with 21 three-point baskets on a total of 77 attempts. The second-round pick out of Connecticut played in 34 games for Atlanta and got her first taste of play-off basketball in a first-round loss to Indiana. In three postseason games, Hayes turned in an average of 4.3 points, 2.3 rebounds and 1.7 assists. Those numbers were far below her regular season statistics, but with a year of experience behind her, look for big things ahead in 2013.
DEFENSE WINS
Forward Sancho Lyttle was named to the WNBA's all-defensive first-team after leading Atlanta in rebounds. Lyttle ranked sixth in the league with 7.6 boards per game and averaged just under a block per contest. The eight-year veteran also ranked second in the league in steals behind teammate McCoughtry. This was the first time that Lyttle had been named to the all-defensive first team after earning second-team honors the past three seasons.
For the second straight season, Armintie Price was named to the WNBA's all-defensive second team. Price swiped an average of 2.33 steals per game, good enough to rank third on team that tallied more steals than any team in the league. Price is one of the more respected defenders in the WNBA, as she tends to create turnovers without fouling. Price only fouled out of just one game this season.
The Dream did not finish the season like they wanted to, but Atlanta fans can be proud of the regular season awards that were earned by this defensive-minded team.