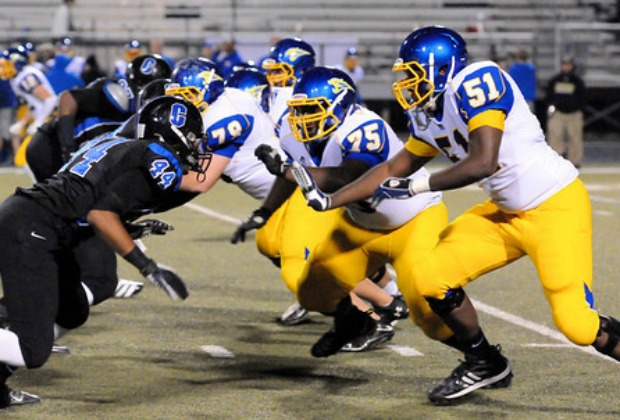 Elisa Herring
First-year head coach Mike Owens will try to continue the winning tradition at Chattahoochee this fall. Owens replaces Terry Crowder who led the Cougars to five playoff appearances including a state championship in 2010.
The Cougars will start the season looking to win in their own backyard, Region 6-AAAAAA.
"Last year, Chattahoochee was just a few play away from competing for a region championship," said Owens in an exclusive interview with Score Atlanta. "There's always a real desire to beat those neighboring schools, and we got some high expectations."
The Cougars won four of their last five games in 2012 (all against region competition) to qualify for the playoffs, but in the opening round of the tournament, they fell to eventual state champion Norcross.
On the offensive side of the ball, the Cougars will give defenses a lot to think about. They'll line up with up to two running backs in the backfield with the possibility of none. In all, the offense returns five players. Owens will rely on the experience of his two senior wide receivers Collin Lisa and Avery Ward, who are both returning starters. Senior Chase Nelson returns for his third season as a starter at running back and will power the offense.
Taz Wilson, a senior, will get the nod at quarterback, but he's a first-year starter. Despite Wilson's lack of starting experience, Owen likes what he sees out of him.
"He's got the potential to really have a pretty special year for us."
The defense also returns five players and will play to the strengths of linebackers Nate Sherman, a junior, and Josh Weisberg, a sophomore. Several players will line up on both sides of the ball for Chattahoochee, most notably junior linemen Zach Kladis and Nick Williams.
Similar to the offense, the defense will use formations to confuse and frustrate their opponents. At times they'll line up in a traditional 4-3, but can and will morph into a 3-5 and beyond.
Chattahoochee faces a tough first game, playing Kell in the Metro PCS Corky Kell Classic, both named for the legendary Cobb County coach and administrator. Luckily, as a former assistant at Brookwood, Owens is quite used to the venue. He estimates that's been an assistant for all but four of the Kell Classics and wants to motivate his guys to play well.
"It's one of the premier events of its kind," said Owens. "There's probably not 10 events in the country that can compare to this one. To get his team ready for excitement and noise the Cougars are installing a hand-signal for their offense and defensive units."