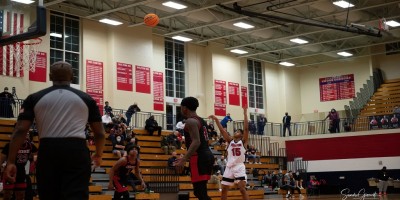 Boys: In Class 7A, Etowah replaced Parkview in the poll and debuts at No. 10. Richmond Hill scored a 65-57 win over Statesboro in the Region 2-AAAAAA championship and took over the No. 10 spot in Class 6A. In Class 5A, No. 1 St. Pius finished the regular season with a flawless 14-0 Region 5 record. Additionally, Cass was defeated by Blessed Trinity and was replaced in the top 10 by Forest Park—who is fresh off a big 68-57 victory over Jonesboro. Forest Park comes in at No. 9 and Jonesboro sits at No. 10 after previously occupying the No. 7 slot.
In Class 4A, New Hampstead replaced Jefferson in the poll at No. 10. Class 3A saw White Count slide down from No. 8 to No. 10 and Americus-Sumter was replaced by Dawson County after its 63-53 loss to No. 8 Peach County. In Class A-Private, Providence Christian retains its No. 1 spot despite its loss to Hebron Christian. The Storm followed their loss with a victory over No. 4 Galloway. Finally, in Class A-Public Terrell County and Portal replaced Social Circle and Warren County in the poll.
Class 7A
1. Milton
2. Grayson
3. Pebblebrook
4. McEachern
5. Berkmar
6. South Forsyth
7. North Gwinnett
8. Cherokee
9. Norcross
10. Etowah
Class 6A
1. Wheeler
2. Kell
3. Chattahoochee
4. Evans
5. Shiloh
6. Centennial
7. Lanier
8. Douglas County
9. Westlake
10. Richmond Hill
Class 5A
1. St. Pius
2. Eagle's Landing
3. Tri-Cities
4. Veterans
5. Woodward Academy
6. Lithonia
7. Dutchtown
8. Clarke Central
9. Forest Park
10. Jonesboro
Class 4A
1. Spencer
2. Baldwin
3. Miller Grove
4. Monroe
5. Westover
6. Stephenson
7. Luella
8. Cedar Shoals
9. Fayette County
10. New Hampstead
Class 3A
1. Sandy Creek
2. Hart County
3. Windsor Forest
4. Johnson-Savannah
5. Cross Creek
6. LaFayette
7. Salem
8. Peach County
9. Dawson County
10. White County
Class 2A
1. Pace Academy
2. Swainsboro
3. Washington County
4. Lovett
5. Thomasville
6. Chattooga
7. Columbia
8. Butler
9. Banks County
10. Westside-Augusta
Class A Private
1. Providence Christian
2. St. Anne-Pacelli
3. Mt. Pisgah
4. Galloway
5. Greenforest Christian
6. Holy Innocents'
7. Trinity Christian
8. First Presbyterian Day
9. St. Francis
10. Christian Heritage
Class A Public
1. Drew Charter
2. Dublin
3. Irwin County
4. Towns County
5. Bowdon
6. Hancock Central
7. Chattahoochee County
8. Turner County
9. Portal (19-6)
10. Terrell County
Girls: Entering the playoffs, Collins Hill leads the state's highest class ahead of McEachern, Cherokee, Campcell and North Forsyth. In Class 6A, Buford tops the poll ahead of Westlake, Carrollton, Lovejoy and Langston Hughes.
In Class 5A, Woodward Academy is the team to beat with Southwest DeKalb, Forest Park, Cass and New Manchester chasing. Luella tops Class 4A ahead of Jefferson, Baldwin, Marist and Spalding. In Class 3A, Upson-Lee is the top program with Cross Creek, Lumpkin County, Sonoraville and Johnson-Savannah in the top 5.
Elbert County enters the playoffs as the top team in Class 2A with Early County, Washington County, East Laurens and Fannin County chasing. Hebron tops Class A Private and leads Mount Paran, Holy Innocents', Wesleyan and Greenforest. In Class A Public, Lake Oconee Academy tops the poll and leads Clinch, Greenville, Dublin and Georgia Military.
Class 7A
1. Collins Hill
2. McEachern
3. Cherokee
4. Campbell
5. North Forsyth
6. Marietta
7. North Paulding
8. Norcross
9. West Forsyth
10. Woodstock
Class 6A
1. Buford
2. Westlake
3. Carrollton
4. Lovejoy
5. Hughes
6. Kell
7. Sprayberry
8. Statesboro
9. River Ridge
10. Rockdale County
Class 5A
1. Woodward Academy
2. Southwest DeKalb
3. Forest Park
4. Cass
5. New Manchester
6. St. Pius X
7. Hiram
8. Warner Robins
9. Loganville
10. Jackson-Atlanta
Class 4A
1. Luella
2. Jefferson
3. Baldwin
4. Marist
5. Spalding
6. Arabia Mountain
7. Carver-Columbus
8. Troup
9. Cairo
10. Mt. Zion-Jonesboro
Class 3A
1. Upson-Lee
2. Cross Creek
3. Lumpkin County
4. Sonoraville
5. Johnson-Savannah
6. Americus-Sumter
7. Coahulla Creek
8. Westminster
9. Greater Atlanta Christian
10. Stephens County
Class 2A
1. Elbert County
2. Early County
3. Washington County
4. East Laurens
5. Fannin County
6. Rabun County
7. Butler
8. Lamar County
9. Woodville-Tompkins
10. Columbia
Class A Private
1. Hebron Christian
2. Mount Paran Christian
3. Holy Innocents'
4. St. Francis
5. Wesleyan
6. Greenforest
7. Galloway
8. ELCA
9. Calvary Day
10. Trinity Christian
Class A Public
1. Lake Oconee Academy
2. Clinch County
3. Greenville
4. Dublin
5. Georgia Military
6. Trion
7. Calhoun County
8. Turner County
9. Armuchee
10.  Montgomery County