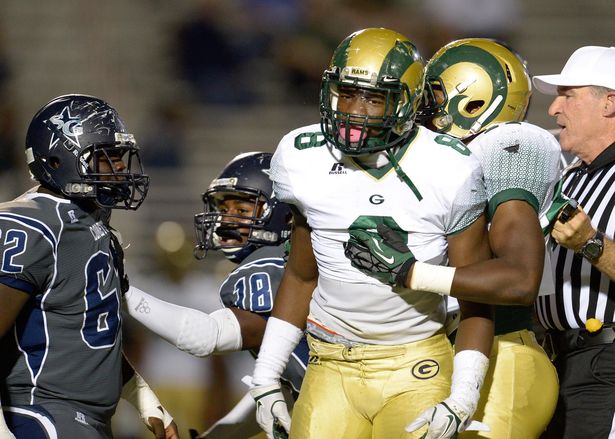 Grayson's nine-game winning streak after falling to IMG Academy in the season opener was enough to land the Rams the No. 1 ranking in Class 7A entering the playoffs. Roswell, which completed its perfect season with a 20-14 win over Cherokee comes in at No. 2. No. 3 Mill Creek and No. 5 Norcross join the Hornets as the three undefeated teams left in 7A.
In Class 6A, Houston County's 28-24 loss to No. 1 Valdosta was enough to to keep the Bears in the poll. The Bears cap off the pre-playoff poll at No. 10, despite missing out on the postseason.
In Class 5A, Griffin replaces Arabia Mountain at No. 10 after the Rams dropped a 20-18 game to No. 9 Loganville on Saturday. Stephens County replaced Troup at No. 10 in Class AAAA, after Troup suffered a 68-0 loss to No. 1 Cartersville.
Everyone in Class AAA took care of business except for Jackson, who falls out of the top ten and is replaced by No. 10 Morgan County. The Red Devils lost to No. 3 Peach county 24-21 in a nail-biter. No. 7 Crisp County remains the lone undefeated team in the state at 10-0.
After losing their first game of the season in an out-of-state contest, No. 5 Screven County is peaking at the right time in Class AA. The Gamecocks knocked off previously undefeated No. 6 Jefferson County 49-34. No. 9 Dublin finds itself back in the rankings after a 27-26 victory over now unranked Washington County. Thomasville sees its brief stay in the top ten come to an end and is replaced by No. 10 Heard County.
In a clash between No. 1 and No. 2 in Class A-Private, No. 1 Eagle's Landing Christian pounded Landmark Christian 49-0, sending the War Eagles to No. 6 in the poll. No. 2 Prince Avenue Christian shutout No. 10 Athens Academy 28-0 and No. 4 Fellowship Christian stopped A-Public No. 4 Mt. Zion-Carroll 28-14. Mt. Paran defeated Darlington 24-22 to move up to No. 8 in the state while the Tigers drop out and are replaced by No. 9 Stratford Academy.
Up to No. 3 in Class A-Public is Macon County, who destroyed previously undefeated No. 9 Manchester 54-13, causing the Blue Devils to drop five spots. Greene County debuts at No. 7 after getting revenge against Twiggs County, 44-25. Pelham jumps three spots to No. 5 with a 29-26 win over Mitchell County.
Class AAAAAAA
1. Grayson (9-1)
2. Roswell (10-0)
3. Mill Creek (10-0)
4. McEachern (9-1)
5. Norcross (10-0)
6. Colquitt County (6-4)
7. Lowndes (8-2)
8. North Cobb (8-2)
9. Brookwood (7-3)
10. Parkview (7-3)
Class AAAAAA
1. Valdosta (9-1)
2. Dalton (10-0)
3. Mays (9-1)
4. Tucker (9-1)
5. Harrison (9-1)
6. Alexander (9-1)
7. Glynn Academy (9-1)
8. Lee County (7-2)
9. Northside-Warner Robins (8-2)
10. Houston County (7-3)
Class AAAAA
1. Buford (9-1)
2. Stockbridge (10-0)
3. Carrollton (9-1)
4. Rome (8-2)
5. Kell (8-2)
6. Ware County (6-3)
7. Woodland-Stockbridge (8-2)
8. Grady (9-1)
9. Loganville (8-2)
10. Griffin (9-1)
Class AAAA
1. Cartersville (10-0)
2. Thomson (10-0)
3. Woodward Academy (9-1)
4. Jefferson (9-1)
5. Cairo (9-1)
6. Blessed Trinity (8-2)
7. Mary Persons (8-2)
8. Burke County (8-2)
9. Marist (7-3)
10. Stephens County (8-2)
Class AAA
1. Greater Atlanta Christian (9-1)
2. Westminster (8-2)
3. Peach County (9-1)
4. Cedar Grove (8-2)
5. Liberty County (9-1)
6. Calhoun (8-2)
7. Crisp County (10-0)
8. Lovett (7-3)
9. Jenkins (9-1)
10. Morgan County (8-2)
Class AA
1. Benedictine (10-0)
2. Fitzgerald (9-1)
3. Rabun County (9-0)
4. Callaway (10-0)
5. Screven County (9-1)
6. Jefferson County (9-1)
7. Pepperrell (8-1-1)
8. Vidalia (8-2)
9. Dublin (8-2)
10. Heard County (7-3)
Class A-Private
1. Eagle's Landing Christian (10-0)
2. Prince Avenue (10-0)
3. Tattnall Square Academy (10-0)
4. Fellowship Christian (10-0)
5. Calvary Day (9-0)
6. Landmark Christian (9-1)
7. Wesleyan (8-2)
8. Mt. Paran (9-1)
9. Stratford Academy (7-3)
10. Athens Academy (8-2)
Class A-Public
1. Clinch County (9-1)
2. Emanuel County Institute (9-0)
3. Macon County (8-2)
4. Mt. Zion (9-1)
5. Pelham (9-1)
6. Commerce (8-2)
7. Greene County (7-3)
8. Taylor County (9-1)
9. Manchester (9-1)
10. Twiggs County (7-3)