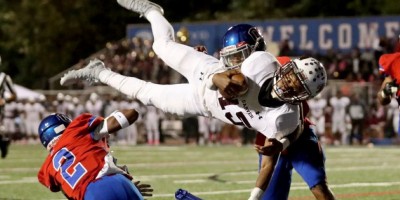 There are four undefeated teams that lead the Class 7A poll (No. 1 Grayson, No. 2 Colquitt County, No. 3 Norcross, No. 7 Milton). This past week, Archer exited the top 10 and was replaced by Brookwood.
In Class 6A, Dacula fell out of the polls after a 35-0 loss to Buford this week and was replaced in the top 10 by Glynn Academy—which comes in at No. 9.
Class 5A did not see any shifts this past week, and in Class 4A, Troup replaced Baldwin and makes its debut at No. 10. Troup fell short to No. 3 Carver-Columbus 32-29 on Saturday.
In Class 3A, Pierce County climbed to No. 5 after beating former No. 5 Appling County 28-21 on Friday. Appling fell to No. 7. Thomson entered the poll at No. 10 following Cherokee Bluff's departure from the rankings after it lost to White County last week.
In Class 2A, Vidalia enters the poll at No. 10 after Haralson County's departure from the top 10. In Class A Private, Prince Avenue Christian and ELCA are the top two programs in the class. Metter is the team to beat in Class A Public with Commerce, Dublin, Brooks County and Irwin County rounding the top of the class.
Class 7A
1. Grayson
2. Colquitt County
3. Norcross
4. Lowndes
5. Collins Hill
6. East Coweta
7. Milton
8. Newnan
9. North Cobb
10. Brookwood
Class 6A
1. Lee County
2. Allatoona
3. Buford
4. Westlake
5. River Ridge
6. Valdosta
7. Hughes
8. Richmond Hill
9. Glynn Academy
10. Carrollton
Class 5A
1. Blessed Trinity
2. Warner Robins
3. Ware County
4. Cartersville
5. Coffee
6. Starr's Mill
7. Calhoun
8. St. Pius
9. Clarke Central
10. Ola
Class 4A
1. Marist
2. Jefferson
3. Carver-Columbus
4. Benedictine
5. Bainbridge
6. Flowery Branch
7. Cedartown
8. Islands
9. Hapeville Charter
10. Troup
Class 3A
1. Cedar Grove
2. Oconee County
3. Peach County
4. Crisp County
5. Pierce County
6. Greater Atlanta Christian
7. Appling County
8. Rockmart
9. Richmond Academy
10. Thomson
Class 2A
1. Fitzgerald
2. Rabun County
3. Lovett
4. Thomasville
5. Early County
6. Jefferson County
7. Fannin County
8. Dodge County
9. Callaway
10. Vidalia
Class A-Private
1. Prince Avenue Christian
2. Eagle's Landing Christian
3. Fellowship Christian
4. Athens Academy
5. Wesleyan
6. Christian Heritage
7. Trinity Christian
8. Savannah Christian
9. George Walton Academy
10. North Cobb Christian
Class A-Public
1. Metter
2. Commerce
3. Dublin
4. Brooks County
5. Irwin County
6. Macon County
7. Pelham
8. Clinch County
9. Washington-Wilkes
10. Chattahoochee County