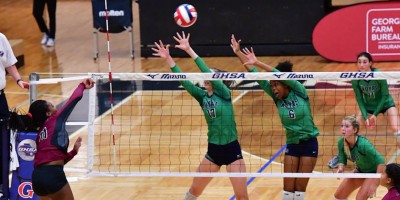 The final week of the regular season is about to conclude and the seeding will soon be set for the upcoming postseason. A few key matchups remain on the schedule that I will note in this breakdown, but this poll will be the pre-playoff rankings. In Class 7A, Walton maintains its hold on No. 1 and the Raiders' lone loss came earlier this month to a top-ranked Florida program. Newnan's big victory over Class 5A No. 1 McIntosh improved the Cougars from No. 7 to No. 5 in the polls.
In Class 6A, River Ridge dropped from No. 7 to No. 10 after recent losses to Creekview and Chattahoochee. Also, No. 4 Lassiter defeated No. 5 Allatoona 3-0 on Wednesday to keep the top 5 in place. McIntosh's loss to Newnan was not enough to move the Chiefs from the top of Class 5A. Northside-Columbus, however, fell two slots to No. 8 after its 2-1 loss to No. 9 Starr's Mill on Wednesday.
Marist returned to No. 1 in Class 4A and replaced Heritage-Catoosa. This move came due to Marist not dropping any games within the classification and Heritage-Catoosa getting beat by No. 4 Northwest Whitfield back on Oct. 6. No. 7 Fayette County will play No. 9 Central-Carroll in a top 10 showdown Thursday night. Fayette County won 2-0 (25-16, 25-23) when the teams last faced on Sept. 22.
In Class 3A, Sonoraville fell from No. 6 to No. 7 after dropping matches to No. 4 Morgan County and Oconee County, which jumped the Phoenix for No. 6 after previously being ranked No. 8. In Class 2A/A-Private, No. 1 ranked Holy Innocents' and No. 3 Hebron Christian will play Thursday night. In Class 2A/A-Public, No. 9 Union County scored a 3-0 win (25-16, 25-19, 25-18) over No. 10 Oglethorpe County last week to keep the standings in place.
Class 7A
1. Walton
2. Lambert
3. Alpharetta
4. Roswell
5. Newnan
6. North Forsyth
7. South Forsyth
8. Harrison
9. Mill Creek
10. North Gwinnett
Class 6A
1. Buford
2. Pope
3. Sequoyah
4. Lassiter
5. Allatoona
6. Kennesaw Mountain
7. Riverwood
8. Lakeside-Evans
9. Lee County
10. River Ridge
Class 5A
1. McIntosh
2. St. Pius
3. Blessed Trinity
4. Greenbrier
5. Whitewater
6. Harris County
7. Northgate
8. Northside-Columbus
9. Starr's Mill
10. Northview
Class 4A
1. Marist
2. Heritage-Catoosa
3. Islands
4. Northwest Whitfield
5. Jefferson
6. Ridgeland
7. Fayette County
8. North Oconee
9. Central-Carroll
10. Columbus
Class 3A
1. Westminster
2. Savannah Arts
3. LaFayette
4. Morgan County
5. Greater Atlanta Christian
6. Oconee County
7. Sonoraville
8. White County
9. Gilmer
10. Sandy Creek
Class A-Private
1. Holy Innocents'
2. Savannah Christian
3. Hebron Christian
4. Eagle's Landing Christian
5. Mt. Paran
6. Athens Academy
7. Wesleyan
8. Trinity Christian
9. Brookstone
10. Heritage-Newnan
Class 2A/A-Public
1. Elite Scholars Academy
2. Gordon Lee
3. Pace Academy
4. Woodville-Tompkins
5. Lamar County
6. Vidalia
7. Dade County
8. Armuchee
9. Greenville
10. Union County