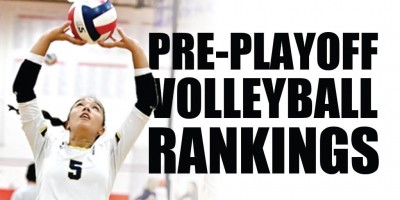 The pre-playoff rankings are topped by Class 7A No. 1 ranked Buford—who gets the edge for No. 1 due to a previous 2-0 win over 39-1 North Gwinnett. Lambert carries a 15-match win-streak into the playoffs and sits at No. 3 and Walton moved up to No. 4 after its recent 3-0 win over Cherokee in the region tournament. Denmark's loss to West Forsyth sent the Danes down from No. 7 to No. 9 and West Forsyth moved up to No. 8 behind No. 7 Hillgrove.
In Class 6A, North Forsyth dropped from No. 5 to No. 8 after a loss to Jackson County—which debuts at No. 9 ahead of its first round showdown with Johns Creek. Additionally, Woodward Academy jumped up from No. 9 to No. 6 heading into the playoffs. The Class 5A poll saw McIntosh move up to No. 2 and Chattahoochee move up from No. 5 to No. 3 after Kell's descent from No. 2 to No. 4. No. 1 Greater Atlanta Christian split matches with Chattahoochee last week and also topped Kell to spur the shuffling. Also, Harris County's win over Northside-Columbus moved the Tigers up to No. 8 and sent Northside down a slot to No. 9.
In Class 4A, Westminster jumped Lovett for No. 3 and Chestatee improved from No. 9 to No. 6 after Heritage-Catoosa fell from No. 4 to No. 8. Oconee County scored a 3-2 win over Morgan County last Tuesday and replaced the Bulldogs at No. 1 in the Class 3A poll. Also, Savannah Christian moved up from No. 6 to No. 5 and Wesleyan dropped one spot to No. 6 after splitting matches with No. 7 White County.
Class 2A No. 1 Mt. Paran carries a 42-6 overall record and 23-match win-streak into the playoffs and the top 7 did not shift with No. 2 Landmark Christian closing out the regular season with a 2-1 win over No. 6 ELCA and No. 3 Athens Academy defeating No. 7 Providence Christian 2-0 last Saturday. Also, Elite Scholars Academy moved up from No. 10 to No. 8.
Finally, in Class A No. 1 ranked Mt. Bethel defeated No. 2 Mt. Pisgah 3-2 on Saturday. Whitefield Academy fell 3-0 to Galloway and dropped from No. 4 to No. 7.
Class 7A
1. Buford
2. North Gwinnett
3. Lambert
4. Walton
5. Cherokee
6. North Cobb
7. Hillgrove
8. West Forsyth
9. Denmark
10. East Coweta
Class 6A
1. Sequoyah
2. Pope
3. St. Pius
4. Alpharetta
5. Newnan
6. Woodward Academy
7. Dunwoody
8. North Forsyth
9. Jackson County
10. Allatoona
Class 5A
1. Greater Atlanta Christian
2. McIntosh
3. Chattahoochee
4. Kell
5. Jefferson
6. Winder-Barrow
7. Greenbrier
8. Harris County
9. Northside-Columbus
10. Locust Grove
Class 4A
1. Pace Academy
2. Whitewater
3. Westminster
4. Lovett
5. Cherokee Bluff
6. Chestatee
7. Islands
8. Heritage-Catoosa
9. North Oconee
10. Holy Innocents'
Class 3A
1. Oconee County
2. Morgan County
3. Sandy Creek
4. Hebron Christian
5. Savannah Christian
6. Wesleyan
7. White County
8. St. Vincent's
9. Dawson County
10. LaFayette
Class 2A
1. Mt. Paran
2. Landmark Christian
3. Athens Academy
4. Savannah Arts
5. North Cobb Christian
6. ELCA
7. Providence Christian
8. Elite Scholar's Academy
9. ACE Charter
10. Fellowship Christian
Class A
1. Mt. Bethel
2. Mt. Pisgah
3. Armuchee
4. Tallulah Falls
5. Prince Avenue Christian
6. Galloway
7. Whitefield Academy
8. Mt. Vernon
9. Dade County
10. Oglethorpe County