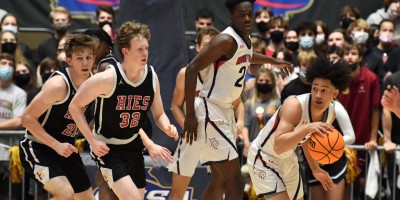 In Class 7A, Pebblebrook earned the top spot with a 25-2 record and carries an 18-game win-streak. Milton ascended to No. 2 following Newton's 71-61 loss to Grayson last Friday. Also, East Coweta replaced Etowah and returned to the poll at No. 10. Wheeler remains No. 1 in Class 6A and Shiloh jumped to No. 2 after closing out Region 8 with a 54-44 victory over No. 5 Buford last Saturday. Also, Sequoyah replaced Osborne in the poll and debuts at No. 10.
In Class 5A, Lithonia replaced Southwest DeKalb at No. 8 and Woodland-Stockbridge improved to No. 9. McDonough remains No. 1 in Class 4A despite its loss to No. 6 Fayette County in the region championship. Sumter County jumped two spots to No. 2 in Class 3A and Johnson-Savannah replaced Lakeview-Fort Oglethorpe at No. 10.
Pace Academy took over No. 1 in Class 2A and Columbia dropped to No. 2 and Chattooga replaced Putnam County at No. 10. King's Ridge jumped two slots to No. 3 in Class A Private and undefeated Social Circle (27-0) took over No. 1 in Class A Public and sent Drew Charter (26-1) to No. 2.
Class 7A
1. Pebblebrook
2. Milton
3. Berkmar
4. Newton
5. North Gwinnett
6. Grayson
7. Norcross
8. McEachern
9. Archer
10. East Coweta
Class 6A
1. Wheeler
2. Shiloh
3. Westlake
4. Tucker
5. Buford
6. Alexander
7. Kell
8. River Ridge
9. Centennial
10. Sequoyah
Class 5A
1. Eagle's Landing
2. St. Pius
3. Tri-Cities
4. Chapel Hill
5. Jonesboro
6. Walnut Grove
7. Calhoun
8. Lithonia
9. Woodland-Stockbridge
10. Lithia Springs
Class 4A
1. McDonough
2. Monroe
3. Westover
4. Spencer
5. Baldwin
6. Fayette County
7. Jefferson
8. Druid Hills
9. North Oconee
10. Marist
Class 3A
1. Sandy Creek
2. Sumter County
3. Windsor Forest
4. LaFayette
5. Salem
6. Thomson
7. Greater Atlanta Christian
8. Cross Creek
9. Hart County
10. Johnson-Savannah
Class 2A
1. Pace Academy
2. Columbia
3. Vidalia
4. Butler
5. Westside-Augusta
6. Thomasville
7. Washington County
8. Rabun County
9. Northeast-Macon
10. Chattooga
Class A Private
1. Greenforest Christian
2. Galloway
3. King's Ridge
4. Christian Heritage
5. Darlington
6. North Cobb Christian
7. Mt. Pisgah
8. First Presbyterian Day
9. Providence Christian
10. Walker
Class A Public
1. Social Circle
2. Drew Charter
3. Dublin
4. Calhoun County
5. Manchester
6. Warren County
7. Lanier County
8. Charlton County
9. Portal
10. Dooly County