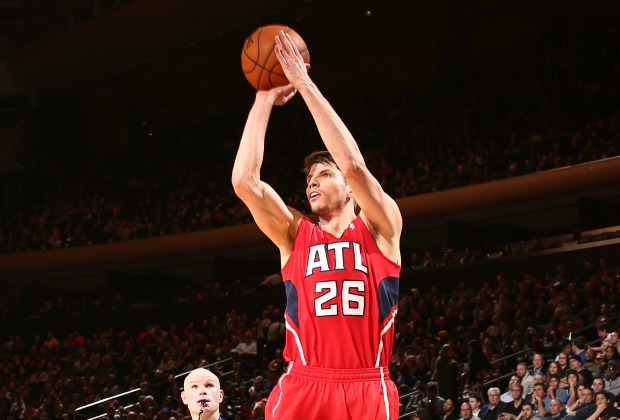 The Hawks regained the series lead and momentum heading into Saturday afternoon's Game 4 tilt. The Highlight Factory was rocking for Game 3 and with neither team winning two games in a row; a raucous Philips Arena could give the Hawks an extra edge on the floor.
THE HIBBERT DILEMMA
The biggest question for Game 4 is what the Pacers do with Roy Hibbert. Hibbert once again struggled to produce on both sides of the court. The Pacers sat him for the last 17:28 of the game and seemed to play better without him. Pacers head coach Frank Vogel didn't give a definitive answer, but he hinted that there would be a change. The smaller lineup the Pacers used with either David West or Luis Scola at the center position gave the Hawks some trouble. The Hawks' spread offense was less affective with Scola or West guarding Pero Antic or Elton Brand. Scola was dominant at the beginning of the fourth quarter and should be an indication of how the Pacers will adjust for Game 4.
KEY QUARTER
The third quarter has been the turning point in each of the three games as the team that has won the third quarter has won each game so far in this series. In Games 1 and 3, the Hawks came out fast and hit the Pacers with a flurry of shots
IMPATIENCE IS A VIRTUE
Even with the Pacers playing Scola more, the Hawks were still able to effectively run their offense and get open shots. These open shots were fueled by Indiana's impatient offense. There is no indication that the Pacers will change the way their offense is run, and that should continue to work to the Hawks' advantage. Solid focused defense for around 10 seconds has been all the Hawks have needed. The Pacers simply will force up shots allowing the Hawks to get out and run. For Game 4, the Hawks cannot get comfortable, they need to continue to force the tempo and play the way they want to.
ENERGY=VICTORY
The Pacers and Hawks have been total opposites as far as energy and team play. The Hawks had a series-high 21 assists, which is a good sign for the Hawks. The Pacers' guards have played with low energy and seem to look elsewhere when they make a mistake. With all the pressure of playing well the Pacers enter the game tight and so afraid to fail as the game goes on and the Hawks get a lead of 10 or more the Pacers press even more than normal and the completely implode. If the Hawks can come out firing on all cylinders early in Game 4, they will be able to continue their solid play and take an unlikely 3-1 lead over the top-seeded Pacers.