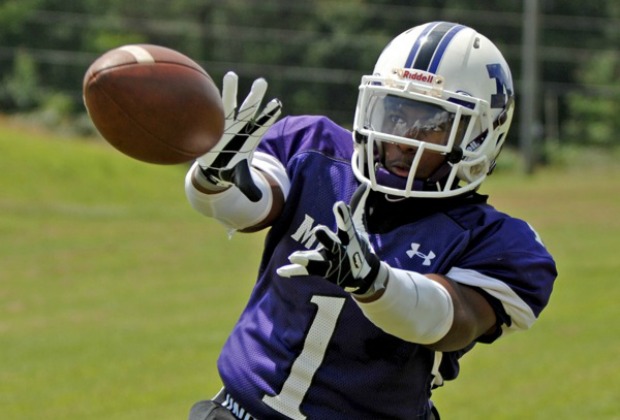 Monroe Area Football
Monroe Area ran away with the 2012 Region 8-AAAA title after 44 years without winning the region. The Purple Hurricanes ended the 2012 season 12-2 losing only one regular season game to Eastside 35-0. Head coach Matt Fligg brought the Hurricanes from a 0-10 season (2008-09) to a nearly flawless season last fall.
"Our kids did great. I have a really good coaching staff. We had a really good season last year and over the past three years," said Fligg.
Losing to eventual state champion Sandy Creek in the semifinals last season, Fligg's team advanced as far in the playoffs as any Monroe Area team ever had.
The 2013 season brings new goals and new expectations for the team. Fligg lost a total of six key starters to include Trevon Byrd and T.J. Sigmund. The biggest struggle for the Hurricanes this season will be replacing players on special teams.
Even though the Hurricanes lost several key players, Fligg is confident his youthful team will rise to the occasion.
"This season will depend on the sophomores who will have to play big on Friday instead of Thursdays from now on," said Fligg.
QB Stanton Truitt, who has received multiple SEC and ACC offers, and WR Michael Gallup, who has received attention from multiple college programs, will add to the talent on this team.
One big game this year for the Hurricanes will be Eastside.
"Everyday we tell them that Monroe is not going to surprise anybody and we are going to be everybody's big game this season," said Fligg. "That has increased the intensity of our workouts and practices. Our goal is to be ready for any challenge. If other teams want to make us 'the' game, we're going to take that challenge and play hard."
The journey ahead will not be easy. The Hurricanes will begin their season at Loganville on Aug. 30.