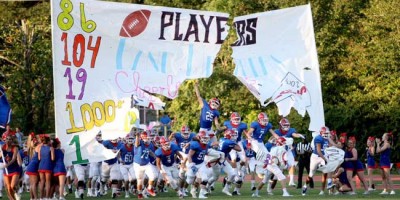 Credit: Jefferson City Schools
Jefferson's storied football history will add another chapter in the 2018 season as the Dragons will move back down to Class AAA following their two seasons in Class AAAA. The reclassification to AAAA in 2016 stemmed from an out-of-county enrollment rule initiated by the GHSA. The rule states that if more than three percent of students came from outside the county, schools must move up one class.
The GHSA heard Jefferson's appeal at the time but ruled against the Dragons, and Jefferson had to wait two years, per GHSA rules, before filing another appeal. The second appeal was filed in November 2017 and was accepted by the GHSA with a unanimous vote. Jefferson's presentation included comparing enrollment numbers to appeals granted in 2015. Jefferson's numbers fall well within the range of Class AAA schools.
Jefferson's resume, across several classifications, is undeniable, but the impact it will have again on Class AAA cannot be measured just yet. It has been removed from AAA for two seasons and the landscape has changed a bit, but with a glance at the Dragons' history in AA, AAA and AAAA, it's clear to see the AAA competition just got a boost.
How big of a boost? Jefferson has made the playoffs, across three classes, each season since 2011 and won a state title in 2012 in AA. Jefferson also has five region titles in 2008, '09, '12, '14 and '16 to its name.
While in Class AA in the 2011-12 season, Jefferson fell to eventual champion Calhoun 39-6 in the first round of the playoffs. The Dragons, who had entered the playoffs as the No. 4 seed from Region 8, went home with a sour taste in their mouths and a determination to return the following season with a vengeance.
Jefferson would do just that.
The following season, Jefferson held the No. 1 seed from Region 8 as it entered the playoffs against Kendrick. Jefferson stormed through the first two rounds, defeating Kendrick (42-8) and Westminster (35-7) before holding off Fitzgerald (53-51) to earn a semifinal berth against Greater Atlanta Christian. Jefferson kept up its scoring prowess in the semifinals, defeating GAC 42-14. The victory earned the Dragons a championship berth against a familiar foe, Calhoun.
In the championship game, Jefferson, with memories of the season prior, defeated the Yellow Jackets 31-14 to earn the school's only football championship. The following season, Jefferson made it to the quarterfinals before falling to Lamar County 35-24.
Following reclassification from AA to AAA in 2014, Jefferson made another quarterfinal appearance before falling to Blessed Trinity 28-21. In 2015, Blessed Trinity dealt Jefferson another playoff defeat, this time in the second round. Once in Class AAAA in 2016, Jefferson added to its playoff pedigree and advanced to the semifinals before falling to Thomson 27-6. Last year, Jefferson made yet another quarterfinal appearance, where it fell to Mary Persons 51-32.
We caught up with Jefferson head coach Gene Cathcart for a wide-ranging Q&A. Cathcart coached at Habersham Central from 2003-08 in Class AAAA before coaching at Greenwood (S.C.) from 2009-14. He took the helm last season, leading Jefferson to a 10-3 record.
Seth Ellerbee: How quickly will Jefferson impact Class AAA in 2018?
Gene Cathcart: I certainly think we are fortunate to be in a special place. We're pretty dang successful academically and are blessed to excel in numerous ways athletically. Obviously our wrestling and things of that nature are outstanding. And football over the past few years and well before that, we've been fortunate to have some outstanding kids and we are blessed to have everything you need to be successful. We have great support from our administration, great facilities — we are improving our football facilities right now. So we are certainly excited about the opportunities, whether it be AAAA or AAA or what have you. We know there are some awfully, awfully good teams in AAA and a lot of outstanding coaches and programs but we don't flinch on many folks. We feel good about the opportunities just to be with some more geographic regional rivals with Jefferson being in AAA.
SE: Logistical aspects of moving to Class AAA?
GC: Well, it impacts us in the sense of us having some closer games. We have more traditional rivals. For years, Hart County and Jefferson have had a good rivalry. We used to be in a region with Morgan County. We don't have a lot of experience with Monroe Area but know they're staffed very well. Of course, we are leaving some traditional rivals as well, but we are familiar with a lot of the programs. We have nothing but respect. I'm good friends with the new coach at Franklin County and it's just getting to know the region and them getting to know us. We aren't so sure in what we're facing, we don't have a lot of film on those guys, but then again, they probably don't have a lot of film on us. Excited about it, to have games where folks won't be, in the region, so spread out. We are anxious to get started to know those teams, programs, schemes and all.
SE: Fast forward to December, is Jefferson still playing football?
GC: Well, we will be playing something here. Wrestling, basketball, football, who knows? We are losing some very good players, fine players for us. Colby Wood, most notably, who scored over 90 touchdowns in his career here. We will lose Bryce Moore, our quarterback who started for us. But, that's the nature of the beast in a quality program. We feel like [we have] some outstanding up-and-coming players that we're really excited about. The spokes change, but the wheel has to roll on.
SE: Tell me about your team that will take the field in the fall.
GC: We have a lot of really good linemen. J.T. Middleton is a college prospect who has several offers from the major college levels. He's been a starter for us for a while. We weren't quite as big on our offensive line last year as we were in years prior. Colby Clark is our starting quarterback. He started as a ninth grader then ended up as a linebacker for us last year, leading the team in tackles. He's very tough and just a good football player. All-state free safety and wide receiver Zac Corbin returns for us, tremendous player. Our biggest prospect is a young man named Garmon Randolph, a 6-foot-6 tight end/defensive end. He has offers from everyone, well, I won't say everyone but he has 90 percent of the SEC and ACC offering him and a lot of Big 10 schools. He is a very good player but he still hasn't realized his full potential on the field, you can't coach 6-foot-6. Aaron Hall is a very talented defensive lineman returning for us and he has some mid-major offers as well. We have a lot of players who haven't gotten a lot of varsity time also who we feel will impact too. We are just excited to get on the field.
SE: Tell me about the new football facilities.
GC: It is going to be really nice. Now, it's not very good sharing bathroom facilities with officials. So [having separate facilities] will be nice. It will be multi-purpose. The facility will be home to boys and girls soccer/track and then varsity and JV football. It is going to be second to none with improvements in our stadium, we will have a turf practice field and a natural grass practice field. Improvements to our bleachers, lights and getting a new press box. It's going to make it difficult — well it's hard to complain, I feel like I'm the guy who won the lottery being angry because he had to go into a convenience store to buy the ticket — but we will have some logistical work this summer and we aren't sure that it will be finished on time and there will be a few games where we probably have to work around it. But, in the long run, it's going to be a great thing for Jefferson and it's a credit to all the players and coaches who've come before. I feel like I've got the best job in Georgia. Not really sure how I tricked them into that.
SE: What keeps you busy outside football?
GC: I am actually an AP Psychology teacher. I love teaching and like I said, this is the best school I've ever worked at. Outside of school, I have two children in college. One works as a football video guy at Georgia State for [head coach Shawn Elliott] and them. My daughter goes to Georgia College in Milledgeville and both of them are outstanding young people. I've remarried and my stepdaughter is in fifth grade so she keeps our hands full. I will say, there is no football season now, there's a football year. And we wouldn't have it any other way, we are excited about the spring, summer workouts and next season. I don't know that I'm well rounded enough to have any hobbies. I'm not a very good golfer, terrible fisherman. I guess if you left me in a room and there wasn't anything to do, we would draw football plays on the blackboard.
SE: You're on a deserted island and have one song to listen to, what is it?
GC: I guess the best answer would be anything my wife could sing for me. But I guess that's like asking the Genie for three more wishes and I can't do that. Anything Zac Brown or anything southern rock. Or, maybe just the sound of a boat horn coming to take me off that deserted island.