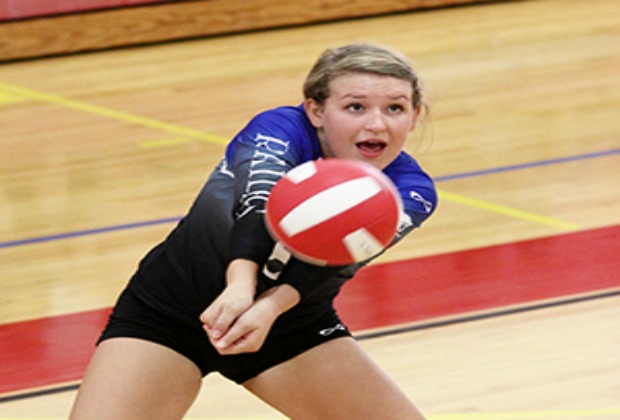 Trey Schwartz
The volleyball semifinals will take place tonight at six venues around the state. At Chattahoochee, Class AAAAAA No. 2 Walton will attempt to advance to the finals where it can defend its back-to-back state championships. In the Raiders' way will be surprising North Cobb, which has never won a state title. The Warriors are led by all-state selections Savanna Gonzales, Shauntell Luke and Tate Pember. Walton, meanwhile, has won the last two state crowns and seven overall. Despite being Cobb County neighbors, the two teams have not played since 2010.
In the other AAAAAA semifinal, No. 1 Harrison will take on No. 3 Johns Creek. The Hoyas, 2006 state champions, have been ranked No. 1 the latter half of the season. Last year, coach Clay Taylor's squad lost just one match to a Class AAAAA foe before falling in the finals to Walton.
"The players feel as if they have some unfinished business from last season," Taylor said before the state tournament began.
It is the second semifinals berth in three years for Johns Creek, which boast seven seniors on coach Beth Stephens' squad.
Class AAAAA will be missing perennial power Pope, which won the last two AAAA state titles, after the Greyhounds were eliminated by No. 2 McIntosh in the second round. Area 4-AAAAA is the story of the semifinals as No. 1 Whitewater and No. 4 Starr's Mill join the Chiefs in the final four. Northgate, the fourth member of Area 4 to make the postseason, fell in the quarterfinals to Starr's Mill. Senior Breana Jones leads McIntosh with 245 kills and 145 blocks. Jones also sports a solid .454 hitting percentage. The top-ranked Wildcats have already beaten McIntosh three times, Starr's Mill twice and Lakeside once this season. Whitewater is led by senior outside hitter Teegan Van Gunst, who has 73 blocks, 56 assists, 316 kills and a .434 hitting percentage.
The Class AAAA semifinals will take place at Marist, as the No. 3 War Eagles are making yet another Final Four appearance. Marist has won six state titles, but just one since 2000. No. 1 Sandy Creek is the reigning AAA champion and won the AAAA title in 2008. Coach Paul Collins' Patriots have already defeated fellow semifinalist Columbus three times this season, but has not faced Marist or today's opponent, Southeast Whitfield, yet this season. Senior outside hitter Allie Davenport leads the Patriots with 599 kills and 136 aces. Freshman Alexis Broadwater is tops on the squad with 1,049 assists this season.
Woodward Academy has been top dog in Class AAA for years, but comes into the tournament ranked No. 2 behind Blessed Trinity. The Titans defeated Woodward Academy in the only meeting between the two this season, on Oct. 2. Coach Paul Stevens' squad also defeated semifinalist St. Pius X twice this year. However, Oconee County is their opponent in the semifinals. St. Pius X is searching for its first volleyball state championship while Woodward Academy boasts a state-best 10.
In Class AA, four Atlanta private schools will battle for the state crown. No. 1 Westminster and No. 2 Wesleyan have won a combined 12 state titles since 1995. Now, they are on opposite sides of the semifinals that also feature Lovett and Greater Atlanta Christian.
Walker enters the Class A semifinals ranked No. 1 in the state and will face Hebron Christian. Landmark Christian is ranked No. 2 and will face Savannah Christian in the semis. The War Eagles are the only squad left in Class A that has won a state title (2001, 2003).