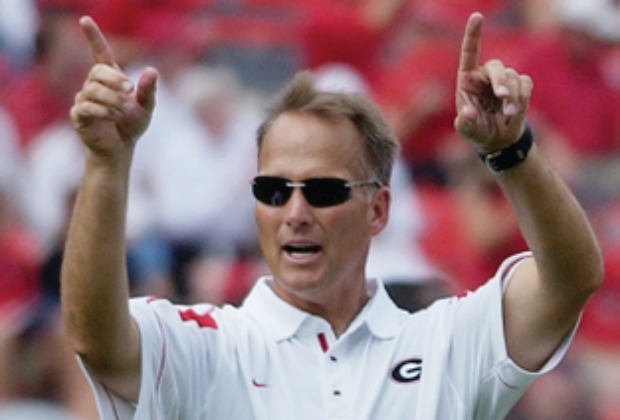 Photo by Rob Saye
Off to a 5-0 start to the season, the fifth-ranked Georgia Bulldogs face arguably their toughest challenge of the season this weekend in the sixth-ranked South Carolina Gamecocks. ESPN's College Gameday will be present at the game and the media outlet will also televise the game that is set to kickoff at 7:05 p.m. Saturday night.
Coming off a hard-fought victory against SEC rival Tennessee, Mark Richt and the Georgia Bulldogs have their focus turned to the Gamecocks. Georgia is looking to break its two-game losing streak against coach Steve Spurrier's club.
Here are quotes from the Georgia head coach and select players as they discussed multiple subjects at Tuesday's media day.
Head Coach Mark Richt
On South Carolina
"Their offensive linemen are very outstanding run blockers to run the ball as well as they do with (Marcus) Lattimore and Connor Shaw. They're able to run the ball extremely well in the fourth quarter at the end of ballgames. We haven't had a whole lot of success in the past slowing Lattimore down, so that will be a great challenge for us."
On Marcus Lattimore
"I was watching last year's game (against South Carolina), and his biggest runs came in the fourth quarter. He had more than 100 yards rushing in the fourth quarter. They were quite frankly able to run the ball when everybody knew all they were going to do was run the ball. That was a little bit of a problem. A lot of it has to do with their blocking, a lot of it has to do with his ability to find it and break tackles and have enough endurance to be even more effective in the fourth quarter than the first quarter. As everybody else is giving way a little bit, he's still going strong."
On Aaron Murray
"We have a lot of confidence in him period, and we're going to call a game that's going to put a lot in his hands like we have been. Even at the end of the first half of this last ballgame, there wasn't a whole lot of time. They decided to kind of have a squib kick, and we got the ball around the 35. At that point with 37 seconds you might say let's not throw a pick and give up another turnover. They are scoring 20 points in the second quarter and things are going bad, so you might say we've had enough. Let's just go to halftime and regroup. I told Coach (Mike) Bobo, let's go try to score. Murray did a really nice job of moving us down the field and getting us in position to get those three points. I think psychologically those were important points for us. I don't know if I would have done that last year. I definitely wouldn't have done it his freshman year. I guess that gives you an idea of the faith I have in him as a head coach."
On Todd Gurley and Keith Marshall playing together and their recruitment
"They almost sold us on it. I think they had the thought of playing together and being roommates and being friends throughout college. They got to know each other, they liked each other. They weren't afraid to be on the same team, and I think they had a dream of maybe one day sharing the load wherever they went. For it to happen the way it's happened so far this year I can't imagine them dreaming it up any better than it's been."
On Malcolm Mitchell
"Monday and Tuesday are offense, and Wednesday was kind of the defensive day and it still is. There may be a couple of times when he may do some offense if the defense is working on base defense and he's not getting any reps at that moment. Thursday we've kind of tried to split some of his reps. He's primarily an offensive player and he's in a state of readiness on defense. Not only has he been a kick returner, punt returner, but he's also on our punt team. He's been running down there trying to force fair catches too."
Quarterback Aaron Murray
On South Carolina's defense
'They've got talent all over the board, especially in that front four. Watching them on film, you can see they don't do too much in terms of blitzing. Those are the best defenses – when you trust your players to just make plays and they do that. They do a great job of getting pressure on the quarterback without blitzing and with just those four guys. We've got our work cut out for us this week when it comes to preparation and making sure we're ready."
On last year's loss
"That was a tough loss last year, but this is a new season and a new team and a completely different look. We're a heck of a lot better than last year in every way. We need to put that behind us and go back and watch film in preparation of this Saturday's game. It's painful to watch that but this is a new team and we're ready to go forward."