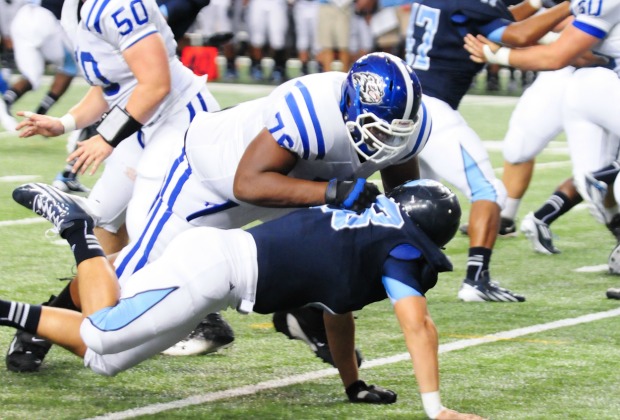 Sonny Kennedy
When the No. 8 Walton Raiders and the No. 10 Peachtree Ridge Lions kickoff in the Metro PCS Corky Kell Classic, it will be a matchup of one team with a lot of experience in the event against a team with fewer appearances. Walton, out of East Cobb, will be making their 10th appearance (all since 2002).
Peachtree Ridge, from Suwanee, will be making its fourth trip to the Dome (all since 2010). Walton is 5-4 in the Kell Classic including a 26-14 victory over "The Ridge" in 2011. The Lions are 1-2 in the event.
This year's Walton team will look a lot different from last year's squad, having lost many players to FBS programs including running back Tyren Jones and quarterback Parker McLeod to Alabama and lineman Brandon Kublanow to Georgia. All three were injured in parts of last season, so their replacements have seen plenty of action.
Senior quarterback Price Wilson went 3-1 subbing for McLeod and has had promising offseason 7-on-7 tournaments. Senior running back D.J. Smith will step into Jones' spot full time. Smith will also be a key player in the Raiders' defensive backfield. The biggest area of concern for Walton (7-4 last year in Region 5-AAAAAA) will be its revamped offensive line.
On defense, head coach Rocky Hidalgo likes the team's overall speed, but would like to see a little more depth along the line. Smith will be a ballhawking safety this fall and linebackers Dreyon Williams and Imani Parker will figure into Walton's success. Sophomore Chad Clay will start at cornerback and free safety. He is the son of former Georgia Tech and New England star Willie Clay.
Peachtree Ridge head coach Mark Fleetwood was disappointed with last year's 4-6 record. "It was a disappointing year," he said. "We were and are better than that, but we didn't prove that. Now, we want to prove we're better than that."
Senior defensive back Nick Glass is one of the biggest names on the Lions. While Glass will roam the backfield, the linebacking corps is talented, but untested.
On the offensive side of the football, Peachtree Ridge will work to out-think and out-hustle opposing defenses. The offense will be fast-paced and often work without a huddle before snaps. The biggest name on offense will be senior tackle Orlando Brown, Jr., who is committed to the University of Tennessee. Brown is a mountain of a man at 6-foot-8, 350 pounds and is the son of a former NFL lineman. Manning the controls on offense will be junior Chance Thrasher. Thrasher is a strong-armed pocket passer who will optimize his quick release out of the shotgun formation.