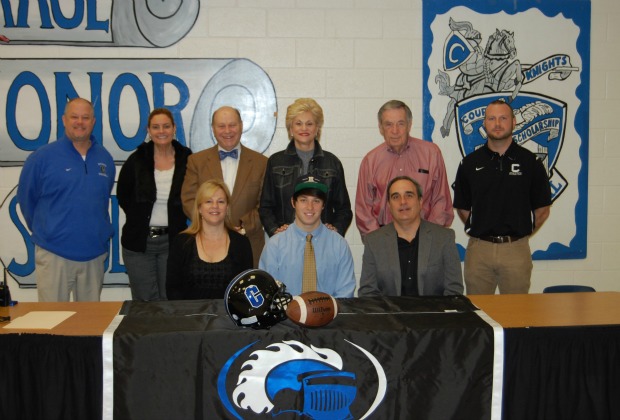 Rosenberg Family
One week after National Signing Day, Centennial quarterback Chase Rosenberg finally got to put pen to paper, signing to play football at Hamilton College. Located in Clinton, N.Y., Hamilton plays in the New England Small College Athletic Conference and is considered part of the "Little Ivies." Renowned for its writing curriculum, Hamilton is widely considered to be the second-best college for aspiring writers behind Atlanta's own Emory University.
In fact, it was the appeal of the academic environment as well as the school and team atmosphere that ultimately led Rosenberg to select Hamilton over other options. Rosenberg made 13 college visits, including Amherst, Williams, Yale, Princeton, Dartmouth, Georgetown, Penn, Princeton, Fordham, Johns Hopkins, Georgia Tech and Georgia, but Hamilton won out in the end. Rosenberg also had interest from Davidson and Brown.
"After I sat down and did all the pros and cons, it was the best fit for me academically as well as football," revealed Rosenberg. "It was always first about academics and then football. With all the schools I went to, it was the only one that brought out the professors to meet us."
Rosenberg said he felt at home the minute he stepped foot on campus and second-year head coach Mark Cohen has built an atmosphere that is conducive to success.
"There were schools that pulled back on me and picked another player, there was one school that wanted me to take the SAT again, there were schools that were waiting for me to decide and I was waiting on a few schools. Then there was Hamilton, that wanted a decision from me quickly,'' said Rosenberg. "What was obvious about the schools up north was they didn't really care about signing day. A lot of the decisions came down to admissions.
"What I really liked about Hamilton was the attitude among the players is very positive and they all want to build something on the football side. When I came back from my visit from Hamilton, I knew where I wanted to go."
Rosenberg became the Centennial starter entering his senior season under new coach Jeff Carlberg. The former Alpharetta and Lassiter defensive coordinator decided to install the spread attack and the athletic Rosenberg was the perfect fit for the new offense. Rosenberg was second in Region 6-AAAAAA in passing as he was 111-for-178 with an average of 269.6 yards and 12 touchdowns over his last five games. Rosenberg, named second team All-Region 6 by the coaches, played his best against the top competition, passing for 347 yards and three scores against Johns Creek and 347 yards and three total touchdowns against Chattahoochee in a state-wide televised game in the season finale with a spot in the playoffs on the line. Rosenberg finished the year with 2,293 yards and 18 passing touchdowns.
"I am proud of Chase because, as a junior, he was behind a very good quarterback (Jimmy Meyer, now at Harvard), but when it was time for him to step up on the field, he did," said Carlberg. "That's not easy being patient like that."
Carlberg was impressed that from the beginning, Rosenberg put academics first over simply attending a football factory.
"I have been very fortunate to have kids go to schools in the Ivy League and institutions like that before and Hamilton is part of that great tradition of liberal arts schools in New England," said Carlberg. "I tell all my players from the very beginning, make sure you choose a school that, if for some reason you don't have football, you want to be there. I also tell them to be realistic and go where you have a chance to play."
Carlberg believes Rosenberg can compete for early playing time at Hamilton.
"Chase will be at a place where he gets the chance to play," predicted Carlberg. "I think Chase has found a combination of (playing time and the right school)."
While many have heard of NESCAC football powers Williams and Amherst, Cohen is building a program at Hamilton and could soon have the program knocking on the door of Amherst and Williams. He not only plucked Rosenberg from Georgia, but also Langston Hughes cornerback Erick Peek. With both players competing at the Class AAAAAA level last year, Hamilton is sure to receive a boost of athleticism in this year's recruiting class.
While Clinton, N.Y., may be a ways from Roswell, for Rosenberg, it already feels like home.
Watch Chase's senior highlight film HERE