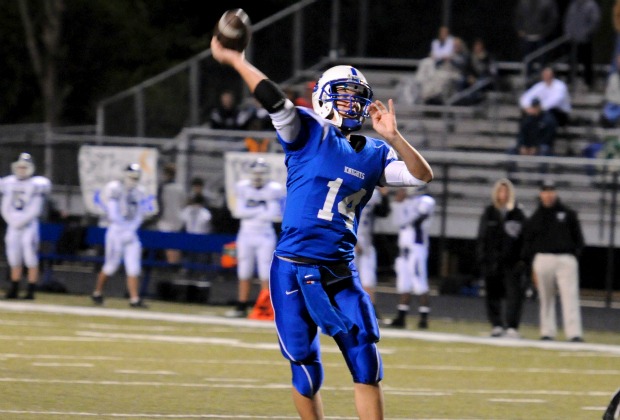 Elisa Herring
The summer before a high school student's senior year is a very important time, especially when that student is an aspiring college athlete. Centennial starting quarterback Chase Rosenberg is a prime example of a student-athlete who is in the midst of picking a college not only for its academic prowess and social atmosphere, but also for its athletic program.
As a top-notch student in the classroom and a star on the football field, Rosenberg was invited to visit five premier northeastern institutions as a potential student-athlete.
Along with his father, I.J., Rosenberg visited Columbia, Fordham, Penn, Princeton and Yale over the weekend. He toured the five schools and met with coaching staffs, student guides and academic counselors to learn about each school while also participating in football camps at Columbia, Princeton and Yale.
While many recruits like to keep their college favorites hush-hush, Rosenberg was very open about what school he preferred.
"I liked Princeton the best," said Rosenberg. "The campus and facilities were more modern and renovated than the other schools. They said they are the number one school in America for undergrads and graduate 98 percent of their students."
Rosenberg also enjoyed the area around the school.
"It was really well kept," said Rosenberg of Princeton, the town. "Downtown Princeton was really nice. Columbia and Yale were also cool."
As far as the coaching staffs, Rosenberg preferred the coaches at Fordham and Princeton.
"I talked with the recruiting coordinator at Princeton for a while and had a really good conversation with the recruiting coordinator at Fordham," he said.
Fordham is by far the most unique school of the group, as it is not in the Ivy League. But at Fordham, Rosenberg could receive an athletic scholarship while the Ivies do not endow free rides. What they do help with is by giving recruits a spot on the team and admission to the school.
One challenge Rosenberg has had to overcome is not starting regularly the past couple seasons. Many schools are waiting on his first few starts this year for the Knights before they tender an offer or spot on the team.
And Rosenberg is enthralled to finally be "the guy" at Centennial under center.
"I'm extremely excited," said Rosenberg. "I'm ready for it to be my turn."
In the latest reclassification, the Knights were placed in Region 6A-AAAAAA alongside north Fulton neighbors Alpharetta, Chattahoochee and Johns Creek. While the Knights won't be in the same region as traditional rivals Milton and Roswell any longer, they will get to battle two other intense rivals for first place.
"We're looking forward to bringing back the old Chattahoochee rivalry," he said. "And Johns Creek too. We don't really like them."
The Knights ran the triple option last season under former coach Jeff Measor, but will run the spread this season under new head coach Jeffrey Carlberg. The new offense benefits Rosenberg, who is seen as a dual-threat quarterback. Also, all of the schools Rosenberg just visited run the spread.
Before the season starts, however, Rosenberg will visit even more schools later in the summer as he and his dad have two additional trips planned, one to see Brown and Dartmouth, and another to see Georgetown, William and Mary and Furman. Princeton and Fordham are his favorites right now. Rosenberg mentioned he is considering the five schools he'll see on his next trip as well. Rosenberg has also visited southeastern programs like Tech, Georgia and Vanderbilt in his college search.
It is safe to say that when Rosenberg makes his college choice sometime during his senior year, it will be a well-researched and well-reasoned decision.