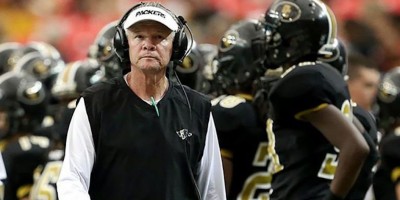 The fourth episode of the "Georgia Prep Sports: From a Distance," video podcast opened up with a live interview with host I.J. Rosenberg and newly-hired Valdosta Wildcats football coach Rush Propst. The former Hoover (AL) and Colquitt County head coach spoke candidly about his final days at Colquitt County and the incredible new opportunity to lead the Valdosta program. During the nearly 30-minute interview, coach Propst spoke about the controversies that surrounded his departure from Colquitt County, while also reflecting on the disappointment that he felt following the program's narrow losses in the 2017 and 2018 state championship games.
Propst pointed to "professional jealousy" as one of the reasons that he was ousted from Colquitt County during the interview, but he also pointed the finger to himself as he recalled some of the things he would've done differently during his final seasons with the Packers. This compelling and exclusive interview can be accessed in its entirety by clicking on the link of the latest "Georgia Prep Sports: From a Distance" video podcast HERE.
"Georgia Prep Sports: From a Distance is produced by Playon Sports, which runs the National Federation High School network, and airs Mondays, Wednesdays and Fridays, starting at noon.