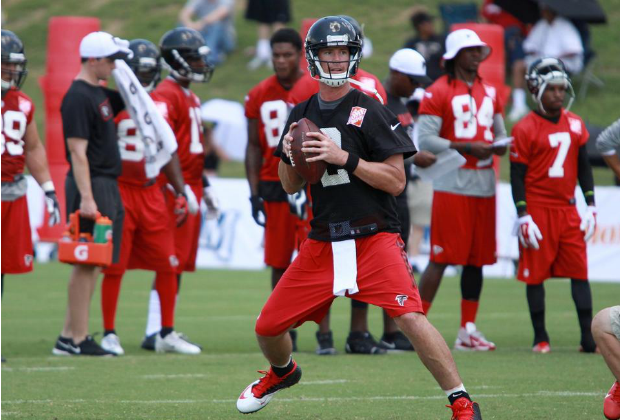 Matt Ryan is in his eighth season with the Falcons, and so far he has established himself as one of the better quarterbacks in the league. Despite having two consecutive losing seasons, Ryan was still productive as he threw for 4,515 yards and 26 touchdowns in 2013 and he registered 4,694 yards and 28 touchdowns last season.
But odds are Ryan won't match those totals this year solely because new offensive coordinator, Kyle Shanahan has installed as new offense where the run game will be more of an emphasis. So despite being in the NFL for almost 10 years, Ryan is back to square one when it comes to learning an entirely new offense.
"Every day you make strides," Ryan said after the first day of minicamp. "Every rep that you get is really important."
For years, the Falcons have been in a west coast offense under Mike Mularkey and Dirk Koetter. With Shanahan at the helm, the offense is more of a zone scheme were the run game is vital as well as the quarterback rolling out into space and make plays. So this is not only new for Ryan, it's new for the rookies and veterans that have been on the roster just as long as Ryan.
"It's an even playing field," Ryan said. "That's what Dan [Quinn] is all about. He talks about it every day that this football team is going to be predicated on competition."
Quinn knows what he has in a guy like Ryan, and with the new installation of the offensive scheme, he knows the quarterback from Boston College will be ready when the new season begins.
"He loves to be challenged," Quinn said of Ryan. "He loves finding a better way and finding new things."
With Quinn and Shanahan coming into the mix, Ryan has been asking them for their advice on how he can get better because since these are a new set of coaches, they can get a better look on what Ryan needs to get better at moving forward.
"We're getting there," Ryan said when talking about his progression in the new offense and working with the new coaches. "We still have some work to do."
When it comes down to it, the Falcons are team that can air it out. Ryan has proven that he can make all the throws needed to be effective, so the Falcons are not going to just completely abandon the passing game. But the offense will be more balanced than it has in the last three years, which should lead to more wins, which is something Ryan is looking forward to.
"Balance on offense is huge," Ryan said. "With the run scheme that Kyle brings in, that's going to help us improve in the run game. When you get the running game going, that helps the passing game. Balance is one of those things that allows you to be a great offense."