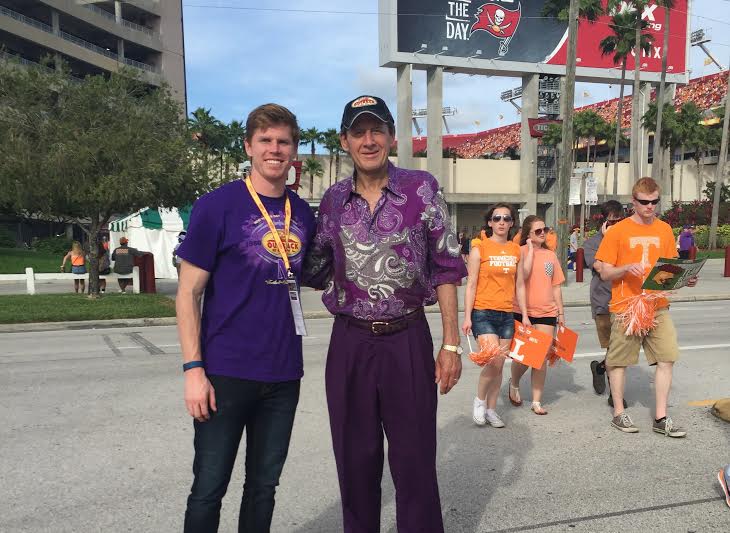 Craig Sager II was born and raised in Atlanta and has grown up in the world of sports. He earned his degree at Grady College of Journalism and Mass Communication at the University of Georgia, where he also walked on the football team for three seasons (2008-10). Craig has worked for Score Atlanta since 2012 and has performed the duties of managing editor since the 2014 high school football season. 
What is it that life is trying to tell me? Where are the clues hidden when I need them? Where can I find that extra boost of strength when I need it? How do I know if I am making the right decision? How will I make it through the day? How will this change my life?
My weekly column typically addresses the world of high school sports, but this time I've been encouraged to tell a part of my own story. As my father continues his miraculous fight with Acute Myeloid Leukemia, I only hope my own journey through this process will help someone looking for similar answers. Up until recently, my life story was just pages of unanswered questions. Probing my brain with difficult questions was the only path I trusted to lead me to any answers. I tirelessly parsed every action, mistake and accomplishment of mine to seek some form of self-guidance for my next undertaking. I punished myself for each misstep, I pushed myself to change and I implored any method I could think of to decode the indomitable challenges life might dish out.
After empirical lessons of uplifting highs, unbearable lows and having a family member in the fight of his life, the answers to the endless buffet of questions I heaped on my plate each day suddenly became clear. Wanting the answer, was my answer. Let me try to explain. My understanding of growth had been entirely misled. For the first time, I could answer my own questions. For example, Life will only tell me what I am willing to listen to. I will only find the clues I need if I believe that those clues are there to see. That extra boost of strength is only going to be there if I believe it is. Decisions will become the right decision if I follow through and make sure it was the right decision. I was the constant variable that could determine how I would make it through each day. And finally, I realized that a situation will change my life, whichever way I want it to change my life.
It sounds simple to me now, but less than a year ago I was wrapped in a pantheon of confusion. During one of the bottommost points of this form of inner journey over the past two years, I was more determined than ever to find these answers and I wrote down what I believed I was looking for. My uncle Rick, who fought off his own death side by side with my Dad throughout last Spring, passed away of congenital heart failure on May 9, 2015. I had another uncle die of throat cancer the previous Spring, while my Dad was hanging on by a thread. I had also watched my family bury two grandparents and two beloved aunts to cancer since leaving for college. Days after Rick's passing, I helplessly watched the world unfold around me at his funeral. I felt completely powerless. My aunt Candice had just lost her amazing husband and I saw the reality on her face as she knew her little brother, (my father) was still faced with his own astronomically grim prognosis. How much loss can one family take? I asked myself as I felt the pain of every one of us at once. Like those other questions, the amount we could take was up to us to determine.
In this moment, I went home and spilled out my desperate hope and growing frustration on paper.
5/9/2015: Why am I so depressed? For as long as I can remember I have always felt different. Not by some exterior shell but down to my core. Down to my chemical makeup and existence, I felt emotions differently and felt more in sync with my own thoughts and actions. When I was younger, I used to crave heartbreak for some reason. I didn't actually want it. I wanted to be happy, but sadness was what I'd entreat above anything else. Sadness is where I learned the most about myself. It was like we were meant to be every time something sad happened.
I woke up this morning happy, but within 20 minutes, I was locked back into my hardening walls of depression. There is a difference between having fun and being happy. Most people view these two states as synonymous, but to me there is an imaginary wall keeping me from feeling happiness. I know it's in me, but like anything under the sun, a shadow trails my happiness. I can have fun, but I can't have happiness. It is hard to explain.
I want to be great more than anything in the world and that is what drives me and ruins me. People think depression or sadness comes from pressure from the outside world but mine comes solely from within. I believe I can handle these challenges, but I'm held up with my indeterminacy. The only thing that keeps me balanced is working for something and holding a hope, but even when I get there, there is never the reward I was looking for.
I don't want to change in my search for these answers, because changing could rid me of the passion that drives me. But at the same time, I will never live a happy life with this in my head. There is a bridge that is waiting for me to cross.
5/12/15: I went to a funeral today for my uncle Rick. I hate funerals like everyone else but there is still an unexplainable comfort because my emotions finally match what is normal and appropriate. If only my feelings of happiness were ever this complete. What is it like to care about everything and nothing all at once? Being detached from the world. As a mind that knows my growth and change is more certain than anything I believe in now. That's how I feel. I know that there is an absolute truth and that I am just one set of eyes. Everything I see or do has that fixed perspective unless I find out how to see past it.
I don't want my mind or my perspective. I want the right perspective. So what more am I now than a hollow man? They say fill your heart and fill your mind, but how do I fill my heart and mind with this truth, without leaving my own walls and finding where the truth lies. You have to see what made you who you are today and understand why you are like that and then shed it and grow a new shell. You are a mind, not a man. If I see myself as just a man with a set of eyes, and view the world from that of an ordinary man, than I am nothing more. If I see that my mind is a device that can access infinite knowledge, then I will see that knowledge one day. I can see and feel that truth. I can awaken. I can finally live.
I regularly wrote out notes, thoughts and concerns throughout the past two years, but what happened with this particular entry is remarkable. Every other note I wrote down was typed out on my computer, but my computer was stolen this January and I lost all of it, along with everything else on its hard drive. This was the only time I wrote down my thoughts on paper and I had it hidden away at my desk until I pulled it back out this week when I was asked to write this column. To my amazement, as I revisited it, I realized I knew all of these answers. It was then that I realized that the only reason I found any of my answers, was because I wanted to.  Wanting the answers forced me to write it down in the first place. It forced me to search and it kept my mind open to any possible clue out there. I believed the clues were out there waiting for me. If I did not believe they were there, there is no way I would have found them.
With so much confusion over the years, it's hard to see if I am completely crazy or if I'm actually making sense with the words I write. But what we can all agree on is that life can be hard and so many things will happen that leave you confused. Just remember that sometimes you are the answer to even your hardest questions. You are what creates the answer and path. I have brought this same approach to my family and we are rallying behind it. Life is not writing our story, our actions are writing our story. Ultimately, we are the answers to whatever lies ahead.
#SAGERSTRONG