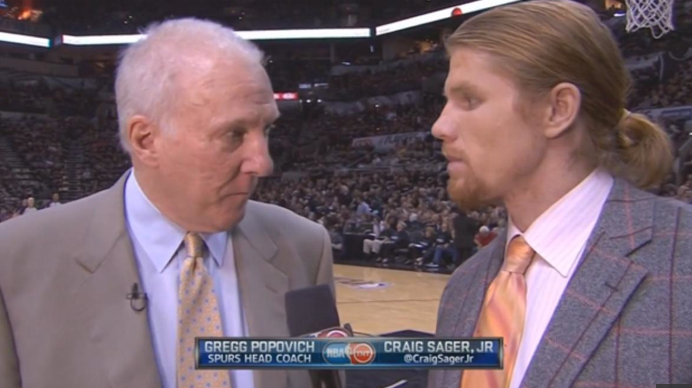 Exactly two weeks ago (April 8), I was at my desk at Score Atlanta listening to my Dad on 680 the Fan. It was the 40th Anniversary of Hank Aaron's record-setting 715th home run and my Dad was on the show to talk about how a 22-year-old version of him had the courage to meet Aaron as he rounded third base to get the first interview. Tuning into interviews and watching my Dad on television is where I see and hear him the most. He is omnipresent in the world of sports, but hard to get face-to-face with. It is new cities and different games almost every day and not even his family can keep up with him at times.
I went home that night and had a neighbor tell me, "Hey congrats, I heard you were coming on 680 the Fan earlier today to talk about some big interview." I told him, "No, that wasn't me, that was my Dad." He, not knowing my Dad had the same name or the circumstances of what the interview was for, said, "No, they said 'with Craig Sager and some big interview'. It was you, congrats."
I did not have time to explain and with a smile I said "thanks" and went inside.
From the time I was a toddler pointing to my Dad on television I have always wondered what it was like to do what he does. His interview with Hank Aaron has always stuck with me. I've been in the sports industry with Score Atlanta for two years, but I have always thought about what it would take for me to get my own big interview. Little did I know, exactly two weeks later I'd be on the same station I had just heard my Dad on, talking about my big own interview. And never did I think it would be while my Dad was in the hospital with leukemia.
On Sunday, April 13 I was at the Dogwood Festival in Atlanta. I had only been one other time, and it was when my Dad took me probably 12 years ago. I left to go catch the end of the Masters and tried to call my Dad, but it did not go through. Right after Bubba Watson sealed the tournament I saw my Dad return the call. I answered and figured he'd talk about how great Bubba just played and we would catch up on his latest games.
The first thing he told me was that he's been in the Dallas hospital for three days and just arrived at Piedmont Hospital today. Then: "They think it's leukemia," he told me. "I've already had six blood transfusions." Those are the only words I remember from the rest of the conversation. I got in the car and went straight to see him.
That night he was still talkative, but was too tired to be his true self. I had never seen him this drained before. As he would doze off mid-conversation, I finally left to let him rest. On Monday, the doctors would do a bone marrow test and that is when we could actually diagnose what was causing my Dad his recent ailment. We were hoping for good news and that it was something other than cancer. He's been all over the world and had been gone from home for 30 straight days for March Madness, so I figured it could be anything. Monday did not reveal anything, but Tuesday I got the call that my Dad was leukemia free. They did not know what it was but told me specifically, "The tests show that it is definitely not leukemia." I was so happy I went for a 6.5 mile run after work and racked up a nice bar tab of Bud Light, my Dad's favorite.
Wednesday, however, was not so kind. As I walked into the gym after work, I saw my sister's best friend on the machine right by the door of LA Fitness. I was happy to see her, but I could see a concerned look on her face. My sister had just called her 30 seconds before I walked into the gym and had just gotten off the phone with my Dad. She handed me the phone and my sister was surprised to hear my voice.
"No, they can't do this," she said "They can't do this after telling us no."
I asked her what she was talking about and I was barely able to understand her but she said, "The doctors have been apologizing all day. They are taking Dad to the hospital right now and he has leukemia." My frustration overpowered my sadness at this point. I hung up and I called my Dad to hear it from him.
After that difficult conversation, I knew how hard this was going to be for him and his five kids. It also hurt, knowing that for the first time I would not get to see my Dad on the sidelines for this year's playoffs. I do not get many vacation days, but I was going to spend mine this year going with my Dad to the Western Conference Finals for a father-son trip. This is, without a doubt, our favorite thing to do.
In the back of my mind, I wished that I could fill in for him for a game. I had no experience doing what he does though, and no way would someone trust me to fill in for him in a playoff game. I never expected someone to actually ask me to do that.
Knowing that my Dad was going to miss the playoffs, I made the decision to send out a tweet Thursday night wishing him a speedy recovery. I did not want NBA fans to turn on the playoffs and not see him there and then find out later the reasoning. With the first day of games two days away on Saturday, I pushed "send". I wanted my Dad to receive the respect and support he deserves and I wanted the opportunity for him to get positive momentum heading into the treatment. I knew people would rally for him. But, obviously, nothing to the level I've seen.
My Dad's 3-4-week acute leukemia treatment starts tmrw.Be thinking of him & let's get him back on the sidelines soon pic.twitter.com/5CNI55p2Gx

— Craig Sager II (@CraigSagerJr) April 17, 2014
I went to see him on Friday in his new home for the next four-plus weeks deep in the maze of the Atlanta hospital. My stepmom and little sister Krista were with me. I entered the floor and the sanitation corridor leading into his hall. It was surreal to put on the smock and foot covers and see the pamphlets for leukemia in the family waiting room. As I see his room for the first time I am happy to see that it was big and in the corner of the hall with lots of windows. He was in great spirits when we walked in, but I knew he was fighting back a lot of emotion.
Tara August, Vice President of Talent Relations at Turner, came in and gave my Dad a hug before sharing one with each of us. After setting down a massive stack of probably $60 of magazines, August talked about how amazing the support has been. August pulled out her phone and showed my Dad the Keith Olbermann piece that ends with "Leukemia picked the wrong opponent."
I was w my Dad when he saw @KeithOlbermann 's video http://t.co/EUob3fqghu He stood up and high-fived everyone in the room. Thanks Keith!

— Craig Sager II (@CraigSagerJr) April 18, 2014
  The four of us were in tears watching my Dad see it for the first time. He was smiling the whole time and said, "Wow" before jumping in the air and giving each of us high-fives. My Dad had an hour-long procedure to do and we were asked to step outside. August motions me over to talk to her and says,
"We have an idea," she said. "How would you like to go to San Antonio tomorrow and interview Coach (Gregg) Popovich in place of your Dad for Sunday's game?"
"That would be a dream come true and that would mean so much to my Dad," I responded.
She explained that it would be a sit-down interview that would air in the pregame show and later on Inside the NBA.
"Do not worry, it will be taped so we can edit it and do it over again if we need to," assured August. I thought about how big that moment would be and how much it would mean for my Dad and family to have a Sager on the sideline. I was emailed a flight time and was being picked up for the airport just 12 hours later.
But first, what was I going to wear? I drove up to my Dad's house that night to try and pick out an outfit. I was on deadline for work at 10:15 p.m. so I did not have much time. My Dad has over 90 coats in there, what seemed like 400 ties and I did not even count his dress shirts that come in every shade and pattern imaginable. Finally, I found one jacket that still had a tag hanging from it. My Dad never wears the same outfit on the air twice and I knew that it would be only fitting to christen a new jacket for him. I had my groovy nine-dollar maroon velvet pants I got at Kohl's last year and I was set.
Once I landed in San Antonio, I attended the production meeting with producer Craig Silver and the rest of the crew. We planned out the broadcast and talked specifics with how my sit-down would go. I tried my best to hide how nervous I really was. I went out that night to the River Walk. My dad and I are regular "river rats" when we head to San Antonio and I made a beeline to Mad Dogs right after the two-hour dinner meeting. I kept finding myself wanting to call him to tell him I was at our favorite spot, but would remember that he had no idea about any of this. Hardly anyone did. That was a lonely feeling, not being able to share my experience with anyone.
I stayed up until 2 a.m. and woke up in pretty rough shape. I did what I thought my Dad would be doing as a 25-year-old version of himself and enjoyed the night out. After a four-mile run at the hotel gym straight out of bed, I started receiving texts from a very select group of friends and family members I told about the big day. This woke me up and made me realized that this was going to be a big moment in my life that I'll never forget.
I tied my hair in a ponytail, went down to the lobby fully dressed and rode down to the game with Reggie Miller. "Oh yeah, I love it, Sages," said Reggie when he saw me rocking the ponytail and red velvet pants. We got to the arena just before 10 a.m. and I was to interview Popovich at 10:30 a.m. I stood in the hallway minutes away from the interview, rehearsing in my mind the two questions they told me to ask him.
"You guys have dominated the Spurs this season…. Oh my gosh, did I really just say Spurs to myself? I'm screwed," I thought.
Popovich came out and introduced himself. He told the audio guys and camera crew that he just wanted to talk to me. I stepped into his office and he opened up to me about the level of appreciation he has for my Dad. He handed me a hand-written letter that he wanted me to give him. Then he dropped the big news, "I do not want to tape this thing," Popovich told me. "That won't work. Let's do this live and after the third quarter, just like your Dad would." I could not believe what I had just heard come out of the 2014 NBA Coach of the Year's mouth.
I came out of my private meeting with Coach Pop and told the surprised crew what was going to happen at the end of the third. I had never gone in front of a camera for anything and I texted my mom and sisters and a couple friends.
"Change of plans. I'm doing the interview live at the end of the third quarter."
My Dad still did not know and I had my stepmom make sure he was going to be watching to see the surprise. Then, I found out that the broadcast opened with them announcing that I would be filling in for the third quarter interview. Now everyone knew and I really felt the pressure. My phone was blowing up. It was a tie ballgame at the end of the third and I stepped out onto the court with sideline reporter Jaime Maggio, who was going to come out of the commercial break and introduce me for the interview.
Popovich, surprised to see Jaime out there, asked "I thought Junior was doing this?"
"He is," answered Jaime, "We're going to throw it to him."
Popovich: "No, just hand him the mic."
I grabbed the mic and looked for a cue or something to help me. I stared at the camera having no idea when to start talking. I did not have an ear piece and it was just me and Pop out there together.
"Five seconds," Jaime told me. I did the countdown in my head. It was so loud I could barely think. After two quick opening questions, I threw it to Pop. He looked directly into the camera, which gave me the chance to capture every word he was saying. I was able to hear every word. When I heard him close the interview the way he did, walking off the court, I was thinking it was the coolest moment of my life. I got a phone call about 10 minutes later from my Dad. I stepped outside the noise of the intense playoff game and my Dad told me how much he enjoyed it.
"Great job, son. Now go drink some Bud Light for me at the River Walk," he said.
It started to hit me that I had done my first big interview in honor of my Dad and I began to feel all of the emotions of the roller coaster that was the last last several days. I couldn't have asked for a better situation on Sunday under these circumstances. It is horrible to think this came at such a difficult time for my Dad, but this is definitely when we all needed it the most. I want to personally thank everyone that has messaged me and helped me this weekend and everyone that has made my Dad feel like the most loved man in the world.
My Dad looks and sounds great. He's had visitors all day. #GetWellSager pic.twitter.com/E5pCjHpgMH

— Craig Sager II (@CraigSagerJr) April 22, 2014