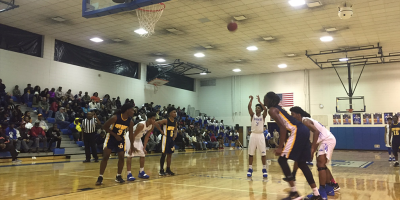 Frank Sulkowski WJCL
In boys basketball, Newton head coach Rick Rasmussen picked up his 300th career victory following the Rams 74-65 win over Eastside. Leading the team was Senior Tre Clark who dropped 32 points, 25 of which came in the second half. Kell's Cam Lockett scored 19 points in the fourth quarter to help snag a close 78-74 victory over Rome, making the Longhorns 10-0 in Class AAAAA region 7. In the state's highest classification, third-ranked Discovery bested Central Gwinnett 73-63 to extend the Titans' win streak to seven. Eighth-ranked East Coweta handed Washington an 89-57 loss, fueled by an explosive 60-point first half. The Indians now await their upcoming matchup against Pebblebrook, who served East Coweta their only region loss of the year. Class AAAAAA top-ranked Coffee soundly defeated Long County 68-48. The Trojans will face-off against Northside-Warner Robins next Tuesday as they aim to remain undefeated in region 1. Second-ranked North Atlanta led Centennial 46-45 heading into the fourth quarter, outscoring the Knights 13-12 in the fourth to hold onto their narrow lead and walk away with the 59-57 victory.
For the girls, the McIntosh Chiefs outscored opponent Stockbridge 23-3 in the first quarter to help claim a 54-26 victory. During the game, Senior captain Rylee Calhoun scored the 1000th point of her career. Lakeview Academy remains undefeated in Class A-Private region 8 following it's sound 74-26 victory over Athens Christian. Igniting the Lions offense was freshman Joelle Snyder, who led the team with 14 points and 4 assists while Junior Jackie Allen used her quick hands to snag 7 steals. Class A-Private top dog Wesleyan teed off against Class AAAAAAA third-ranked North Cobb, who were riding a 17-game win streak and boasting an undefeated season. The Warriors perfect season came to an end as they fell 59-38 to the Wolves. The Douglas County Tigers faced-off against region opponent New Manchester and served the Jaguars a 64-33 loss to claim their ninth region win of the season.
Saturday Basketball Scores
Boys
Alpharetta 59, Milton 58
Berrien 58, Thomasville 53
Blessed Trinity 49, Walton 39
Bowdon 71, Pepperell 61
Brookwood 63, Cedar Shoals 57
Brookwood-Thomasville 80, Valwood 47
Butler 69, Burke County 56
Calhoun County 74, Macon County 65
Camden County 52, Baker County 47
Campbell 51, Harris County 48
Carrollton 76, Paulding County 62
Cass 60, East Paulding 55
Central Christian 74, Heirway Christian 40
Chapel Hill 62, Cartersville 51
Chattooga 73, Calhoun 45
Clarkston 73, Cross Keys 21
Claxton 62, Bryan County 48
Clinch County 55, Turner County 37
Coffee 68, Long County 48
Creekview 61, Harrison 51
Dacula 74, Mill Creek 72
Dalton 36, Northwest Whitfield 34
Discovery 73, Central Gwinnett 63
Douglas County 67, New Manchester 62
Dunwoody 59, Lakeside-DeKalb 54
Eagles Landing Christian 58, Heritage-Conyers 51
Early County 53, Fitzgerald 37
East Coweta 89, Washington 57
Forsyth Central 68, Pickens 46
George Walton Academy 55, Towns County 28
Georgia Military 84, Aquinas 52
Glenn Hills 74, Screven County 29
Glynn Academy 71, Liberty County 70
Heard County 54, Temple 37
Hebron Christian 71, Providence Christian 43
Houston County 70, Valdosta 63
Howard 53, Peach County 48
Jefferson 80, Apalachee 48
Jenkins County 54, Portal 45
Johnson-Savannah 72, Benedictine 57
Kell 78, Rome 74
LaFayette 69, Excel Christian 39
Lake Oconee Academy 64, Glascock County 27
Lakeview Academy 79, Athens Christian 41
Landmark Christian 79, Atlanta Classical Academy 46
Loganville Christian 65, Augusta Prep Day 53
Lovett 54, Pace Academy 43
Marist 56, Mt. Vernon Presbyterian 33
McIntosh 64, Stockbridge 62
Morrow 91, Forest Park 76
Mt. Paran Christian 64, Mt. Pisgah Christian 43
Mundy's Mill 76, B.E.S.T. Academy 58
Newton 74, Eastside 65
North Atlanta 59, Centennial 57
North Clayton 70, Drew 47
North Gwinnett 85, Powdersville, SC 37
Northside-Columbus 66, Columbus 52
Oconee County 56, Franklin County 45
Pelham 79, Stewart County 69
Prince Avenue 66, Commerce 49
Riverside Military 57, Athens Academy 49
Riverwood 68, Banneker 51
Rockmart 72, Gordon Central 46
Roswell 71, West Forsyth 67
Salem 68, Northeast-Macon 61
Sandy Creek 84, LaGrange 47
Savannah Country Day 46, Savannah Christian 32
Shaw 72, Cairo 54
South Atlanta 81, Carver-Atlanta 30
South Cobb 91, Sprayberry 75
Spencer 68, Lamar County 59
St. Anne Pacelli 67, Calvary Christian 51
Starr's Mill 56, Griffin 42
Thompson, AL 49, Paideia 37
Treutlen 93, Montgomery County 57
Tri-Cities 76, Northgate 38
Trion 67, Dade County 37
Troup 57, Cedartown 46
Union County 47, Fannin County 45
Upson-Lee 68, Jones County 65
Veterans 67, Thomas County Central 40
Villa Rica 57, Hiram 44
W.D. Mohammed 60, Our Lady of Mercy 57
Walker 51, Whitefield Academy 45
Walnut Grove 82, Monroe Area 68
Ware County 75, South Effingham 40
Warner Robins 56, Bainbridge 39
Warren County 75, Washington-Wilkes 72
Wesleyan 67, Tallulah Falls 58
Westside-Macon 81, Mary Persons 75
White County 59, Lumpkin County 49
Whitewater 56, Riverdale 53
Woodland-Stockbridge 82, Dutchtown 52
Woodville-Tompkins 70, Effingham County 32
Girls
Alexander 66, Westminster 22
Alpharetta 69, Milton 26
Atlanta International 53, Cristo Rey Atlanta 33
Brookwood 68, Cedar Shoals 42
Bryan County 71, Claxton 42
Burke County 49, Butler 31
Campbell 59, Harris County 54
Carrollton 71, Paulding County 22
Cartersville 43, Chapel Hill 25
Cass 82, East Paulding 38
Centennial 46, North Atlanta 13
Central Gwinnett 64, Discovery 63
Central-Fort Pierce 59, Bradwell Institute 51
Chattooga 56, Calhoun 41
Cherokee 66, Holy Innocents' 58
Christian Heritage 54, Model 42
Clinch County 67, Turner County 58
Colquitt County 49, Tift County 33
Columbus 47, Northside-Columbus 43
Dacula 58, Mill Creek 49
Dade County 48, Trion 42
Douglas County 64, New Manchester 33
Drew 52, North Clayton 48
Eagles Landing Christian 66, Paideia 49
Fitzgerald 62, Early County 60
Flowery Branch 68, Greater Atlanta Christian 61
Forest Park 73, Morrow 9
Gainesville 40, Brooks County 36
Georgia Military 75, Aquinas 36
Glynn Academy 57, Liberty County 23
Gordon Lee 57, Ridgeland 30
Grady 58, Elite Scholars Academy 40
Grayson 63, Etowah 48
Griffin 50, Starr's Mill 45
Hebron Christian 43, Providence Christian 20
Henry County 61, Luella 41
Hillgrove 57, Woodstock 51
Hoover, AL 55, Northview 44
Jackson 47, Hapeville Charter 27
Jefferson 56, Apalachee 42
Jefferson County 49, Harlem 40
Jenkins County 45, Portal 37
Jones County 71, Upson-Lee 55
King's Ridge 56, Pinecrest Academy 11
Lake Oconee Academy 50, Glascock County 34
Lakeview Academy 74, Athens Christian 26
Lamar County 72, Spencer 23
Landmark Christian 62, Lithia Springs 59
Langston Hughes 68, Creekside 44
Marist 61, Mt. Vernon Presbyterian 31
McIntosh 54, Stockbridge 26
Monroe 54, Crisp County 23
Montgomery County 54, Treutlen 21
Mt. Paran Christian 62, Mt. Pisgah Christian 8
North Paulding 54, Mountain View 47
Northwest Whitfield 53, Dalton 43
Oconee County 32, Franklin County 29
Osborne 47, River Ridge 33
Pace Academy 50, Lovett 48
Peach County 44, Howard 27
Pelham 41, Stewart County 28
Prince Avenue 42, Commerce 23
Riverwood 51, Banneker 35
Rockmart 51, Gordon Central 43
Roswell 55, West Forsyth 32
Rutland 60, Crawford County 20
Sandy Creek 55, LaGrange 25
Savannah Christian 45, Savannah Country Day 28
Screven County 45, Glenn Hills 26
South Atlanta 68, Carver-Atlanta 25
Swainsboro 59, St. Vincents 43
Tallulah Falls 52, Strong Rock Christian 42
Telfair County 71, Wilcox County 55
Temple 53, Heard County 29
Towns County 50, George Walton Academy 28
Troup 57, Cedartown 38
Union County 51, Fannin County 47
Valdosta 57, Houston County 34
Veterans 66, Thomas County Central 17
Villa Rica 65, Hiram 28
W.D. Mohammed 38, Our Lady of Mercy 24
Walker 54, Whitefield Academy 43
Walnut Grove 55, Monroe Area 47
Warner Robins 61, Bainbridge 44
Washington-Wilkes 56, Warren County 13
Wayne County 50, New Hampstead 27
Wesleyan 59, North Cobb 38
Westside-Macon 74, Mary Persons 28
Wheeler County 70, Emanuel County Institute 42
White County 56, Lumpkin County 45
Woodland-Stockbridge 45, Dutchtown 33
Woodville-Tompkins 52, Effingham County 47