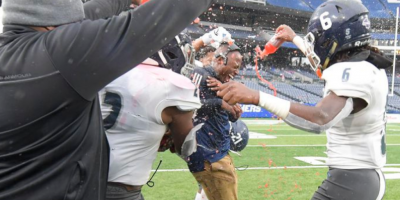 (Daniel Varnado/ For the Atlanta Journal-Constitution)
The final day of the GHSA football season ended with three championships being awarded at Georgia State's Center Parc Stadium in Atlanta in Classes 3A, 5A and 7A.
See the recaps below or follow the link to the flag football roundups, the Thursday or Friday recaps or the full brackets.
To see stats for all the games go here.
Class 7A
Collins Hill 24, Milton 8
Collins Hill's 24-8 victory over Milton finished the Eagles season off perfectly with at 15-0 and a first-ever state championship for the program.
The Eagles never really struggled against Milton and after a scoreless first quarter, the Eagles took a 7-0 lead on a 10-yard touchdown pass from Sam Horn to Spencer Anderson. Horn scored on a 6-yard run with 10:59 left in the third quarter. WIth 1:13 left, Horn connected with Travis Hunter for the duo's final touchdown reception – a 6-yarder – to put Collins Hill up 21-0. Issac Bonacci's 26-yard field goal pushed the game too far out of reach. Milton found the end zone on a 1-yard run from Devin Farrell and Jack Nickel caught the ensuing 2-point attempt.
Horn was 23-of-33 passing for 243 yards and two touchdowns. Hunter caught 10 passes for 153 yards and a touchdown.
Farrell finished with 21 carries for 58 yards and a touchdown.
Class 5A
Warner Robins 38, Calhoun 14
Marquis Westbrook has more state championships at Warner Robins than he does seasons without one after Warner Robins beat Calhoun and successfully defended its 2020 5A title.
Westbrook took over in 2019 as head coach of the Demons and won his first state title last season in his second year at the helm. For the program, the victory marked the sixth championship. Prior to Westbrook's arrival, Warner Robin's last title game under head coach Bryan Way in 2004.
Against Calhoun, the Demons performed as they should.
JaFrederick Perry, a name familiar with the success of the Warner Robins program this season, made the most of the final game of his high school career. Perry, who finished with 24 carries for 235 yards and two touchdowns, put the Demons up 7-0 on a 3-yard run just under three minutes into the game. He scored again on a 46-yard run early in the fourth quarter expanded the Warner Robins lead to 31-7.
The Demons led 14-0 after the first quarter and 24-7 at the half.
Warner Robins quarterback Christon Lane was 14-of-24 passing for 157 yards and a touchdown to Cam Flowers on a 51-yard pass. On defense, Warner Robins got a touchdown on a 41-yard fumble recovery from Nathan Sanford. Daniel Barber had a 35-yard field goal in the second quarter for the Demons.
Calhoun quarterback Christian Lewis was 14-of-39 passing for 122 yards and two touchdowns, both to Quin Smith.
Class 3A
Cedar Grove 56, Carver-Atlanta 26
Jamar Graham and Rashod Dubinion wanted a title for their new head coach John Adams. So, the pair combined for seven touchdowns to ensure the victory. The state championship marked the fourth title in six seasons for Cedar Grove.
Carver-Atlanta led 6-0 after a touchdown reception from Deandre Buchannon in the first quarter, but from there it was all Cedar Grove. Graham – who finished 23-of-34 passing for 362 yards and five touchdowns — passed to Barry Jackson (30 yards) and Janiran Bonner (80, 6 yards) to give the Saints a 21-14 lead at halftime.
The game was a close one before a weather delay with 8:05 left in the third quarter and when the teams returned to the field, Cedar Grove was in control.
It took until the second half for Dubinion to find the end zone on runs of 5 and 1 yard. The Arkansas-bound back finished with 20 carries for 113 yards. Robert Snell's 13-yard run with 1:57 left in the game brought the score to its final tally. Graham passed to Trevon Ferrell and Ricky Lee for touchdowns in the third quarter to help push the game out of reach.
Quintavious Lockett finished with 13 carries for 119 yards and two touchdowns and Jarveous Brown has 13 carries for 77 yards and one touchdown for Carver. Quarterback Bryce Bowens was 16-of-26 passing for 188 yards and one touchdown.