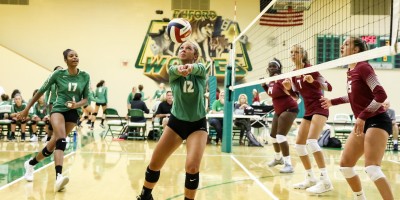 David McGregor
On the football field, Mitchell County faced off against Stewart County in search for their fourth region win of the season. With five minutes remaining in the first quarter, Sophomore running back Xavier Williams rushed 11 yards into the end zone to begin the Eagles' scoring spree. After an Eagles safety, Mitchell County found success on the ground again with a 32-yard rushing score from Junior James Thomas. Three more first half rushing touchdowns from De'Shaun Sherman, Marcus Collier, and Thomas again put the Eagles ahead 37-0 at the half. Stewart County continued to get shutout as Mitchell County tacked on their last 13 points of the game to pick up the region win.
On the softball diamond, Mary Persons put together a two-win outing with an 11-6 victory over Northside-Warner Robins and a 10-6 win over Rutland. The Treutlen Vikings picked up two wins themselves, defeating Groves twice in a high scoring double header with scores of 16-4 and 21-0. Class AAAAAA first ranked Allatoona squared off against Dalton, defeating the Catamounts 6-2 to improve to 14-2 in the region. After being upset 1-0 in their game against Coahulla Creek, the Rockmart Yellowjackets bounced back to claim a commanding 9-3 victory over Sonoraville.
On the volleyball court, Archer strung together a trio of wins, defeating Loganville 2-1 before sweeping Walnut Grove and Monroe Area 2-0. After a thirteen-game win streak was broken by a pair of losses, the Veterans Warhawks bounced back with a 2-0 sweep over Shaw. Tallulah Falls walked away with one of the more successful performances of the night. The Indians swept all four of their opponents, including East Jackson, Stephens County and Cedar Shoals, with a region win over Prince Avenue.
Saturday Final Scores
Football
Calvary Day 52, McIntosh County Academy 21
Johnson County 44, Treutlen 7
Mitchell County 50, Stewart County 0
St. John's, Wash. 21, Marietta 14
Washington 56, KIPP Atlanta Charter 0
Softball
Allatoona 6, Dalton 2
Calhoun 3, Northwest Whitfield 2
Calvary Day 17, Montgomery County 1
Coahulla Creek 1, Rockmart 0
Coahulla Creek 13, Heritage-Ringgold 0
Dade County 12, Murray County 3
Decatur 9, Westminster 5
East Hall 7, Gainesville 5
First Presbyterian 7, Eagles Landing Christian 1
George Walton Academy 16, Towns County 0
Greenbrier 3, Marist 0
Harlem 7, Wayne County 4
Harrison 14, Creekview 1
Johnson County 23, McIntosh County Academy 10
LaFayette 5, Calhoun 2
LaFayette 8, North Murray 0
Lee County 4, Columbus 3
Marion County 7, Columbus 2
Marist 8, Greenbrier 0
Mary Persons 10, Rutland 6
Mary Persons 11, Northside-Warner Robins 6
Pelham 13, Turner County 3
Pinewood Christian 8, Tattnall County 2
Ringgold 7, Dade County 6
River Ridge 9, Sprayberry 8
Rockmart 9, Sonoraville 3
Rutland 4, Northside-Warner Robins 3
Sonoraville 11, Heritage-Ringgold 2
Southwest DeKalb 6, St. Pius X 2
Southwest DeKalb 9, Holy Innocents' 6
Treutlen 16, Groves 4
Treutlen 21, Groves 0
Villa Rica 6, Trinity Christian 2
Wesleyan 5, Heard County 0
West Laurens 5, Harlem 1
Volleyball
Archer 2, Loganville 1
Archer 2, Monroe Area 0
Archer 2, Walnut Grove 0
Athens Academy 2, Jackson County 0
Bethlehem Christian 2, Highland Christian 0
Bethlehem Christian 2, Highland Christian 0
Blountstown F.L. 2, Valdosta 0
Brooks County 3, Stewart County 0
Central-Phenix City A.L. at Hardaway, late
East Jackson 2, Oglethorpe County 0
Hardaway 2, Eufaula 0
Hardaway 2, Jeff Davis 0
Hardaway 2, Lanier 0
Heirway Christian 2, Trinity Christian 0
Houston County 2, Shaw 0
Jackson County 2, Athens Christian 0
Jackson County 2, Oconee County 0
Lakeview Academy 2, Jackson County 0
Mt. Vernon Presbyterian 2, Wesleyan 1
Pine Crest F.L. 2, Northside-Columbus 0
Prince Avenue 2, East Jackson 1
South Effingham 2, Shaw 0
Tallulah Falls 2, Cedar Shoals 0
Tallulah Falls 2, East Jackson 0
Tallulah Falls 2, Prince Avenue 0
Tallulah Falls 2, Stephens County 0
Veterans 2, Shaw 0
Walton 2, Horizon 1
Wardlaw Academy S.C 2, Augusta Prep Day 0
Wardlaw Academy S.C 2, Habersham Central 0
Warner Robins 2, Shaw 0
Wesleyan 2, Holy Innocents' 1