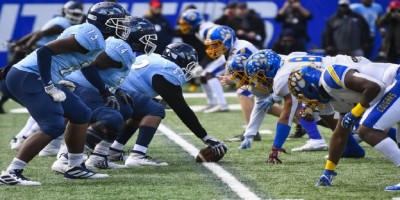 The GHSA Football State Championships finished on Saturday at Georgia State Stadium with the crowning of four champions in Classes AAAAAAA, AAAA, AAA and A-Public.
In the second game of the day, even with a new coach, it was the same result for a Cedar Grove program that successfully defended its 2018 Class AAA state championship with a 21-14 victory against Crisp County at Georgia State Stadium.
So is it time to start talking about a Class AAA high school football dynasty?
"The 2019-2020 class can use that word," said first-year coach Miguel Patrick, who replaced a departing Jimmy Smith, who became an assistant at Georgia State. "They won three titles in four years. This senior class can use that word, yes, that they are a dynasty."
Cedar Grove missed the playoffs from 2000-2009, but in the past decade the Saints have been in the playoffs each season. They won their first title in 2016 after beating Greater Atlanta Christian 30-19. Cedar Grove won the state title last season with a 14-13 victory against Peach County, when Jadon Haselwood caught a touchdown pass with seconds left in the game.
An assistant at Cedar Grove since 2007, Patrick was joined on the sidelines by Smith, who wanted to see the Saints win their third championship. Cedar Grove running back Chavon Wright said there wasn't much of a transition period.
"Naw, that's nothing new; (Patrick) has been here," Wright said. "Nothing new at all. That's our guy; that's been our guy. It is normal; it's regular."
Cedar Grove's play against Crisp didn't always look dynastic. The Cougars came out with a smothering defense that held a Jenkins programs averaging 40 points per game to six points in the semifinals. The Cougars held the Saints scoreless through two three-and-out series, while allowing just 11 yards, but Cedar Grove's defense was equally as tough. In the second quarter, Demarius Jackson and David Carter stopped a Crisp County drive at the goal-line, forcing a turnover on downs that seemed to change the momentum of the game.
Cedar Grove scored first on a Wright touchdown run to cap a five-play, 58-yard drive just before halftime. The Saints then made minor adjustments to handle the Crisp County defense.
"The line just had to keep their legs moving, and the running backs had to run through some arm tackles," Wright said. "That was basically it … keep our legs moving and put the game away."
"We wanted to spread them out a bit more," Patrick added. "We were kind of compacted and made it easy for them to stop the run. So we came out and threw it on first down a bit and loosened them up, and that opened up the running lanes for us."
The backs took advantage.
Wright, who finished with 20 carries for 140 yards and two touchdowns, scored again with 6:44 left in the third quarter on an 18-yard run to cap a seven-play, 65-yard drive that put the Saints ahead 14-0.
When Crisp County's sophomore running back Marquise Palmer broke free and scored on a 20-yard run with 18 seconds left in the third quarter, it capped a five-play, 37-yard drive to cut into the lead 14-7, but that was the last bit of offense Crisp could manage. Cedar Grove went ahead 21-7 with 9:43 left on a 17-yard touchdown pass from quarterback Austin Smith to Rashad Dubinion. Crisp scored its final touchdown when Latravious Walker returned a blocked punt for a touchdown with 1:18 left in the game.
Palmer finished the game with 19 carries for 66 yards and a touchdown.
"Crisp County is a great football team," Dubinion said. "They came out here and played their heart out and we just played a bit harder. We are building a dynasty here. In the second half, we came out and realized that they weren't really doing anything special, we were just out of our game and we adjusted."
Austin Smith, who finished 9-of-14 passing for 64 yards, got quality playing time and made some big plays during last year's championship run. But this one felt more like his title.
"It's just good," Smith said. "We were kind of down and looked down upon with a new coach and losing players like Jadon (Haselwood) and then losing some good players on defense, it feels good to come out and win another one for us."
When asked early in the season about carrying on the tradition of success at Cedar Grove, Patrick was optimistic to begin his tenure on the right foot.
"I think we did pretty good, man," Patrick said. "I think we carried it on, and I think we have a good starting point for my career and the bar has been set."
Here's how the other games played out.
In the Class AAAAAAA state championship, Marietta won its second state title, and first since 1967, with a 17-9 victory over previously undefeated Lowndes. Marietta led 17-0 at the after two rushing touchdowns by Kimani Vidal, both from 2-yards out, and a 26-yard field goal from Cooper Kipp. Lowndes scored on a touchdown pass from Jacurri Brown to Andrew Thigpen to cut into the lead, but a missed extra-point kept the Vikings down 17-9. Lowndes was trying for its fifth title and first since 2007.
In the first game of the day, Irwin County won its second title and first state championship since a Class A championship in 1975. In its 56-14 victory over Marion County on Saturday in the Class A-Public championship game, Irwin led 14-7 after the first quarter and 28-7 at the half. Gabriel Benyard had nine carries for 94 yard and two touchdowns. DJ Lundy and Jamorri Colson each rushed for a touchdown and Colson caught one touchdown pass in the victory.
In the Class AAAA state title game, Blessed Trinity won its third-straight state championship with a 17-14 victory over Oconee County, which was trying for its second title and first since winning a Class AAA championship in 1999. After a 34-yard field goal by Aaron Werkheiser, Oconee County responded with a 34-yard touchdown pass from Max Johnson to West Weeks. Elijah Green gave Blessed Trinity the lead on a 30-yard touchdown run with 1:16 left in the first half. He scored again with 16 seconds left in the first half on a 60-yard touchdown run to put Blessed Trinity up 17-7. Johnson passed to Weeks on a 34-yard pass and his brother, Jake Johnson, on a 3-yard touchdown pass with 49 seconds left in the game, but it was out of reach. Green finished with 21 carries for 208 yards and two touchdowns.
Saturday, Dec. 14 (At Georgia State Stadium)
Class A-Public: Irwin County 56, Marion County 14
Class AAA: Cedar Grove 21, Crisp County 14
Class AAAA: Blessed Trinity 17, Oconee County 14
Class AAAAAAA: Marietta 17, Lowndes 9