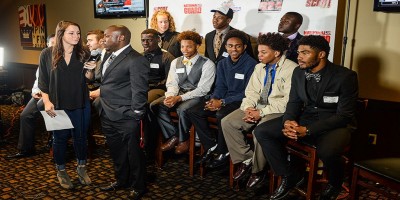 Wednesday, Feb. 6 marks National Signing Day, and Score Atlanta's seventh annual Signing Day Frenzy will provide the spotlight to celebrate Georgia's Class of 2019.
The event is hosted by Stars and Strikes in Dacula Ga. and is brought to you by Score Atlanta, the Touchdown Club of Gwinnett, Children's Healthcare of Atlanta, the National Guard and 92.9 The Game, all proud supporters of Georgia High School Sports. The celebration will feature some of Georgia's top football signees as they make the final step in their transition from high school to collegiate athlete. Additionally, radio coverage from 92.9 The Game will break down these top players, highlighting their past performances and where they plan to succeed next.
Beginning at 10 a.m., each school will have a 20-minute slot where the head coach will introduce his players and where they will be attending school. The radio station will have a personality on hand to interview the players.
The state of Georgia draws significant attention every year on National Signing Day because of its enormous presence on the collegiate level. Steve Slay of the Georgia High School Football Historians Association released a report earlier this month that calculated just how influential the Peach State is on the College Football landscape.
The report found 4,331 former Georgia High School football players were on college rosters during the 2018 season. The FBS led the way with 1,111 players and 596 belonged to schools in the Power 5 Conferences. There were also 881 playing in DII, 549 in DIII, 505 in NAIA and 353 on JUCO rosters.
Follow the hashtag #SigningDayFrenzy and visit SigningDayFrenzy.com to check out live updates of where every player in the state is signing. If you are interested in bringing your team to participate in Signing Day Frenzy, please call Graham David at 513-600-6557 or email him at gdavid@scoreatl.com.